Chelsea boss Rafael Benitez says he can handle the pressure of managing in England
New Chelsea manager Rafael Benitez insists that he can handle the pressure of managing in England.
By Claire Bloomfield
Last Updated: 23/11/12 7:55am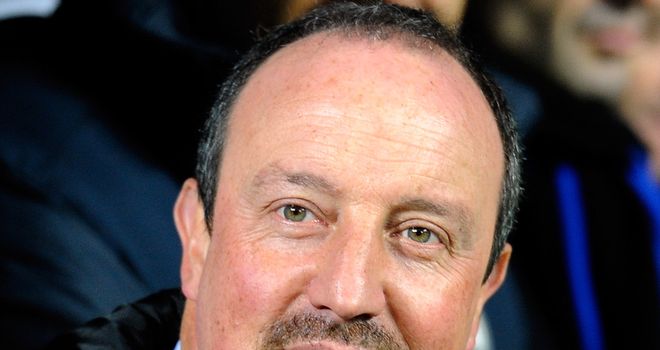 "I want to challenge for trophies so it has to be a job with a top side in a good country where you can compete and the football will be professional and be serious," he said. "It's not just about finding a job, it's about finding a club that can compete and do things in the proper way."
"When you go to England the style of play is different. The way referees understand the game is different. The way the fans are is different. You have to adapt. You talk about pressure, pressure, pressure and as a manager you have to keep winning."
Of his coaching methods, Benitez said: "You have to teach the players movements, and when I say teach, they have to understand why. It's not just about telling them to do this or do that.
"If you want to improve your counter-attack or you want to improve your defence then you have to find three or four different ideas to practice the same movement but in different ways and then they learn without realising."
Benitez engaged in a series of controversial battles with Chelsea both domestically and in Europe when he was manager of Liverpool, and he said he is glad to see his former side investing in youth this season.
"During my last year in charge at Liverpool we had a project to control the Academy a bit more, changing the idea, the style of play, and how we were coaching," he said.
"Everything was in one direction and now you can see players like (Raheem) Sterling and Suso coming through. This is a good thing for the club in the future.
"I'm really pleased to see that Suso has signed a long-term deal with Liverpool. He was at Cardiff when we went in for him and we had to fight against Real Madrid because they were talking to him, too. He's a great player and he has a lot of talent so I wish him all the best."
Benitez added: "I don't like to talk too much about Liverpool because I have a lot of respect for the club and for the fans.
"When I left things were going in one direction and everything changed later on. They were thinking more, 'it's a business' and now you can see where they are. It's not for me to judge what they are doing now."
Read Claire's interview with Benitez in full by clicking this link.
Make sure you catch Benitez's first game in charge of Chelsea, straight after his former charges Liverpool tackle Swansea, on Super Sunday.