Le gossip
Paris-based correspondent Jonathan Johnson speaks to former Arsenal man Jeremie Aliadiere about his new lease of life at Lorient.
Last Updated: 23/11/12 11:34am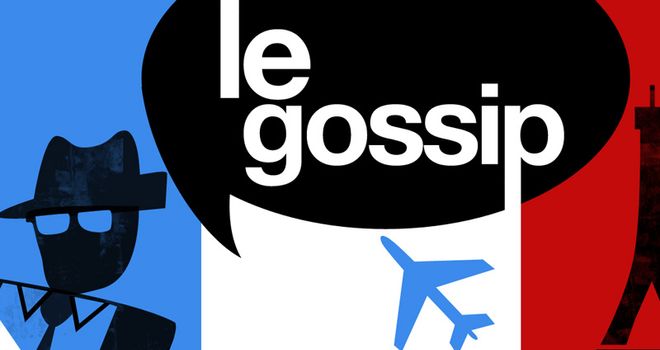 Jérémie Aliadière will be familiar to English football fans from his time with Arsenal and Middlesbrough. Injuries blighted his progression in the Premier League but now back in his native France he is thriving with FC Lorient thanks to a helping hand from previous mentor Arsène Wenger. Aliadière was a player of great potential that never had to chance to show his true talent on a regular basis in the UK, but he is making up for lost time and targeting an eventual return to the place that he calls home.
The surprise package of the early part of this Ligue 1 season have been Lorient, a small but enterprising club in Brittany with ambitious plans for the future under owner Loïc Féry, the youngest chairman in France's top-flight. Aliadière is part of a young, hungry side that is seeking Breton dominance and a place in the top half of the league, eventually resulting in qualification for European football. After a difficult first season back in France for the first time since he was 16, this campaign has seen the talented striker ignite the league with his top form that temporarily had les Merlus flying high.
Five goals and three assists in 11 appearances represent Aliadière's best ever start to a season, and a first one in which he has been able to enjoy a full pre-season. The player is delighted with the progress that he has been making in Brittany and played a key role in helping FCL turn around their recent bad run of form with a vital 2-0 home win over title-chasing Lille.
"I'm pleased with my form," he says. "It is the first time that I have had a full pre-season under my belt and I am delighted with the way I have started. Lorient play football very similar to Arsenal, which is what Arsène told me. That suits me perfectly."
The team are currently mid-table after a strong start to the season was undone by an unfortunate injury crisis in defence. Despite a run of seven games without a win, Aliadière's contribution has kept the club out of trouble. Of his five goals, one was match-winning whilst the other three secured valuable points (including a superb effort away to Paris Saint-Germain in their 2-2 opening day draw), meaning he has been directly responsible for six of the side's total of 15 thus far. The three assists have also been for vital goals that have secured five further points.
"Obviously the club's current form is disappointing," he said prior to the Lille victory. "We are conceding far too many goals even if I am playing well individually. The club bought some great players in the summer and it is an ambitious set-up. We are confident that once the injuries subside we will be back where we were at the start."
Injury
The risky move in offering Aliadière a chance to prove himself after years of injury agony has paid off for FCL. Arsenal boss Wenger personally recommended his former protégée to friend Féry and the club have not looked back since, despite a difficult end to last season. Still only 29, Aliadière feels that the club were the perfect match for him at the time and is grateful to current boss Christian Gourcuff (father of Lyon's Yoann) for giving him the chance to rediscover his love for the game in a pressure-free environment.
"When I came to Lorient I was in a difficult situation as I was without a club and injured," he said. "Gourcuff showed belief in me and I was nervous about returning to France after playing my whole career in the UK. I was looking for a team where I could start playing football again. In the UK I had lost my passion for the game and Gourcuff and the club offered me a great opportunity."
Despite now plying his trade in France, Aliadière looks back on his time in the Premier League fondly and is particularly grateful to Wenger for the opportunity offered to him back in 1999. The Gunners in particular hold a special place in the striker's heart. "I have great memories of my time in the UK," he gushes. "I loved my time at Arsenal and playing under Arsène at a club full of superb players was an amazing experience. Middlesbrough was different; the style of football was not what I was used to.
"The Premier League is the best league in the world without a doubt and I still watch it. I visit the UK regularly and still have my property over there. I'd love to return there one day, either as a player or when my career is over."
Education
A product of the much-heralded Clairefontaine academy, Aliadière feels that his career has been blessed with some of the richest educations available in football having graduated ahead of the likes of Newcastle's Hatem Ben Arfa and Arsenal's Abou Diaby. Although the pool of talent has dried up a little since the years of Aliadière, Clairefontaine is still recognised as one of the world's leading youth development centres and served as an inspiration behind the FA's St Georges' Park.
"The Clairefontaine academy is the best footballing education you can receive in France," he claims. "When I was there everything was based on technique and they had some fantastic coaches and everyone that graduated from there has played at a high level. For me, it was one of the most valuable experiences."
For now Aliadière is concentrating on getting Lorient back on track and continuing his impressive form, but in the future he hopes to make a return to the UK whether it is to play or to live. Currently his English family reside with him in Brittany, and the striker is focused on enjoying his new lease of life.
"Right now, I am only focusing on helping to improve the club's current results," he says. "Personally I'd like to continue my good form and playing more than 30 games this season would be fantastic and a first for me.
"The club made me feel welcome from day one, it has been a great experience and my family (Jérémie has an English wife with two bilingual children) love it here. Really England is my country though. I have my property in the UK and I spend a lot of time there because I miss it."
Any plans to return to the UK are on hold for the moment as Aliadière concentrates on helping Lorient keep climbing the Ligue 1 ladder, but if he continues to make waves on the coast of Western France then don't be surprised if you hear more from this Frenchman in the future.