Dietmar Hamann says Man City's high wages are not helping them after another disappointing Champions League campaign
Dietmar Hamann, Ruud Gullit and Glenn Hoddle have their say on why Man City are failing in Europe.
Last Updated: 05/12/12 10:33am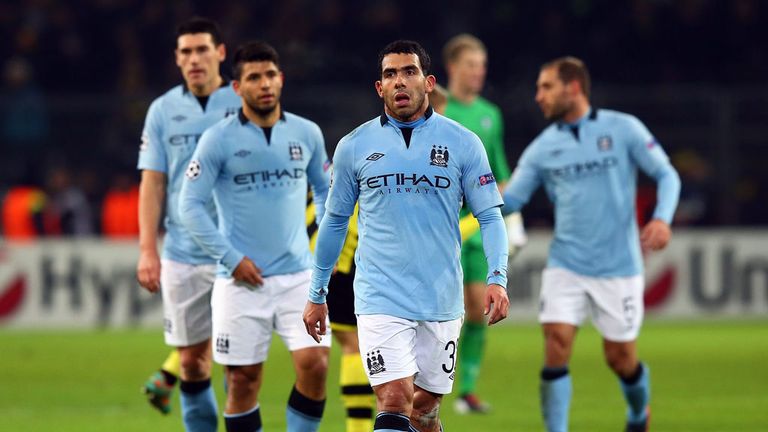 City crashed out Europe after losing 1-0 to group winners Borussia Dortmund, Julian Schieber's second-half goal proving decisive.
The English champions, who have a squad worth in excess of £320million, faded out of Europe without notching a win in the group - the worst-ever record of any English club in the competition.
"The players who came in for City all cost a lot of money, the Dortmund player didn't," said Hamann on Sky Sports.
"But the gap between the two sides looked very big because you saw one team that wanted to win and one who didn't. It was another disappointing performance again from City. From start to finish there were hardly any positives apart from Joe Hart who made some very good saves. Clearly things are not right in the camp.
"Sometime if you put these players on big wages it can take the edge off them - everyone can have a bad game but if you have six bad games and they are six bad games in the Championship then you have to question some of these players attitudes and whether they have the will to go that extra yard for their teammates. It borders on embarrassment if the English champions go out - even though it is a very tough league."
No effort
Ruud Gullit had some harsh criticism for the City players saying that they obviously did not want to play in the Champions League.
"If the meaning of today was to get out of the UEFA league then they did a great job, if they meant what the said when they said they wanted to participate in the Champions League then they made a fool of themselves, it was dreadful," said Gullit.
"There was not team at all. I did not see anyone getting mad or angry or try and do something that at least shows us that they wanted this. It was not a good performance. Even if you don't want to play in the UEFA league at least make an effort."
Glenn Hoddle wants to see City take their Premier League intensity into Europe and says they have to work together as a team - especially defensively.
"I said at the start that what concerns me is that when City go into Europe they don't work on the opponents to win the ball back, there is no intensity, no passion - nothing collective from them, they go and play individually," he reflected.
"In the Premiership they have got more intensity in closing the ball down, we know they have got really good players when they have the ball and when they do have the ball they all want to run to get the ball, but they really need to do more defensively. If not then they are going to do this every season in the Champions League."