Derby lessons
Sky Sports looks at the fallout factors for United and City after one of the most dramatic Manchester derbies as Sir Alex Ferguson's men won.
Last Updated: 10/12/12 3:36pm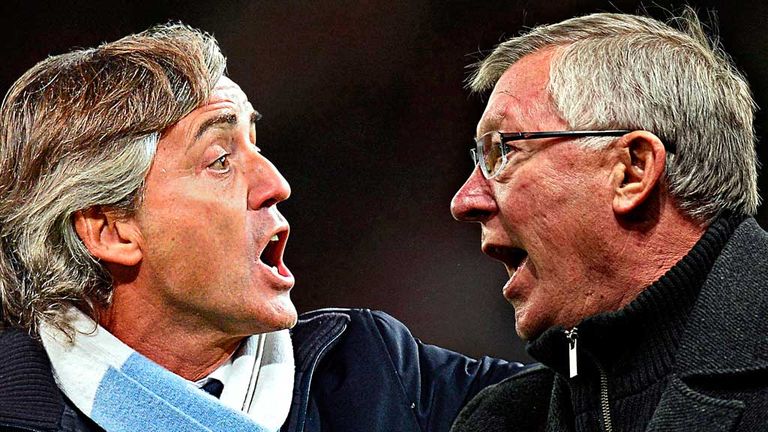 After a truly frantic derby, both Manchester United and Manchester City will be examining the match and considering the positive and negative aspects of the game.
Off-field events, which have resulted in nine people being charged with illegal behaviour, have overshadowed what was otherwise a memorable five-goal thriller at the Etihad Stadium.
But, prior to that, Robin van Persie's injury-time free-kick had won the game for United after City had fought back from Wayne Rooney's two goals through Yaya Toure and Pablo Zabaleta.
What are the short and long-term implications of the result? Here, Nick Hext discusses City and Reece Killworth analyses United.
Derby lessons - Manchester City
The issues would still have been the same if it was Carlos Tevez who scored a late winner in the Manchester derby rather than Robin van Persie. Manchester City have a number of problems that need resolving and both the good and bad from the Etihad Stadium outfit were clearly visible. Nick Hext examines City's problems at the back and also believes the attacking recruitment of Radamel Falcao would be worth considering.
To read the debate, click here.
Derby lessons - Manchester United
When the noisy neighbours are "screaming" there are two things you can do. Stick your fingers in your ears in the hope of blocking it out, or fight fire with fire and take your own volume up a couple of notches. Reece Killworth looks at what Manchester United can learn from their 3-2 win at the Etihad and thinks Sir Alex Ferguson has decisions to make in midfield.
To read the debate, click here.