Star of 2012: Messi
As 2012 draws to its conclusion Daniel Storey salutes our man of the year Lionel Messi. The Argentine has enjoyed unprecedented success, with 90 goals in a calendar year simply phenomenal. For all the platitudes we bestow on him though he remains a model of humility. Quite remarkable.
By Daniel Storey - @danielstorey85
Last Updated: 18/12/12 11:03am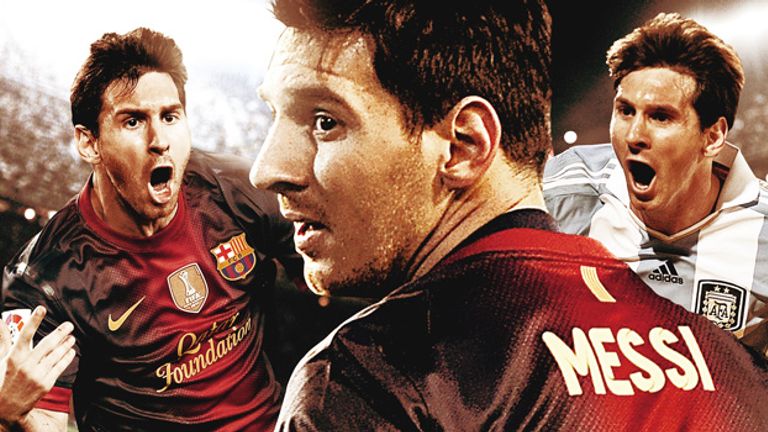 Very occasionally, sports stars establish themselves as utterly dominant in their field. Phil Taylor continues to do so in darts, Tiger Woods did the same for a period in golf, and Roger Federer threatened to for a decade in tennis (albeit with Rafael Nadal and Novak Djokovic looming large).
Throughout history, footballers have consistently failed to reach such a mark. Pele scored goals at an incredible rate but in a league in which defending was seen as admitting weakness, whilst Maradona reached an incredible skill level but through faults of character could often fail to perform at peak for an extended period.
By and large, because of the game's constant demands on the body (as oppose to, say, golf's four majors a year) and its universality (an estimated 300 million people playing regularly worldwide) in comparison to other sports, individual brilliance for prolonged spells is rare. But Lionel Messi has rewritten the manual.
Let's go through the numbers. 90 goals from 68 matches, the most goals in a calendar year with a game still to play. Seven hat-tricks. Two or more goals in a game on 28 occasions. 29 assists. 58 league goals, a total bettered by only five Premier League teams. The only player to score five goals in a Champions League match. Only player ever to be top Champions league scorer for four games in a row. Most goals ever scored in a year for Argentina. Most goals ever in a Champions League season. This is an annus mirabilis beyond any other.
Without overloading on statistics, these figures are important because they put into context quite how successful Messi has been. This is, put simply, the greatest twelve months a footballer has ever had, and it has been achieved on the highest stages in world football. A global audience has felt privileged to be a mere spectator to one of the great sporting masterclasses.
However, Messi's unique brilliance is that however impressive the numbers are, they fail to do justice to the status and impact of the player. There has almost been something of a backlash to the manner in which every game the Argentinian in he appears to have another record in his sights. 2012 has been the year of the Messi because despite all of the records above, the statistics fail to do justice to the beauty and grace of just one of his jinking runs and dinked finishes over a helpless goalkeeper. We can be blinded by numbers, because they strip down the aspects of football that make it beautiful, that keep us hopelessly addicted. Messi is an embodiment of this principle.
And there is no doubting the beauty of the player. His dribbling is phenomenal, ghosting past players with infinite ease. His passing is simple and yet intensely effective, a complete representation of the Barcelona ethos, and his finishing is simply breathtaking. Tap ins, long range curlers, chips, dinks, drives and free kicks, Messi has broken the mould for forward play. It is not unreasonable to state that the best of Maradona and Pele is being demonstrated on almost a weekly basis.
However, the true definition of a 'hero' is often overlooked, and Messi's heroic status revolves around more than simply achievement, for he is the ultimate sporting role model. Having overcome the diagnosis of growth hormone deficiency and moving 5,000 miles from home at the age of 11, this is a footballer that has developed not just through skill but hard work and determination. He plays football with a smile on his face, and in a league which has gained a reputation for simulation, seems more willing than most to stay on his feet, despite the usual barrage from opposition defenders. He has never been sent off at club level.
Most importantly, despite the opportunity for arrogance given his performances throughout the year, Messi remains humble to the core. There is no taunting, no conceited goading of opposition fans, no prima donna arrogance, no preening to cameras and very few demonstrations of wealth. It is a cliched statement, but this is just a man that loves playing football, and feels honoured to do so at such a high level. Such a mindset allows for humility to remain in an industry in which it is rarely displayed by the most successful.
"I'm more worried about being a good person than being the best football player in the world. When all this is over, what are you left with? When I retire, I hope I am remembered for being a decent guy. I like to score goals but I also like to have friends among the people I have played with." This is the true fabric of the sporting hero.
Perhaps it is just that the final word on the player's year is left to Gerd Muller, the West German striker whose record Messi has broken:
"My record stood for 40 years - 85 goals in 60 games - and now the best player in the world has broken it, and I'm delighted for him. He's such a nice and modest professional and I hope he gets one or two more goals in 2012 and that he can then hold onto the record for the next 40 years."
It is the perfect indictment of Messi that the only person capable of beating such a record is the man himself, the diminutive Argentinian with the world almost literally at his feet. On the 7th January he is favourite to be crowned Ballon D'Or winner for the fourth consecutive time. Seven days into the New Year, and another record will surely fall?