Everton midfielder Marouane Fellaini can't be excused but could more be done?
Marouane Fellaini's headbutt was awful, but far from an isolated incident in today's penalty areas.
By Oliver Todd
Last Updated: 17/12/12 1:05pm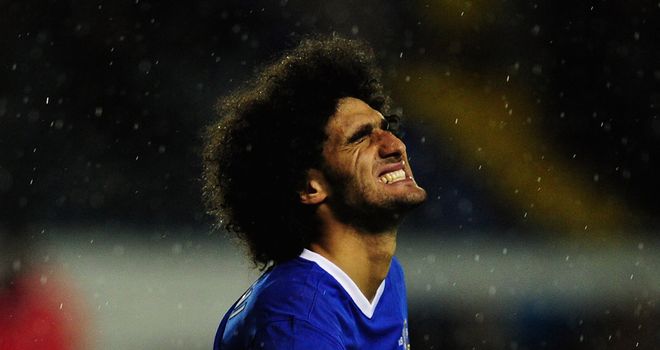 Despite the admission and apology from his manager David Moyes, Fellaini felt the need to justify his actions, saying, "I didn't feel I was getting any protection from the officials." It makes an interesting point. Whilst it may be impossible to excuse Fellaini's headbutt, elbowing and raised arms - grappling at corners, throw-ins, free-kicks, has long been part of our game, and it's as much a problem as the diving seen highlighted every weekend.
Fellaini was initially restrained by Shawcross in an attempt to stop his run, something that the Belgian himself had been penalised for earlier this month against Manchester City. By the letter of the law, this sort of challenge is a foul, and as such should have resulted in an Everton penalty even before the ensuing charge from Fellaini.
The issue is not a new one - Jose Mourinho's Chelsea were often highlighted for their unsavoury tactics on corners, with Ricardo Carvalho, arguably the worst manipulator of this 'dark art' often at the heart of their corner routines. Meanwhile, pre-empted set pieces as recently as this season have often seen deliberate blocking in order to free up a man making a run into the box. The main problem though lies in the general grappling that has occurred in every single Premier League game this season.
Post-match, Sylvain Distin pleaded for consistency from officials, describing incidents such as Shawcross' grappling with Fellaini as "a bit frustrating when it's not going your way." Watch any game from this weekend and, in accordance with the written rules, we would have seen dozens of penalties across the grounds.
Even our best referees leave these situations unaddressed. This isn't the fault of the likes of Mark Halsey, the man in the middle for Saturday's game, this problem lies at the feet of the FA and Mike Riley, manager of the Professional Game Match Officials board. For one referee to step from the ranks and make these decisions on their own would be an impossible task, potentially met with huge opposition. For the FA and PGMO to set it as an official, stated line for all match officials to abide by, would be a different matter.
Of course, criticism would be widespread at first, across a transition period of one weekend where we would see a number of decisions in each game that would be considered controversial, but the change in emphasis would subsequently see a switch in behaviour - more imaginative routines, more scope for the spectacular inside the penalty area and even more innovative, and legal, defending, rather than players wrapping their arms around each other to halt runs and kill chances. It should be about guarding your man, not holding him back.
For every shirt pulled, arm raised, push or strike made against an opponent, a card should be handed out - if the ball is in play, a foul and subsequently, a penalty should be awarded. It is clearly spelled out within The FA's own rule book, but not so clear on the pitch.
Ultimately, this 'darker side' of defending is something that has long been ignored and it is time for football's authorities to finally crack down on it - doing so would leave us with a more exciting, and fairer game. In amongst the outcry over diving, goal line incidents and offside decisions, one of the most fundamental and simple problems continues to plague football. There is no need to eradicate the physicality from the game, simply the foul play, grappling and wrestling around the penalty area that has been allowed to continue for far too long.
Whether it comes down to additional assistants as UEFA have implemented, unsuccessfully to some degree, or simply a crackdown on shirt-pulling and holding back players with referees giving more focus to these incidents in and around the penalty area, something needs to be done to half the ever-increasing wrestling amongst players at set-pieces.
Whilst the criticism of Fellaini is justified and nothing should excuse his behaviour, the effects of the incident should not be looked at exclusively. Football as a whole should be looking at the cause of the problem, and making the appropriate corrections.