Complete midfielder?
Tottenham were expected to miss Luka Modric this season but the performances of Mousa Dembele have ensured that Andre Villas-Boas' team are flying high in third place in the Premier League. Adam Bate looks at the statistics and wonders whether the Belgian is the complete midfielder.
By Adam Bate - Follow me @GhostGoal
Last Updated: 05/01/13 1:03am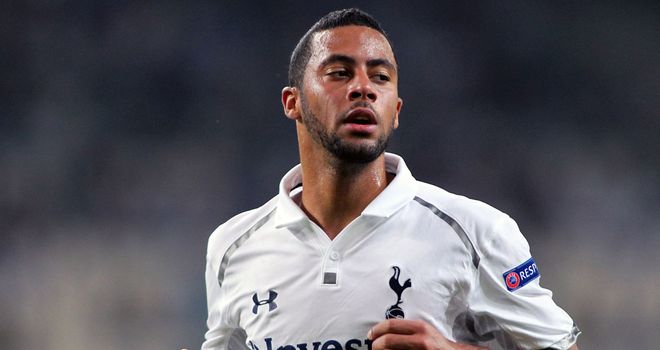 "He is irreplaceable," said former Tottenham boss Harry Redknapp in the summer. He was talking about Spurs' star playmaker Luka Modric who was bound for Real Madrid. "But if they get massive money, they can go and get three or four players and improve the team in other areas." In fact, Spurs were able to effectively replace Modric with just one signing for a fraction of the fee - Belgium midfielder Mousa Dembele from Fulham. Just don't tell the 25-year-old he's the replacement.
"I never saw myself as the replacement for Luka," Dembele told the Daily Mail recently. "I feel like I'm a totally different player. For me I like to touch the ball as much as possible. I like to do defensive work and attack from midfield. I think I can do both." Indeed, he is a very different player. Even in the age of universality, Dembele feels like something new - a man capable of doing everything. Perhaps even, the complete midfielder...

Key Passes (Of players with 90%+ Pass Completion) - PL 2012/13
 
 

Player Name
Team
Key Passes
Samir Nasri
Man City
33
MOUSA DEMBELE
TOTTENHAM
28
Joe Allen
Liverpool
21
Mikel Arteta
Arsenal
20
Ki Sung-Yeung
Swansea
18
Tom Cleverley
Man Utd
9
Paul Scholes
Man Utd
8
Daniel Agger
Liverpool
7
Martin Skrtel
Liverpool
6
Leon Britton
Swansea
5

Firstly, there is the passing. This was always going to be an important part of Dembele's role given Modric's brilliance in this area - the Croatian was regarded as the master of the assist. Dembele has kept things tidy in the Spurs midfield, as shown by the fact that he is one of only 15 players in the Premier League with a pass completion success rate of over 90 per cent. But he has also showcased that same ability to carve open the opposition.
"He's an exciting player," said Mark Hughes, when in charge of Dembele at Fulham. "He's one of those people that you expect to do something special when in possession." There are plenty of players out there capable of the unexpected. But few combine those conjuring skills with the reliability of the Belgian. Of players with a pass completion rate of over 90 per cent, only Manchester City's Samir Nasri has created more chances, while they each have three assists.

Dribbles - PL 2012/13
 
 
Player Name
Team
Number per game
Hatem Ben Arfa
Newcastle
4.9
Luis Suarez
Liverpool
3.2
Adel Taarabt
QPR
2.8
Santi Cazorla
Arsenal
2.5
Samba Diakite
QPR
2.4
Raheem Sterling
Liverpool
2.1
Mohamed Diame
West Ham
2.1
Davide Santon
Newcastle
2.0
MOUSA DEMBELE
TOTTENHAM
1.9
Glen Johnson
Liverpool
1.8

And Dembele is also one of the top dribblers in the Premier League. That's an unusual combination. Of the eight players in the top flight who dribble the ball more regularly than him, several have a pass completion of below 80 per cent and the majority are doing so from wide positions. "Dembele is probably the best player on the ball I've ever seen," claimed Fulham boss Martin Jol, speaking after the player had left Craven Cottage.
It is this ability to provide thrust from the centre of the pitch that makes Dembele such a different animal and provides perhaps the most marked contrast with his predecessor Modric. As Michael Cox noted for ESPN: "The Croatian would receive the ball, spread the play quickly to the flanks and skip forward to link the play higher up the pitch. Dembele is different; he's a more forceful, direct player who dribbles towards goal himself."

Tackles (midfielders) - PL 2012/13
 
 
Player Name
Team
Number per game
Mohamed Diame
West Ham
4.1
Morgan Schneiderlin
Southampton
4.1
Mark Noble
West Ham
3.9
Claudio Yacob
West Brom
3.7
Mikel Arteta
Arsenal
3.6
Steve Sidwell
Fulham
3.6
Sandro
Tottenham
3.4
Mikele Leigertwood
Reading
3.2
James McCarthy
Wigan
3.0
MOUSA DEMBELE
TOTTENHAM
2.9

Where Dembele really begins to surprise is in his defensive contribution to the Tottenham team, which is remarkable given his background as a converted forward. The former AZ Alkmaar man is also among the top tackling midfielders in the Premier League this season. Alongside the combative Sandro that gives Spurs among the most solid midfield bases in the division. "It's difficult to find a pairing that is doing as well," admitted coach Andre Villas-Boas to TalkSport earlier this season.
What is AVB's secret? His own predecessor Redknapp famously gave little tactical instruction to his charges at White Hart Lane but anyone expecting the Portuguese coach to have overcomplicated things for his players may be in for a shock. "It was very clear what the manager wanted me to do," claims Dembele. "He said to me: 'Play your game like you always play' and he tried to give me the confidence. That's the only thing a player needs."
But that doesn't mean the player cannot continue to develop. He is eyeing the final piece in the puzzle. He intends to add goals. "I just like to play, to pass the ball and dribble," Dembele told the Daily Mail. "When I was young I never shot. I always wanted to dribble the ball in the goal. I don't want to shoot because I don't like to, but it's different now. I know now it's important to shoot and have the combination, not only to dribble but to shoot a lot as well. I try to do this more and more."
Perhaps Premier League opponents should be worried. Because when that happens, Mousa Dembele really could become the complete midfielder.