Joe Hart exclusive
"It's hard to escape pressure from which you don't want to escape" - Manchester City and England's No.1 talks the art of goalkeeping and the Premier League title race
By Peter Fraser - Follow me on Twitter @SkySportsPeteF
Last Updated: 11/01/13 1:32pm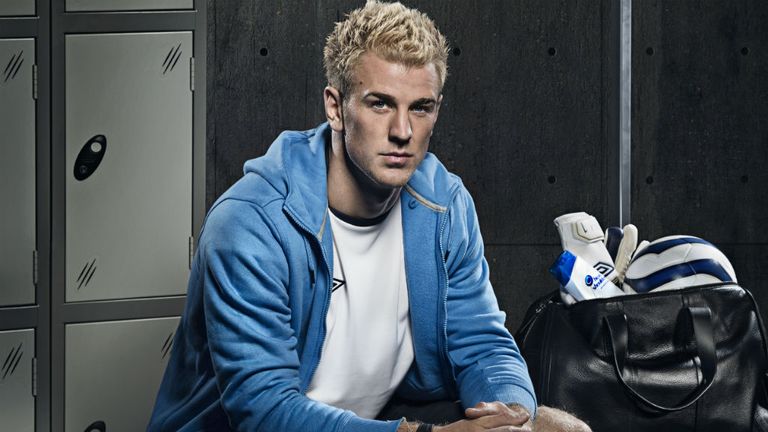 From the playground to pub football, nobody wants to be a goalkeeper. The position between the sticks is usually seen as the job which has to be done, rather than the one which is picked by choice.
The role of a shot-stopper is as an individual in a team sport. It brings with it the unique pressure of knowing one mistake can be the fine line between a side's success or failure. It can be isolated and, some might even say, unfashionable.
A new wave of talented, young British custodians, including the likes of Jack Butland - who seems certain to leave Birmingham City for the Premier League in the January transfer window - may be changing that opinion. But Manchester City and England No.1 Joe Hart, one of the best in the business and a role model to millions, knows goalkeeping will always carry a lonely stigma.
Having played both in goal and outfield for his schools, Sunday League teams and local clubs, the now 25-year-old from Shrewsbury opted to focus on his talent for making saves in his early teenage years. However, he is aware not everyone would make the same decision.
"No-one wants to go in goal," laughed new head&shoulders ambassador Hart when speaking to Sky Sports in an exclusive interview at a Manchester city centre hotel. "I do not blame them, to be honest. Unless you are playing at a good standard, being a goalkeeper has no interest to many people, because you are stood around a lot and you are playing on not very good pitches.
"You do not get any love from being a goalkeeper, put it that way. I understand why it is not a glamorous thing. But I think, goalkeepers, first and foremost, you have got to want to do it. If you want to do it and do it well, you get a lot out of it. But not everyone wants to do it."
'Pinch of salt'
So does goalkeeping attract a certain type of personality? Anyone who has seen Hart's on-field celebrations or watched his forthright post-match television interviews would know he appears to be a confident, extroverted, professional sportsman. But do you need that self-belief, individualism and an identical set of traits?
"I know lots of goalkeepers and I would not say we are of the same mould at all," said Hart. "Everyone is different. Everyone has their way of doing things. Someone has got to play there. I love what I do. I will do anything to do well and I try to help people as best as I can."
Helping people could be seen to not only apply to his City and England squad-mates. Hart has become a hero to fans after playing a key role in his club's unforgettably dramatic Premier League title win last season and, before that, the 2011 FA Cup. He is widely regarded as one of the finest goalkeepers in the world and has been mentioned as a future permanent England captain.
That has made him an idol but his form has been questioned over recent weeks. Hart is not concerned by the opinions of the media or pundits. He is only keen to make colleagues and club supporters happy. But he knows even fans can change their thoughts based upon results.
"It is a feeling that you have to take with a pinch of salt as a goalkeeper," he explained when discussing a status as a figure of hero-worship. "You could walk down the street and everyone loves you one day. A day later, after a game, you could be someone who everyone hates if you have let the team down. You have got to accept you have some people saying good things and some people saying bad. You have got to be quite strong and not get carried away one way or another."
Hart is not one for hiding, though. He relishes life at the top of football and said: "It is hard to escape pressure from which you do not want to escape." And this weekend will again bring that weight of expectation when Manchester City travel to Arsenal for Sunday's 4pm Premier League kick-off.
Epic
It is the sort of game in which one stunning save can be of the same value as a goal. It will also put Hart against England colleagues, such as Theo Walcott, Alex Oxlade-Chamberlain and Jack Wilshere.
Any friendships will be put on hold. Hart's only aim is to help City beat Arsenal and close the gap on derby rivals Manchester United at the top of the table. Sir Alex Ferguson's team could be 10 points clear if they defeat Liverpool in Sunday's early kick-off before City play at Emirates Stadium.
Things have not been going to plan for Roberto Mancini's defending champions. They have discovered the difficulties in attempting to regain the title and are now a side every domestic rival wants to beat.
United's lead has led to critics targeting City's supposed underachievement. Such a situation can create the stereotypical siege mentality at the club but Hart is adamant there is no need for any additional motivation.
"We have got that anyway, whether we are winning or losing," he said. "We are strong. It is not perfect but I do not think anywhere is. When it comes to game-day, everyone's focus is on the match. That is the only thing you can look for when you have got quality players. If their mind is on it, you have got a good chance."
If City are to overhaul United in the title race, it would be another one of the epic comebacks in Premier League history. Add to the mix the Manchester rivalry and it would be an increasingly sensational story from the 'Noisy Neighbours'. But Hart is not getting carried away by the local element.
"It would be just as big as it is," he said. "It is not chasing Manchester United. It is winning the Premier League. That is what we want to do. If that means having to beat them, or Chelsea, or Arsenal, then so be it."
Joe Hart is the ambassador for new head&shoulders Itchy Scalp Care Shampoo and Conditioner, giving you an instant save from an itchy scalp and leaving your hair 100% flake free