No Dean disguise
Mike Dean will steal the headlines but the match official's performance should not disguise the fact Manchester City were well worth the spoils. In claiming their first league win at Arsenal in 37 years City kept within seven points of their neighbours Manchester United and deservedly so
Last Updated: 14/01/13 7:44am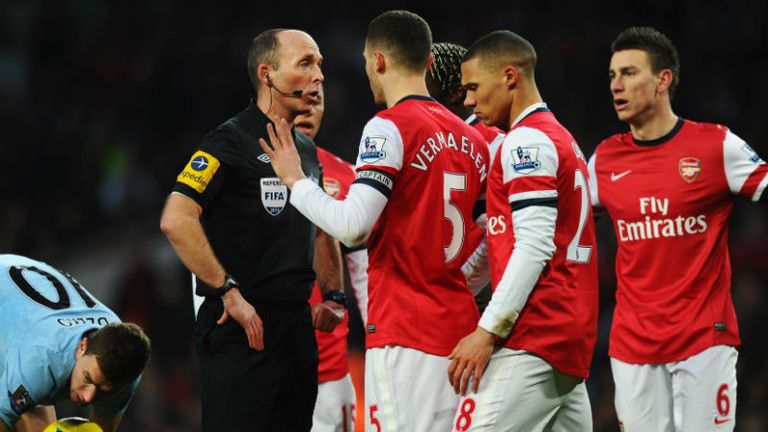 It's always cited as a shame when a referee's performance dominates the column inches but there is no doubt from the moment Mike Dean chose to dismiss Laurent Koscielny less than ten minutes in at the Emirates, what transpired thereafter was likely to be dictated by the colour of his card.
And so it proved. But that should take nothing away from what was a professional job on the part of Manchester City - although Roberto Mancini was less than happy with his side's profligacy post-match - even though it's difficult to gauge too much about either team given the contest became so lob-sided early on.
City have already confirmed they will be appealing Vincent Kompany's dismissal around the 75-minute mark but while neither side sang the praises of Dean on full-time, it will be Mancini and his players who can feel happy with an excellent afternoon's work in the capital that keeps them within seven points of neighbours Manchester United.
Referee
A break with tradition in our snapshot series as analysis of the match referee is given a more prominent spot. Although Arsene Wenger claimed he was 'surprised' by Dean's decision to dismiss Koscielny he was fairly magnanimous in adding 'but I've heard it was a penalty. We have to live with the decision and it doesn't mean that you have to lose the game'. The Arsenal faithful made their thoughts known for the remaining 80 minutes but in truth, what was Dean supposed to do? Koscielny had his arms all over Edin Dzeko and in bringing him down clearly denied the Bosnian a clear goalscoring chance. Is it not the referee's job to uphold the laws of the game rather than try to ensure it's as entertaining a spectacle as humanely possible? Had the incident occurred ten minutes from time rather than ten minutes in, it's unlikely there'd even be a discussion over whether Dean called it right.
His decision to send-off Kompany was significantly more contentious. Fans that decry a game that has gone soft will likely still be ranting over a call that will deny Manchester City their captain for the next three games, pending an appeal being readied already. There will be those that argue any tackle that wins the ball is a good one, but to play devil's advocate, by the letter of the law Dean called it correctly as it was two-footed and potentially dangerous.
Mancini is fuming while Kompany took to Twitter post-match to protest his innocence: "About the tackle: If the ball is overrun by the opponent and a 50/50 challenge occurs, collision is inevitable," he said, tagging on his picture. "Ultimately I'm a defender: Appeal may work or not. I will never pull out of a challenge, as much as I will never intend to injure a player."
As ever, Kompany demonstrated his class and why he's one of the Premier League's most popular players by adding: "No grudges against the referee, I understand the difficulty of the job."
Selection
Wenger chose to make significant changes to the Arsenal side which started at Swansea City in the FA Cup last weekend. Thomas Vermaelen was given the nod to start ahead of Per Mertesacker, while Abou Diaby replaced the injured Mikel Arteta for his first start since September in a midfield that also found a place for Alex Oxlade-Chamberlain at the expense of Aaron Ramsey. Theo Walcott was granted his wish to move inside from wide to start in the middle, with Olivier Giroud dropping to the bench and Lukas Podolski starting on the left.
Mancini was clearly more impressed with his side's exertions in the FA Cup as he made just two changes to the starting Xl that beat Watford 3-0 at the Etihad. Joe Hart was back between the posts after a week off, while Matija Nastasic reaffirmed his credentials as first choice partner to Kompany as Joleon Lescott was again reduced to a peripheral role on the substitutes' bench.
Tactics
Arsenal had planned to match Manchester City from the start by playing three across the midfield, with two wider players either side of Walcott in a central role. Once Koscielny was dismissed and Oxlade-Chamberlain sacrificed for Mertesacker it was inevitable Walcott would be a more isolated figure up front. As City used their numerical advantage smartly and pressed Arsenal back further up the pitch, Wenger's side looked disjointed and in an altogether forgettable first period, second best all over the pitch.
For City it was very much business as usual as Dzeko was preferred to Mario Balotelli as an attacking focal point. The Bosnian will be disappointed with a fairly tepid penalty that was pushed onto the post by Wojciech Szczesny but otherwise it was his excellent movement that allowed Carlos Tevez and David Silva pockets of space to play in between the lines. Mancini's decision to employ three captains of industry in the shape of the maligned but improving Javi Garcia alongside Gareth Barry and James Milner proved on the money as only the spirited Jack Wilshere looked happy to trade blows in putting his foot in when it mattered. At the back, Nastasic looked assured and his growing understanding with Kompany gave Pablo Zabaleta and Gael Clichy the confidence to bomb on - which they did at every opportunity to provide the width City can lack on the occasions when their full-backs are on the back foot.
Main men
Other than Mike Dean, for Manchester City there were a number of excellent performances. Barry and Garcia were a steady presence in the centre of the field but it was the buccaneering forays of Milner that caught the eye. The England man is accused of being a plodder but his form has been excellent of late and in the capital there was perhaps not a better player. His opener from Tevez's cute slide-rule pass was a study of precision and venom and was just desserts for an all-action display. He was also the architect of City's second too, as his devilish delivery from the right culminated in Tevez's saved flick for goal falling conveniently at the feet of Dzeko to register from no more than a yard.
Zabaleta's infectious enthusiasm also deserves mention as it was his man versus boy challenge on Kieran Gibbs in the build-up to City's second goal which was the single moment that best embodied the difference between the two teams all afternoon. Silva's improved form and impish touches will encourage Mancini; the sight of Hart flapping at a couple of crosses less so.
For Arsenal it's fair to say you wouldn't guess Wilshere has not long come back from an 18-month lay-off that threatened his career. The 21-year-old can still be tempestuous but Wenger will be well aware in a side that lacks genuine leaders his young midfielder is a beacon of light. It was his driving run, not the first of the afternoon, that brought about Kompany's red card and if he can stay fit will only get better with the more matches he plays. Diaby looked ring-rusty after a lay-off of his own but in lasting an hour is at least on the right path.
Of the rest, Santi Cazorla was less than peripheral while Koscielny's agricultural challenge on Dzeko was arguably instinctive but it was also pretty stupid.
Looking ahead
Had Kompany not seen red City would be travelling back home in optimum spirits after what was an excellent away day. Had they fallen ten points behind their neighbours, even eight, after a weekend in which the United juggernaut rolled on, there would have been talk, however asinine, of the title race being over. As it stands, City are no worse off and have got one of their more difficult games out of the way.
For Arsenal, who now sit a massive 21 points off the leaders, there is little to cheer in North London this Sunday. Although they were improved after the interval, Hart was only really tested at the death when Lescott came to his rescue to clear Walcott's effort off the line. Although there's no denying Koscielny's dismissal set the tone for the rest of the game, deep down Wenger will know that even before Dean's intervention his side looked off the pace and were second best for almost the whole 90 minutes. A midweek FA Cup replay with Swansea has taken on even greater significance.