Winning mentality
Rising Chelsea star Cesar Azpilicueta speaks exclusively to Sky Sports on his desire for success, life in England and the prospect of a London derby with Arsenal
By Peter Fraser - Follow me on Twitter @SkySportsPeteF
Last Updated: 19/01/13 2:03pm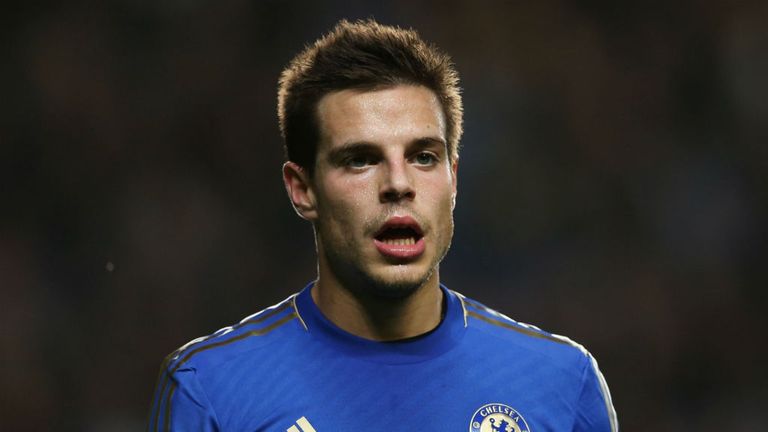 As Chelsea fans sarcastically sing at their defender with a somewhat difficult to pronounce name, 'Cesar Azpilicueta, we'll just call you Dave'. Some might take offence but the man himself does not mind. "They can call me what they like as long as we win," he laughed.
The Spanish right-back, a £6.5million signing from Marseille in August 2012, has no problems with nicknames. He has adapted well to life in England and his only focus is upon helping his club to be successful.
Captain John Terry's absences through suspension and injury this season, and the subsequent reshuffle of Branislav Ivanovic from full-back to central defence, have offered Pamplona-born Azpilicueta, who started his career at hometown club Osasuna, more first-team starts than he might have expected with the European champions.
But the 23-year-old has taken full advantage. He has now played 22 times for Chelsea in all competitions and could add to that in Sunday's vital Premier League London derby with old rivals Arsenal at Stamford Bridge, when he and his team-mates go into the game some 13 points behind table-topping Manchester United.
Whether Chelsea's realistic target should be considered as the battle for the top four rather than the title race, with sixth-placed Arsenal joining the likes of Tottenham Hotspur and Everton in competing for the UEFA Champions League places, is open to debate. But there is no doubting Azpilicueta's targets.
"The ambition for Chelsea is to win every game and, of course, to win trophies," he told Sky Sports in an exclusive interview in association with Thomas Cook. "We cannot think too far ahead about winning the Premier League - we must work game-by-game. We have a lot of games. It is four months to the end of the season and so we can get points and, at the end, be challenging for trophies."
Player
Cesar Azpilicueta
League Games
14
Minutes On Pitch
1109
Tackles and Blocks
Total Tackles Made
31
Last Man Saving Tackles
0
Tackles Won %
84%
Shots Blocked
3
Interceptions
25
Clearances
Total Clearances Made
33
Record
Won
5
Drawn
5
Lost
4
Win %
35.71%
It would be understandable for Azpilicueta, who knows he is still developing as a footballer, to be experiencing a culture shock, despite being surrounded by Chelsea's strong Spanish contingent of interim boss Rafa Benitez, Juan Mata, Fernando Torres and injured midfielder Oriol Romeu.
Having spent his childhood and teenage years in the north of Spain before moving on for two years at Marseille in the summer of 2010, England is a change of pace. The lifestyle and even the weather would be far from the norm when compared to the Cote d'Azur. But he is relishing life and the sights in London after already sampling the city as a part of Spain's albeit underachieving squad at the 2012 Olympics.
After a training session in the snow, "that was something a bit different", on Friday, Azpilicueta said: "I arrived here four months ago so have had the time to settle. It is normal when you come to another country, with a different language, that you need a little time to settle down. Now, I feel at home and I am very happy.
"I have been to Big Ben and the London Eye. I have some family who come and visit. But I am here to play football and not be a tourist."
Indeed, and Arsenal are the immediate focus. Arsene Wenger's team will visit their long-standing London rivals for payback following a 2-1 defeat at Emirates Stadium in September.
They will also arrive in the west of the capital looking to take advantage of Chelsea's recent problems at Stamford Bridge, where the midweek surrender of a two-goal lead in the 2-2 draw with Southampton means they have now taken just six points from their last five home games.
But Azpilicueta is adamant Chelsea are not suffering from additional pressure at home, as he said when asked about the subject: "It is true we did not get the scores we wanted. But we are happy playing at Stamford Bridge with our fans. Maybe the way rivals play against us at Stamford Bridge, we have a little bit more problems. But it is not a problem playing at Stamford Bridge. Maybe we just did not score from the chances we create. We can change that. I do not think the problem is playing in front of our fans."
Pundits have in part attributed Chelsea's difficulties at Stamford Bridge to a negative atmosphere surrounding Benitez. The Spaniard's association with former club Liverpool have made him unpopular with some sections of fans since he was appointed in November on a basis until the end of the season after the sacking of Roberto Di Matteo.
Benitez is the ninth manager at Chelsea in the era of owner Roman Abramovich and so, having already seen Di Matteo - the man who was in charge when he was signed - leave, Azpilicueta has been given an early glimpse of the changes which happen at his club.
But questioned whether he was happy playing under Benitez, Azpilicueta said: "Of course. I am a Chelsea player. I enjoyed it with Robbie and now I am enjoying it with Rafa. I am happiest for Chelsea. Every manager we have, we try to play as a team and do our job - play on the pitch, train well and win games."
Cesar Azpilicueta was speaking on behalf of Thomas Cook Sport, official travel partner of Chelsea FC. Secure your seat at any remaining home fixture this season with a Match Break, including official ticket and hotel, from £109. Visit www.thomascooksport.com or call 0844 800 9900 for details