Secret Agent
The shadowy world of the football agent is one that is cloaked in secrecy amid accusations of greed. Thankfully, we have got one of the good guys on board to lift the lid on what life really is like at the sharp end of a notoriously cut throat business.
By Secret Agent - Follow me on Twitter @SSSecretAgent
Last Updated: 21/01/13 4:20pm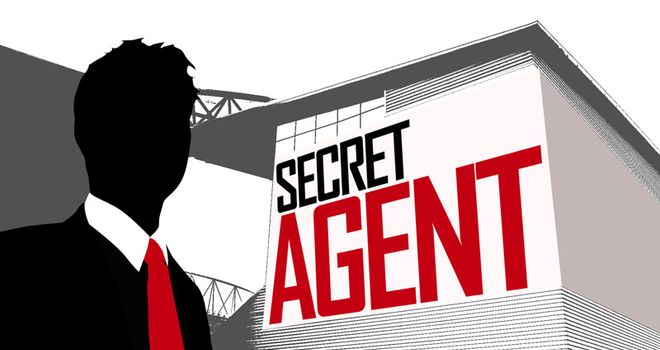 Imagine a world without football agents. Stop cheering at the back; we are not all that bad. It is a notion that keeps me up at night and even more so now that FIFA has started to moot the idea to anyone that will listen. Like a politician latching on to any eye-catching policy that might capture the public's imagination, it is an idea based not on fact or research but populist appeal.
Of course I would say that, I have an agenda of my own but even withstanding a partisan stance on the topic, at least I am coming at it from the inside looking out. Those that do so from the other way around may talk a good game but the mechanics involved in such a huge business mean the best intentions are not always realistic and often counter-productive in the long-term. We may not all be paradigms of virtue but neither are we all leeches sucking the very lifeblood out of the national game either.
FIFA has been working on a proposal called Global Player Exchange. The idea, as I understand it, is to give clubs a service where they can access player information, while at the same time facilitating an advertising service in which players that are surplus to requirements can be offloaded. In short, it is eBay for footballers. Advertise your unwanted goods (ageing left-back, GSOH but lacks pace) and sit by a laptop waiting for the bids to come in. And football supporters complain about a lack of loyalty in the game; I wonder why with proposals like this in the offing...
There are many different parties involved in a transfer and while it is a headache occasionally exacerbated by outside sources, it is one that is inevitable when such large amounts of money and people's futures are involved. If you can name an industry where deals are universally conducted without the occasional hiccup or falling out, I am all ears and want in.
Even when things are straightforward there are the two managers involved (at the buying and selling club), then you have the clubs' owners, the finance people and then the player's agent. The agent's role is to get all these people to work together to get a deal done. It is a thankless task getting three parties all singing off the same hymn sheet and to think it can be done without someone to pull the various strands together is optimistic to the point of naivety. To suggest a computer software system can get the job done is mind boggling. Imagine with half-an-hour left on deadline day waiting for a response to a request via a computer. Technology is a wonderful thing but I have yet to see an iPad that can espouse the qualities of a wantaway centre-half. In any case, Jim White just would not have it...
Rather than reinvent the wheel, what FIFA should actually be doing is imposing sanctions and fines on clubs and players who still use unlicensed agents and intermediaries. The whole point in introducing the licensing system was to control the flow of transfers and ensure 'wheeler dealer' stereotypes became as archaic as their sheepskins and cigars. This is what needs fixing and it does not need such a draconian and frankly unworkable model, that retires to bed agents altogether, to put things right. Fans may not like us, but you do when we deliver a new No.9 gift-wrapped on deadline day.
To the transfer window then. With two weeks left, it is relatively quiet at the moment both domestically and in Europe. QPR stole a march to bag Loic Remy this week and in getting off the mark at the weekend he earned his side a precious point. The choice of club was a bit of mystery, though, considering the Hoops are holding up the rest of the division at present.
Originally the player said no to Harry Redknapp, but I guess he must have got wind of some of the lovely shops and galleries in West London to have had such a dramatic change of heart...
Good business by QPR? Well if they stay up then of course it will be and Redknapp will get all the plaudits. Fail, though, and QPR will have a major headache, make that a migraine, to deal with. Over 20 players and counting have been signed by the club in the last 18 months to keep them in the Premier League last season and to help do the same this term. For the sake of the club's fans, I just hope Tony Fernandes has had the foresight to have installed clauses in contracts that ensure exorbitant wages are cut in light of relegation. He seems to have genuine affection for the club and deep pockets, so it would be a shame if he was left next season with an unworkable Championship wage bill.
Paying £8million for a player when at the wrong end of the table is a risk of course but with Harry that is a risk worth taking. Personally, I am not convinced Remy, despite his good start, is the real deal. But when you are dealing with a struggling club, it is a seller's market and Marseille have done well to set the fee at such a high level.
On a personal note, this last week has been very quiet. It is not just me, though. Many of my agent 'friends' are reporting that they, too, have been so quiet they have finished all their Christmas box sets. There is only so many hours of The Wire to get through. It is fairly typical fare for a January window. There is an early flurry of activity from those clubs in trouble as they look to get their house in order as soon as possible. When you are chasing a points deficit, as with QPR, you cannot look to play the market for the best possible deal when everyone else knows your hand already.
A reason for the lull is often due to clubs and players both playing the old waiting game. Initial offers at the beginning of the month are sat on; agents will always know how much some clubs are desperate for the services of certain players. They will play a waiting game and gamble that the buying club will cave in and offer a better deal for the player and agent to complete. This type of strategy is always risky, but when the transfer window is only open for a month and often a manager's future is on the line, it makes it a whole lot easier to get a deal done.
Wait long enough and more often than not you will get the contract that your client craves. In the summer transfer window the risk of holding out for a better deal often backfires as there is a greater choice of player. The season has not started so the club and manager are not under any pressure to make snap decisions. The many swings and roundabouts of a transfer window.
I am on the phone and Skype, sending text and emails to agents and clubs across the globe constantly at the moment. Like anyone else who works for themselves, you are only as good as your last deal. I just hope this is the calm before the storm as, like a lot of agents out there, I could really do with a commission this month to see me through until the summer window.
I am confident that one or two transfers will go through but, as the month gets nearer to the 31st, I will be every bit as nervous as those players and managers at a crossroad in their careers. Jeez, if it gets any worse I may have to get myself a proper job! No wonder I have been struggling to sleep at night...