What next?
Matt Stanger has grave concerns for Aston Villa after watching them bow out of the Capital One Cup to Bradford City. Paul Lambert admits missing out on Wembley was an embarrassment and must now prove he hasn't run out of ideas as Villa look to fend off the threat of the drop
By Matt Stanger
Last Updated: 23/01/13 10:38am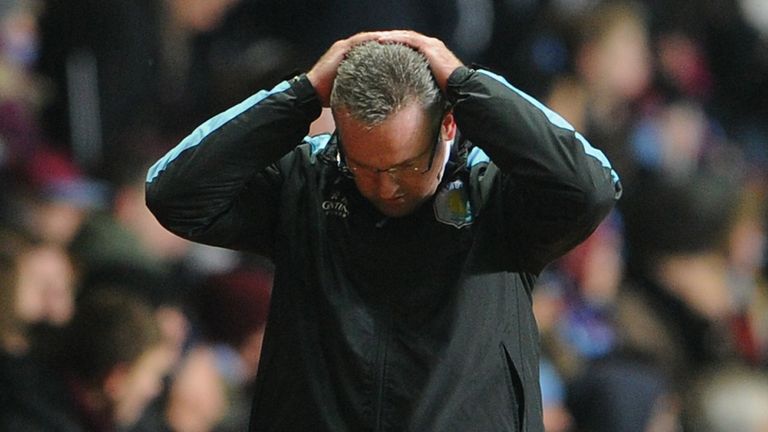 For every cup fairy tale there has to be at least one fallen giant and Aston Villa suffered a collapse worthy of the Cyclops in their League Cup semi-final defeat to Bradford.
Bradford deserve enormous praise for an incredible run that has also seen them knock out Wigan and a full-strength Arsenal side to set up a final date with Swansea or Chelsea on February 24. And while they edged through their previous Premier League tests on penalties they out-fought and out-played Villa over two legs to claim a deserved 4-3 aggregate victory.
Not only will Paul Lambert be disappointed, he should also be very worried about his team's chances of Premier League survival.
Following an impressive 3-1 win over Liverpool at Anfield on December 15, Villa have been in free-fall. They have lost four of their last six top-flight fixtures, conceded 20 goals in that time and are now balanced precariously above the relegation zone with a goal difference of minus 25 - by far the worst in the division.
Similar to the second half on Tuesday night, it seems Lambert may have run out of ideas. The manager chopped and changed his system to varying degrees of success in the first half of the season but he has failed to stem Villa's worrying form and struggled to out-smart a Bradford outfit who kept things very simple and defended in numbers. In Lambert's defence, it matters little what formation he picks given the stark lack of quality and experience in the Villa squad; a key combination required to win a relegation dogfight.
While QPR and Newchâteau are in the process of strengthening this month to prepare for the battle ahead, Villa have been surprisingly inactive. There has been questions raised recently over whether Randy Lerner may view the club as a lost cause, and fans will be concerned that there has barely been the faintest whiff of a Villa transfer rumour this month. Perhaps Lambert simply can't decide which area he needs to strengthen first, but I highly doubt that when the defence is leakier than Malcolm Tucker.
Indeed, not only did Villa bow out to Bradford, they also conceded four goals over the two legs to a team that have only scored three times in their last four League Two fixtures. Ron Vlaar's return from injury was supposed to alleviate the defensive problems, but the Dutch international looked off the pace on Tuesday and Villa have won only five of the 17 matches he has played this season.
Lambert's focus has largely been on building a young team that try to play a high-tempo pressing game, but Villa's young players look weary and worried after a dreadful month. It may be time for the manager to shelve his long-term plans and make the most of the experience he does have within the squad, with recalls for both Richard Dunne (when fit) and Darren Bent the first priority.
."There's two ways you can respond. You either lie down and accept it or come out fighting. We are certainly not going to lie down," said a defiant Lambert on Tuesday. But unless the manager finds the funds for several new signings down the back of his sofa this week, he will have to look at other ways to improve the team. Bent arrived to save Villa with nine goals in 16 matches when they were struggling at this stage two years ago, and it may require the striker's second coming to solve the club's current predicament.
This article first appeared on Football365