Love at first sight?
With Lewis Holtby having seemingly won over Tottenham's fans in record time, Nick Miller feels his capture could help his new side cope with a dearth of fit strikers in north London. It's still early days but Villas-Boas/Levy may just have pulled off a masterstroke...
By Nick Miller
Last Updated: 04/02/13 2:31pm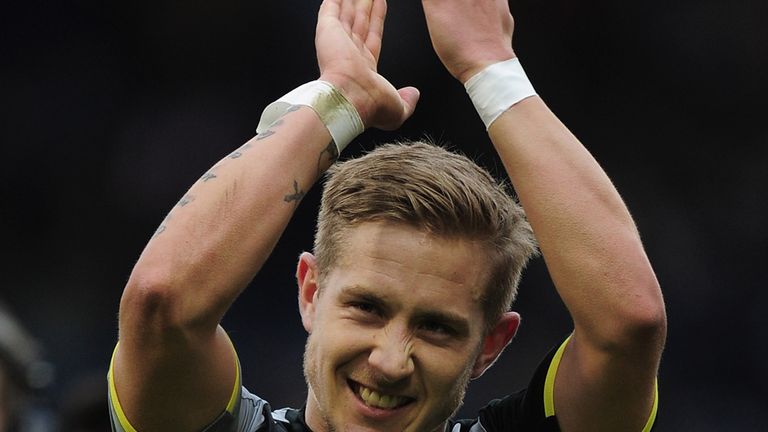 The injury to Jermain Defoe in Tottenham's 1-0 win over West Brom will quite obviously and justifiably make Andre Villas-Boas/Daniel Levy's decision not to sign a striker in January look even sillier. On Sunday evening, Tottenham fans are also Burkina Faso fans, hoping against hope that Emmanuel Adebayor's Togo are knocked out of the Africa Cup of Nations and he can return to London.
Of course the lack of a proper striker might not be the biggest disaster in the world for Spurs, firstly because even if both Defoe and Adebayor are available, they haven't exactly contributed a great deal in recent weeks. The pair only have a goal each in the last ten league games and yet Spurs have only lost one of those matches.
More pertinently, Spurs have quite some firepower behind whichever striker/makeshift striker plays up top. In Gareth Bale and Aaron Lennon they already had probably the two most dangerous wingers in the Premier League, but now they have Lewis Holtby to (nominally) play between them.
It's always rather sweet to see a group of fans fall instantly for a player, and Tottenham fans have certainly fallen hard for Holtby, not least because of his boyish looks and lovely blonde hair.
Holtby is primarily a creative number ten, but he is adaptable enough to play in either wide position, which gives Spurs a hugely exciting trio, in that they can interchange at will in a hugely threatening manner. They did so to great effect against West Brom, and they have only had around 90 minutes in total to develop an understanding.
Lennon will largely stick to the right flank with the occasional wander to the left, but when Bale wishes to go on his increasingly frequent charges through the middle (charges that have brought him two goals and Spurs three points in the last couple of games), Holtby can shift to the left, ensuring Spurs don't lose their shape.
Villas-Boas is certainly impressed. "Is he the bargain of the century? I think so because it's difficult to find a young player who is running his contract down and we faced tough competition," the manager said last week.
"Because of his creativity you can compare him to Rafa [Van Der Vaart] - to a certain extent anyway because Rafa was a greatly experienced player when he joined and Lewis has all his career ahead of him.
"He will fill the No.10 position, although he can play on the right or the left and he has also played in a holding role."
The good thing about Holtby when compared to Van Der Vaart is his work rate. He is as tenacious as they come, pressing and harrying defenders constantly, which means that when his creative form is a little off, he can still perform a valuable role to the side. While Van Der Vaart was a wonderful player, he could frequently go missing in games, something that Holtby will never do. If he isn't creating, he'll be a professional pest.
And all for about £1.5million. Levy's obsession with a bargain can be infuriating, but this one could be the best of his time at White Hart Lane.
This article first appeared on Football365