'A Liverpool legend'
Phil Thompson and Jason McAteer react to the news Jamie Carragher will retire at the end of the season.
Last Updated: 08/02/13 6:55am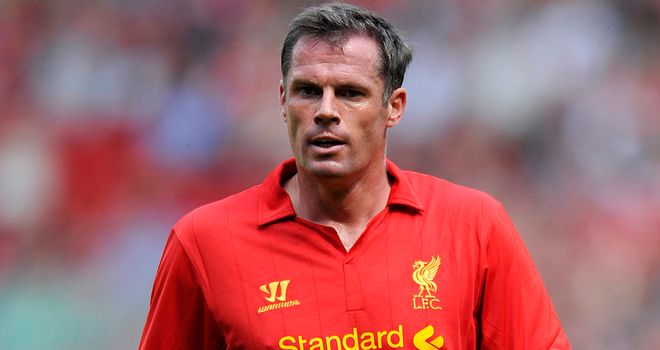 Phil Thompson: Liverpool - 1971-84
"There have been rumours flying around about (Carragher's retirement) so it's not a complete surprise, but when you see Jamie coming back into the side against Arsenal and Manchester City and doing ever so well and not looking out of place, then you are maybe a bit surprised he has taken the decision.
"But if one person knows his body it's Carragher; he's pushed it to the limit over the years, all for the great honour of playing for Liverpool, so he will know whether it is right or wrong to call it a day. We just have to give him credit for what he's done for the football club.
"People questioned why he retired from England but he thought it was right not only for himself but for his football club, which is all important to him. He has done football a massive credit in this country and the biggest compliment I can pay him is that he could have fitted into any generation of Liverpool team.
"He will go into management - I think that goes without saying - because he has an obsession with and passion for the game; he watches football, knows his tactics, and he will be sought after. Hopefully, he can slot into the coaching staff at Liverpool as that would be ideal."
Jason McAteer: Liverpool - 1995-99
"Carragher has had an amazing, immense career and there is nothing he hasn't done in the game so I'm sure it was a decision he hasn't taken lightly, but one that means this is a sad day for Liverpool, football fans and Jamie himself; he has been at Anfield for so long and will leave an empty space.
"I was playing when he made his first league start against Aston Villa (in 1997) and it was messy; he was running around like a headless chicken before he managed to score from a corner. You knew then, though, the enthusiasm, desire and passion he had for the game and that he was going to be around for a long time - and he knuckled down, played in so many different positions and became a credit to the game and to Liverpool Football Club.
"Jamie was very good in the media during Euro 2012 and knows the game inside out so (maybe he will go down that route after retiring) but Liverpool are working closely with the ex-players, with the likes of Ian Rush and Robbie Fowler taking ambassadorial roles, and you would put Jamie in that bracket of legends, so I'm sure there is a role as an ambassador for him or, perhaps, as a coach.
"You look at some players you played with who have become managers and think: 'I didn't see that coming', but I always thought Jamie would go into management; he studies the game, loves the game and has great organisational skills - when he is playing for Liverpool, all you can hear is him screaming! I wouldn't be surprised if we saw him managing a club in the Premier League in a few years' time."