Sky Sports Scout - Yannick Bolasie
Sky Sports Scout is where we scour the globe looking for the best talent. Next up is Yannick Bolasie.
By Sky Sports Scout - Tweet me: @skysportscout
Last Updated: 21/05/14 11:39am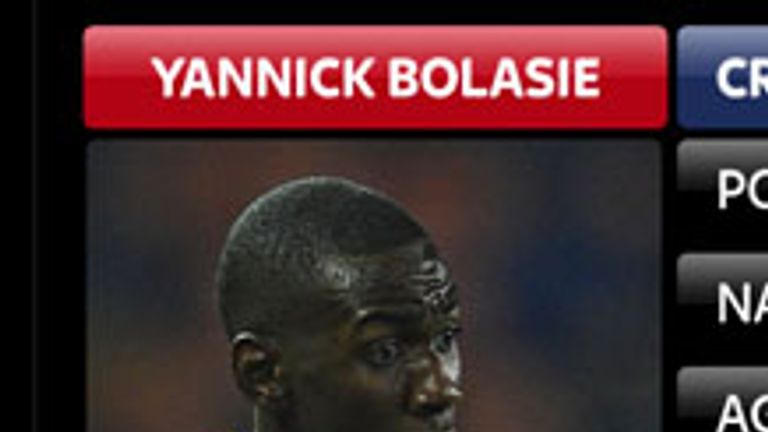 Sky Sports Scout is our exciting feature where we scour the globe looking out for the best talent and bring you a report on what we find.
Our Scout will report back and you can comment on what you think of our appraisal.
Also, in association with Football Manager, we give all readers the chance to win a copy of the latest game by nominating a player.
You can only nominate a player by emailing here, including the word 'Scout' in your subject line and please check to make sure we have not already covered the player.
Should your player get reviewed by our scout, and you were first to send in his name, then you will win a copy of Football Manager 2013.
You can also now interact with the scout via his all new Twitter feed! You can get in touch with him and interact here or just search for @skysportsscout!
Latest under our scout's gaze is Crystal Palace's Yannick Bolasie
The scout reports...
Even with Manchester United-bound Wilfried Zaha on the opposite flank at Crystal Palace - Yannick Bolasie has emerged as one of biggest talents outside the Premier League.
It is fair to say a few eyebrows were raised when Palace snapped up Bolasie from Bristol City in the summer - few thought he would be a first-team regular.
But not only has he made a first-team place his own, he has emerged as one of the Championship's top performers this term, and even on many occasions out shining England international Zaha.
Bolasie's own story is an interesting one. French-born to parents from DR Congo, he moved to London before he was one and was raised in Croydon.
His talents were obvious from an early age and he was soon playing for Rushden & Diamonds (in the league at this time) in their youth set-up - but his first real taste of action came with Hillingdon Borough.
His career then took a slightly unusual switch as a friend recommended him to a club in Malta and he began his professional career with Floriana - where he spent a full season.
He was soon offered a trial back in England with Plymouth - he impressed and earned a two-year deal. But he spent the next couple of seasons on loan at Barnet and did not make his debut for the Pilgrims until 2010 - but he soon became a firm fans' favourite.
His former at Home Park saw Bristol City snap him up in 2011 and his rapid progression continued at a pace and after just 12-months at Ashton Gate he was already on the move with Palace quick to bring him in.
Bolasie's progress at Selhurst Park has been spectacular - he has been a regular all season and has impressed at every turn. Many clubs are know to have turned up to check on Zaha earlier in the year, but have since returned glowing reports on Bolasie instead.
Indeed Bolasie's name is already been linked with a move to the Premier League - and why not? He seemingly has everything that the £15million Zaha has, indeed you could argue more.
Bolasie is very similar to Zaha in terms of stature and his general play. Two footed, he can play on either side - but he is quicker.
Despite being 23, Bolasie has 200 league games under his belt and his own-field maturity does show - and it is clear to see why he has played such a big part in Palace's season.
With a vicious shot, Bolasie does have rough edges - but so many have been smoothed out in the past 12 months, which has enhanced his progress.
DR Congo are desperate for Bolasie to commit to them, and it is very easy to see why as both England and France have no doubt been alerted to his progress .
The scout says...
A real talent who has seemingly come from nowhere - having already lost Zaha, seemingly Palace need to book promotion to stop Bolasie following him to the Premier League.
Is clearly performing well under Ian Holloway - but a 23, he could already be ready for the top-flight.
The Scout rating...
Shooting: 7 out of 10
Passing: 8 out of 10
Tackling: 6 out of 10
Heading: 6 out of 10
Pace: 9 out of 10
Vision: 8 out of 10
Current ability: 8 out of 10
Potential ability: 10 out of 10
OVERALL SCOUT RATING:62/80
Current value: £5million
Potential value: £20million
Your opinion...
You have read our opinion of Yannick Bolasie - now we want your views. Have you seen Bolasie in action? Do you agree with our assessment? Do you think he will make it?
Get in touch, either using the form below, email or the scout's Twitter feed - @skysportsscout
And if you have spotted anyone you think we should feature then please get in touch using the same form. We will look to send out the Scout to follow up your leads.