Dress rehearsal?
After impressing in his job of quelling the threat of Marouane Fellaini on Sunday, Nick Miller predicts Sir Alex will charge Phil Jones with a similar role on Wednesday as he looks to nullify Cristiano Ronaldo at the Bernabeu...
By Nick Miller
Last Updated: 13/02/13 6:43am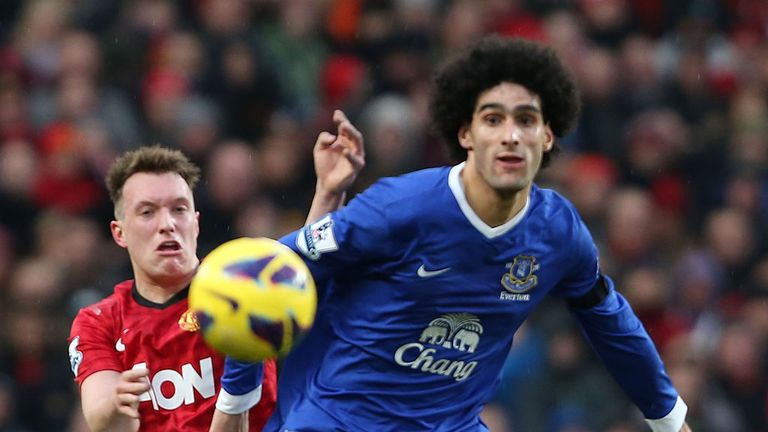 And so, the Premier League is done. Of course, we've been here before, but the way United are playing and the way City are playing, you'd need to be particularly deluded to think United are going to throw away this lead.
Given their remaining fixtures, it's difficult to imagine United even dropping half the points needed by City, and that's before you consider that City themselves will have to be flawless to retain their title. It's tricky to think that a side who have taken two points from QPR, Liverpool and Southampton will manage 100% from this point.
So United's focus is now on the Champions League, and most immediately the trip to play Real Madrid on Wednesday. That the Premier League is basically over in February is obviously quite embarrassing for everyone else, but even more so given that this United team is not exactly what you'd call vintage. They're functional and effective, but really nothing special. Even this Real side, struggling domestically and apparently rife with the usual internal struggles, will be strong favourites to beat United.
Thus, United must be 'pragmatic'. They won't be able to outplay Real, so they must find another way to beat them. Their foremost priority must be to stop Real's dangermen, to adopt the role of the underdog and even 'spoiler', and this is where Phil Jones may come in.
While it would be overstating things to say Jones will be United's most important player in the Bernabeu when Robin van Persie will presumably be on the pitch, he will be right up there.
Jones was purchased as a centre-back, but given the strength of United's options in that position, he is unlikely to get much playing time there right now. Indeed, the form of Jonny Evans complicates things further in that respect - when Jones signed in 2011 it was clearly with a view to gradually being phased in as Rio Ferdinand and Nemanja Vidic aged/needed a rest. He and Chris Smalling were supposed to be the new partnership, the great hopes of English defending, but because of Evans, who has arguably been United's best central defender this season, Jones is fourth or fifth choice in his natural position.
So, he and Sir Alex Ferguson must improvise. In United's win over Everton, Jones was not quite given a man-to-man marking job on Marouane Fellaini, in that stopping the big Belgian was not his only focus for the game, but he did keep that afro in his sphere of vision for most of the 56 minutes he was on the pitch. Jones was terrific in the role of midfield spoiler, making five interceptions, a couple of tackles and recording a pass completion rate of 94% in little over half a game.
As well as keeping Fellaini quiet, Jones was detailed to monitor the left side, down which Everton have offered much of their threat this season. Just as he did against Spurs in January, Jones was nominally stationed in central midfield, but spent plenty of time drifting right to stop Leighton Baines and whichever of Kevin Mirallas or Steven Pienaar were patrolling Everton's left. Indeed, his average position in both games was roughly where the old-fashioned 'right-half' might have played, somewhere between the defence and midfield, to the right of center. It's a tactic that Ferguson has looked at before, and one that he may very well employ again in the near future.
While league games against Spurs and Everton are not to be regarded as preamble to anything, it's difficult to think that Ferguson wasn't using both of these matches as preparation for the biggest game of their season in the Bernabeu on Wednesday night. The way Jones was deployed in both of those games is exactly how one might try to negate the threat of Cristiano Ronaldo without excessively unbalancing the rest of the team. With him, Rafael and possibly a 'worker' like Danny Welbeck on the right wing, Ferguson may attempt to crowd Ronaldo out while still giving his side the chance to attack and cause some damage.
Jones was taken off with what looked like a minor knock against Everton, and it was interesting that he was removed with such haste. Ferguson is clearly keen for Jones to play in Madrid, so for the next few days Ferguson will have his fingers firmly crossed.
"Let's hope we can get the team out that we want on Wednesday," said Ferguson after the game. At the moment that team seems to include Jones, and their best chance of stopping Real relies on this particular plan coming together.
This article first appeared on Football365