Cup Dreams
In our latest Cup Dreams feature, Graeme Bailey talks exclusively with Luton Town boss Paul Buckle as he looks to make history
By Graeme Bailey - Tweet me: @graemebailey
Last Updated: 15/02/13 2:19pm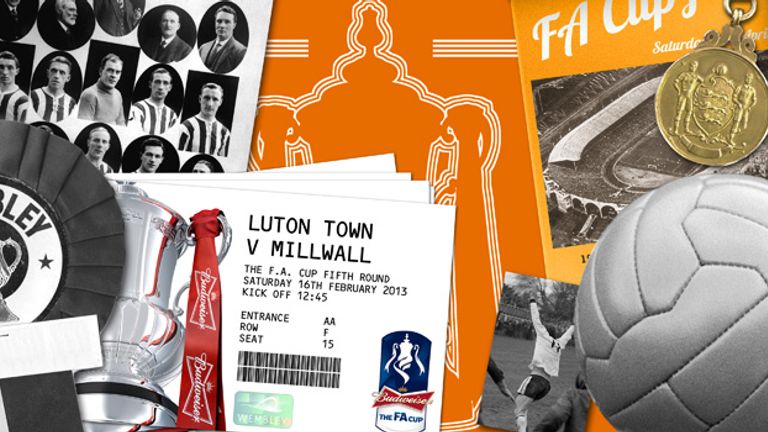 Luton Town look to make history this weekend as they could become the first non-league team since the Second World War to make the quarter-finals.
Colchester, Yeovil, Blyth, Telford, Kidderminster and Crawley have all previously reached the last 16 in the cup - but none managed to make it through. The closest to that feat were Blyth who took Wrexham to a replay before going out, but that still means they are the only non-league side r to make it into the hat for the quarter-finals.
Now Luton, who as a league club reached the FA Cup final in 1959, have the chance to add a new chapter to the annals of cup history.
And standing in their way are Millwall - not a Premier League club, and indeed Luton host the Championship side at their Kenilworth Road home. The fact SkyBet make the Hatters 11/4 to win highlights the argument that many feel Luton's progression is a realistic proposition.
But Luton boss Paul Buckle insists a 'Goliath' effort is still required by his side ahead of the match on Saturday.
David and Goliath
"This is still David and Goliath territory," Buckle insisted - but he hopes the wins in previous rounds against the likes of Wolves and most notably at Premier League Norwich will inspire them.
"The players will take the confidence from the last rounds, but there will be no pressure - it can be a dangerous thing with no pressure on you, but the players put pressure on themselves.
"They are a great group to work with and they will give their all on the day and we just need that little bit of luck to go through."
Buckle admits that some or even most of the players will never taste the FA Cup fifth round again - so they need to take that into the match.
"We have got half a million from our cup run so far and that has gone into the club, which is great but the players know that this might not come about again in their careers," he said.
"We are playing a Championship club in the fifth round - the interest is so high, for a non-league club playing at this level. It has been manic at times, but it is all good."
The Luton chief admits it is one of the highlights of his managerial career but he is quick to turn the attention back to his charges.
"It is up there for me, but this is not about me - this is about them," he continued.
"I am going to be so proud just watching them and they are a great bunch and I just hope they do themselves justice on Saturday."
One issue for Luton has been the fact that, since their win over Norwich, they are yet to win in the league, but Buckle says that isn't a problem.
"I really don't think that is an issue and you can't mix them up," he said.
"You have to say that the players have done brilliant to get in fifth round of the FA cup and then try and hope that we do get out of the league.
"We have coped with so many games and the players have been phenomenal and there is still an awful long way to go in the league."
Buzz
Buckle is a believer that the 'magic' of the cup is still firmly around, given how much support they have received in recent rounds.
"There is a buzz, and if it didn't matter that much how come we had a full house against Wolves, a full house Saturday and took 4,000 to Norwich," he said.
"This is so big - but it is being compared to the league which is not fair, this is great for the club and you have to go with it and just enjoy it."
Buckle will have decisions to make on his team selection which he admits he is not looking forward to come Saturday.
"It will be rough, we haven't got a massive squad - we have injuries and suspension but people will miss out. But as they have all season they will deal with that."