Tight at the top
Marc Pugh of League One leaders Bournemouth talks promotion chances and the Eddie Howe effect.
Last Updated: 27/05/13 11:36am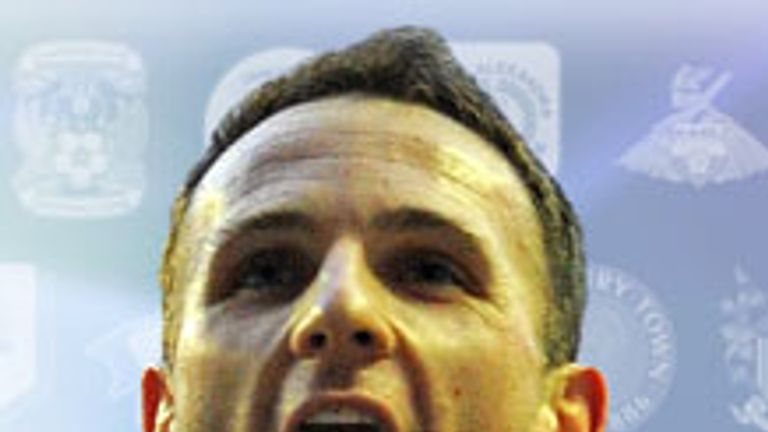 The 2012/13 campaign is about to enter the final straight, with promotion pushes and relegation battles now in full swing.
Here at Sky Sports we continue to take you to the very heart of the Football League, with our Spotlight features intended to give you a greater insight into the clubs and players that keep us on the edge of our seats.
We are hoping to bring you the views and thoughts of a representative from each of the 72 teams over the course of the season, with those involved asked to give their take on the division they compete in, the club that pays their wages and those we should all be keeping an eye on.
Bournemouth forward Marc Pugh is next in the hot-seat as he discusses the Cherries' promotion chances and Eddie Howe's welcome return to the club with Rachel Griffiths.
Bournemouth currently sit top of the league - are you heading for promotion this season?
It's going really well at the moment. With 23 games and one loss we can't argue at all but we've got to be really confident. I think this month will be massive for us, we've got a lot of tough games. We've got Doncaster, Coventry, Sheffield United - all big games coming up before the middle of March. So I think that could define our season.
There are four points between you and seventh-placed Yeovil in a very congested battle for promotion. Could things go down to the wire?
We've got Tranmere away in our last game of the season and you never know, it might go down to the final game, you just can't tell. It's really tight, anyone could win the league. It's been one of the most competitive seasons I've known over the last couple of years.
Who do you think your main competition for promotion will be?
We've got to keep an eye on Sheffield United and Doncaster, who are the main two who have really impressed me this season. They've both got really strong squads.
With the Cherries in the driving seat at the moment, what do you need to do to ensure it stays that way?
It's all about character. On the back of a loss you've got to pick yourselves up and win the next game. I don't think you can afford two or three losses on the bounce or you lose track. Things start catching you up and you start losing a bit of confidence. I think it's five wins on the bounce since our defeat at Walsall so we've shown we can bounce back and hopefully string another great run together like we did a couple of months ago. You need big characters and obviously consistent performances.
Speaking of big characters, who are the key players in the dressing room keeping things on course?
The big thing over the last three or four months has been that we're such a tight-knit group. Everyone has been performing. We've been getting goals from Lewis Grabban up front, Brett Pitman showed the other night that he's capable of scoring goals (he scored two against Crewe) and I think defensively we've been solid, and in midfield. So I couldn't really single anyone out because I think, from one to 11, everyone has been superb.
Is there anywhere you can improve as a team?
We're strong in all positions at the moment. I think we just need to cut out any complacency. We can't afford to concede sloppy goals. We've got to be ruthless in both boxes and take our chances and also keep clean sheets.
You've developed a strong partnership with left-back Charlie Daniels this season but he's recently been injured. How big of a blow is that for the side?
He's a brilliant player, Charlie Daniels. You're going to get a good defensive responsibility from him and he's brilliant going forward as well. He's a big loss for us but we've signed Matt Ritchie, who's come in at left-back, and he's doing absolutely superbly at the moment. We've got a lot of strength in depth in our squad and it's going really well, so hopefully we can continue that until the end of the season.
Eddie Howe returned as manager in October after a stint at Burnley. How influential has his comeback been to the Cherries' success?
We're on a fantastic run and since the manager has come back we've gone from a really poor position to top of the league. It's been absolutely superb. I think he knows what every individual needs, he knows a lot about the opposition and he makes training and every day enjoyable. The lads just want to play for him. He's been a big factor in our success so far, along with his assistant Jason Tindall.
You committed to the club on a new long-term deal in November after turning down a fresh contract in the summer. Was Howe's return a major factor in your decision to stay?
He was a big factor, along with our recent run of form. I've always said I want to play in the Championship and I am ambitious, and I believe at this moment in time the club match my ambition. Hopefully we can be in the Championship next season.
Are you feeling settled at the club?
I absolutely love it. It's such a lovely place to live and it ticks all the boxes. The club has got good financial backing, it wants to go places and it's got a wonderful training ground.
You were linked with a Premier League move in the summer, with Fulham and Southampton among your reported suitors. Were you tempted?
As a young lad you let the press affect you, and it is really nice to be linked to clubs like that. Southampton is such a brilliant club. But at the moment I just want to concentrate on playing for Bournemouth and I'm just loving my time here.
You've scored eight goals so far this season - do you have a target in mind that you'd like to beat?
I always try and beat last year's target and I got 12 last year. I'd love to beat 12 but we'll see how it goes. If someone were to say you're not going to score any more goals but the team will get promotion, I'd take that all day long.
You've got a trip to Preston coming up on Saturday, who are currently 17th in the table. Will that be a good opportunity to continue your winning streak?
We fancy our chances but they've just recently sacked their manager so the players will maybe have something to fight for with the possibility of their new manager watching the game. It's going to be tough - we find the games against teams in and around the relegation zone and struggling are always a lot tougher towards the end of the season. We can't really turn up to games and win them in this league, we've got to put in a performance and hopefully the rest will take care of itself.