Glory with Gala?
Galatasaray are bolstered by the signings of Didier Drogba and Wesley Sneijder for Wednesday's Champions League clash with Schalke in Istanbul. Adam Bate wonders whether the celebrated pair can recapture former glories.
Last Updated: 20/02/13 11:26am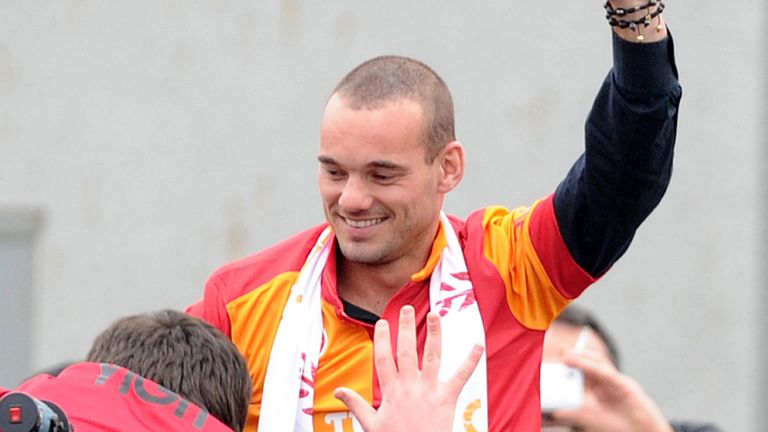 "Galatasaray had nothing to fear with Hagi on the pitch," Gala defender Bulent Korkmaz once said of the Romanian great Gheorghe Hagi. He was right. During Hagi's time at the Turkish club they won four consecutive league titles as well as a UEFA Cup triumph over Arsenal and a Super Cup success against Real Madrid. The club's most celebrated player was 35 when Galatasaray won that particular treble in 2000 and had been 31 when he joined. Food for thought for Wesley Sneijder and Didier Drogba right now.
It's been a remarkable start to 2013 for the Istanbul side. Just when you thought one icon of the game was more than enough to cause a stir, another comes along. The question that is yet to be answered is whether or not their Dutch playmaker and Ivorian powerhouse are washed-up or merely waiting to be reinvigorated by those famous Galatasaray supporters.
As recently as 2010, Sneijder was regarded as one of the finest footballers on the planet, coming fourth in that year's Ballon d'Or voting. The move to Inter looked a perfect match from that first meeting with Jose Mourinho just one day before the Derby della Madonnina against AC Milan.
"You play tomorrow," Mourinho told Sneijder. "From the first minute. I trust you. I trust that you will win the derby." The Dutchman recalls: "I did not want to believe. I had not trained with my peers once. I think I played one of the best matches of my career. It was as if I have been playing with Inter forever and as if Mourinho had been my coach for many years."
The derby was won 4-0 along with just about everything else that season. The dream almost extended into the international arena that summer and but for Arjen Robben's crucial miss in the World Cup final perhaps the tournament would have belonged to five-goal and four-time man-of-the-match winner Sneijder. Instead the perception is of a two-year hangover and a player left guilty by association with both club and country.
Tarnished
He's not alone in that respect. But while that glorious spring always felt like an Indian summer for the likes of Lucio, Walter Samuel and Javier Zanetti, it should have been the start of something special from Sneijder. Instead he has become tarnished by the notion that a great team died the day Bayern Munich were vanquished in the Bernabeu.
It's a belief that Sneidjer himself appears to have bought into given the way he continues to talk longingly of Mourinho as though someone else holds the key to reawakening his talent. And there is a resigned tone to his self-assessment. "Why did I not join one of the top five clubs in Europe? Because I am no longer one of the top five players around and neither are Inter among the five best clubs," he told De Telegraaf.
But despite the footballing obituaries, Sneijder is still just 28. And there are positive signs if you are prepared to look hard enough through the horror that was the Dutch campaign at Euro 2012. Only Xavi and Mesut Ozil played more key passes than Sneijder in Poland and Ukraine and nobody at the tournament played as many successful through-balls despite the fact that he featured in half as many games as the finalists. He still has that gift to create.
Euro 2012 - Through Balls
 
 
Player
Team
Through Balls
Wesley Sneijder
Holland
7
Cesc Fabregas
Spain
7
Andres Iniesta
Spain
6
Xavi
Spain
6
Euro 2012 - Key Passes
 
 
Player
Team
Key Passes
Xavi
Spain
25
Mesut Ozil
Germany
22
Wesley Sneijder
Holland
19

Even the Inter stats haven't dipped as much as some might think. Last season he ranked in the top 10 of Serie A for key passes and through-balls, while he was also among the top 20 for assists despite making just 15 of a possible 38 starts. Sneijder's goal tally remained the same as the previous two seasons and his pass success was just 0.1 per cent lower than in the 2009/10 season for which he was lauded.
His huge salary contributed to the end of his Inter career and the subsequent move to Galatasaray has been painted as a financially-motivated decision - particularly in the wake of rumours of interest from Liverpool. But the lure of Champions League football should not be discounted, especially when interest from Anzhi Makhachkala appears to have been rebuffed by the player. Perhaps Sneijder will be inspired by the chance to show he can do it again on the biggest of stages?
Drogba
That stage is familiar to Drogba. The last swing of the boot he took in the Champions League was the one that won the competition for Chelsea in May. It completed a penalty shootout turnaround in a season of ludicrous acts of European escapology by the Blues. So much so that the identity of the scorer was almost to be expected. Drogba has a habit of delivering in big club games.
The 34-year-old forward has netted in four FA Cup final wins, two League Cup victories and that Champions League triumph. It may sound trite but Drogba is a big-game player, as shown by his debut goal on Friday just five minutes after coming on as a substitute. And that could make the ageing star ideally suited to life at Galatasaray where the Turkish Super Lig could offer a relative resting home between performances in the Istanbul derbies and European games.
Life in an 'easier' league may feel like a disappointing option for two icons of the game. But would life at Liverpool suit Sneijder - tough games week-in week-out and no Champions League football to look forward to? And is Drogba really ready for the grind of proving himself all over again in a major European league? Far from a surprising move, the adulation of the crowd, the prospect of domestic cup finals and European nights in Istanbul could make Galatasaray a good fit.
Maybe neither man will be the next Gheorghe Hagi to grace the Gala shirt. But maybe they won't need to be to see off Schalke. And who knows what the blaring of the Champions League anthem and the drama of the latter stages of the tournament could yet stir in Wesley Sneijder and Didier Drogba...