Dribbling midfielders
Dribbling midfielders are a rarity but Sunday's North London derby features two of them. Adam Bate examines the importance of Mousa Dembele and Jack Wilshere ahead of their Super Sunday clash.
Last Updated: 01/03/13 12:35pm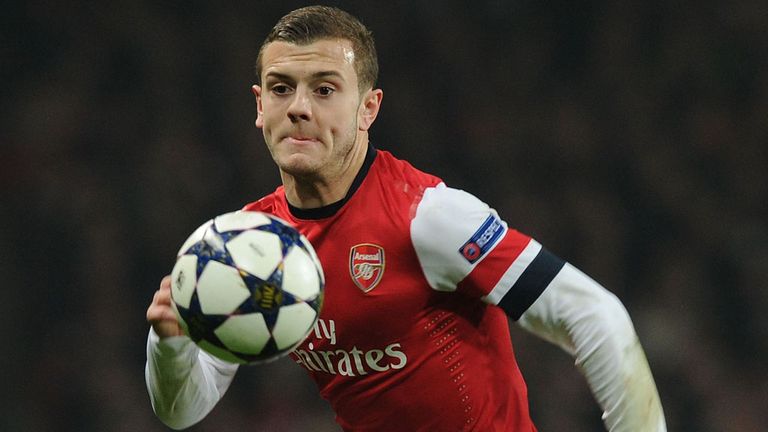 The 1990 World Cup was marred by negative tactics and the lowest goals-per-game average in the history of the tournament. Exactly half of the knockout matches went to extra time and the defensive nature of much of the football played its part in FIFA's subsequent introduction of the backpass rule.
And yet, in England the competition is still venerated. Of course, the Three Lions reached the semi final - their best finish since 1966 - and went down in plucky fashion to those dastardly Germans. But they also had Paul Gascoigne. Gazza. The midfielder embarked on 56 dribbles at Italia '90 - twenty more than any other player. And the verve of his performance stays in the memory.
There are lots of ways a midfielder can influence a football match. And England have had plenty of good ones. For example, Frank Lampard and Steven Gerrard boast impressive goalscoring records from midfield with their astonishing proficiency from distance. But that is still reliant on time and space from the opposition.
Then there are the playmakers with their ability to carve open a defence with a brilliant pass. Whether it is Andrea Pirlo and Xavi operating from deep or Wesley Sneijder and Francesco Totti picking the opposition lock from an advanced position, it can be devastating. But that is still reliant on movement from team-mates.
Central
It is the dribbling central midfielder who makes a mockery of the best-laid defensive plans. If the opposition sit back and defend a tight perimeter, the coach feels there is no way through. If the opposition play a pressing game, the coach fears a misplaced pass or a loss of possession due to poor control. But a skilful dribbler can open up a game even against a solid set-up.
Hence the Gazza-like excitement surrounding Jack Wilshere. "He can play everywhere - he can defend and attack," points out his Arsenal boss Arsene Wenger. "He has got back his burst with the ball so I used him closer to the strikers and he was always dangerous. A complete midfielder can defend and attack and Jack can also dribble and give a final ball so the closer players like him are to the goal the better it is for them."
Just down the road at White Hart Lane there is another midfielder doing it too. He's not British so perhaps he is receiving a little less Premier League attention, but Mousa Dembele is enjoying a fine season with Tottenham. "Dembele is probably the best player on the ball I've ever seen," said his former Fulham boss Martin Jol last year. And it's that ball-playing ability that sets Dembele apart. As the man himself told the Daily Mail: "I just like to play, to pass the ball and dribble."
Dribbles - PL 2012/13
 
 
Player Name
Team
Number per game
Adel Taarabt
QPR
3.2
Luis Suarez
Liverpool
2.9
Jack Wilshere
Arsenal
2.6
Santi Cazorla
Arsenal
2.3
Mohamed Diame
West Ham
2.2
Gareth Bale
Tottenham
2.2
Sergio Aguero
Man City
2.0
Raheem Sterling
Liverpool
2.0
Mousa Dembele
Tottenham
2.0

The statistics indicate that these two players do offer something genuinely different. A look at the list of top dribblers in the Premier League shows that the vast majority are taking on the opposition in advanced positions or in one-on-one battles on the flank. Only Mohamed Diame is a fellow central midfielder and he has been criticised for eschewing passes in favour of reckless dribbling. Forwards, attacking midfielders or out-and-out wingers are given freedom to risk losing the ball. Wilshere and Dembele are the anomalies with their thrusting from the centre of the pitch.
Quality
Both men can sway and swerve their way past opponents from deep and then, crucially, play quality passes on the move. They each rank in the top 16 players in the Premier League for key passes per game, an achievement aided by their ability to brush off the first challenge in order to find space. The opposition midfield can effectively be bypassed.
Each man is essentially operating as a playmaker with added mobility. While the deep-lying variety is often compared to the role of quarterback in American football, Wilshere and Dembele offer an alternative to the ambitious Hail Mary pass - they are the equivalent of the rushing quarterback, driving with the ball before picking out a team-mate.
Defensive nous is required too. In this respect, Dembele leads the way as he ranks at No.23 among Premier League players in terms of number of tackles per game. But Wilshere has a combative side too - one that could be in evidence when the two players come up against each other for the first time on Sunday.
There has rarely been more at stake in the North London derby in recent seasons with the rivals seemingly battling for UEFA Champions League qualification, so a tense affair could be expected. But when both teams have a player who can stride through the middle no matter how solidly the opposition are set-up, it makes for a particularly intriguing midfield contest.