European slump
As Arsenal become the final British team to exit this season's UEFA Champions League, Adam Bate looks at the reasons behind the downturn in fortunes for Premier League sides in recent years
Last Updated: 14/03/13 11:56am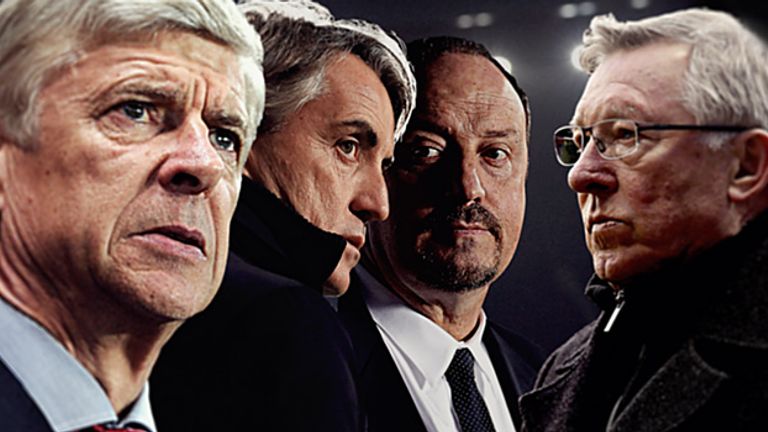 Arsenal's spirited performance ensured that at least Premier League interest in the UEFA Champions League didn't end with a whimper. But it has ended in March all the same. And so the inquest begins. For the first time since 1996, there will be no English team in the quarter-finals. As Arsene Wenger said in his post-match press conference in Munich: "It's a massive disappointment for English football. It's a massive wake-up call. The rest of Europe has caught us up."
Reading too much into the fluctuations of a cup competition can be a tricky business. But surely not when the shift in fortunes is quite so marked. Three of the four Champions League semi-finalists in each of the seasons from 2007 to 2009 were provided by the Premier League. Chelsea may have emerged as surprise winners last season and Manchester United will bemoan a refereeing decision this time around but, looking at the bigger picture, the downward trend is unmistakeable. So what exactly has gone wrong?
First for the caveat. Success is both cyclical and relative. Great teams will come and go, with the re-emergence of Juventus perhaps proving the point most emphatically. And right now it seems the very best that Spain and Germany has to offer has raised the bar. But that doesn't mean English clubs haven't been culpable in their own downfall.
Defending
There has been a significant change in the Premier League in recent years. We have seen goals galore. Great for the neutral. But for managers of the league's elite teams, the real concern is that they've been going in at both ends.
When Jose Mourinho led Chelsea to their first Premier League title in the 2004/05 season, the Blues conceded a miserly 15 goals from their 38 games. Eight years on from Chelsea's defensive masterclass, the name on the trophy will belong to Manchester United. And the contrast could hardly be more stark. United look set to canter to the crown this year having conceded more goals by the second week of November than Chelsea let in during the entire season. Defending has essentially become an afterthought.
PL Goals conceded by Top Three
 
Season
Goals per game
2012/13
1.07
2011/12
0.97
2010/11
0.90
2009/10
0.89
2008/09
0.66
2007/08
0.69
2006/07
0.68

An examination of the number of goals conceded by the Premier League's top three over the past seven seasons shows that the examples of Chelsea in 2004/05 and this United team are not isolated ones. Instead, they form part of a growing trend. For the three years in which English clubs dominated Europe, the average number of goals conceded by the top three averaged under 0.7 per match. It now stands at over a goal a game.
In part that is due to the rise and fall of particular teams. For example, Tottenham currently occupy a top-three position and play a swashbuckling style with a high-defensive line. Back when English clubs enjoyed a grip on the latter stages of European competition, their place was held by Rafael Benitez's more circumspect Liverpool side.
Of course, Benitez's Liverpool frequently produced their best performances in Europe. And yet, that cautious template has been consciously abandoned. As shown by United's lackadaisical attitude towards scoring the first goal of the game, outscoring the opponents rather than keeping a clean sheet is the new mantra.
Just consider Sir Alex Ferguson's response to surrendering the Premier League title to neighbours Manchester City last season. There were numerous lessons the United manager could have heeded but his interpretation was clear. "No matter the years of experience we have had in terms of winning titles, last year was different," he explained. "It was the first time anyone has beaten us on goal difference. It cost us the league and it won't happen again. Trust me on that."
Ferguson's approach in Europe over the past decade has been different. Euphemistically, it is described as 'thoroughly professional'. The veteran boss has been anxious not to be caught out as a result of reckless attacking play - as his team were perceived to have done in their famous exit to Real Madrid in 2000. But playing the waiting game can be difficult when the domestic instructions are so contrasting. The divergence in approach presents a problem for the United players. After all, it is practice that makes perfect.
Expansive agenda
Even Chelsea appeared keen to pursue a determinedly expansive agenda in the summer despite having compelling evidence for the merits of a doggedly-defensive strategy sitting proudly in their trophy cabinet. In pursuit of the Barcelona style, in have come Eden Hazard and Oscar, with the early results for the new-look midfield appearing hugely promising.
That balance proved elusive as Chelsea became the first defending champions to be eliminated at the group stage of the competition. For Blues skipper John Terry, the defensive cover offered by Claude Makelele must feel a distant memory. As for centre-back partner Gary Cahill, he could only dream of such protection.
"There are times when you look and things might not be as tight, or you're feeling a bit more exposed than normal," Cahill told the Daily Mail earlier this season. "Sometimes when you do play so attacking, against an attacking team, you are going to get hurt. That's probably where we need to be a bit more disciplined. It's hard to get that balance. With the players we've got, if we were winning 1-0 would people be happy with that? Or are they happy with the way we're playing this season? It's entertaining."
Entertaining it may be but whether it is conducive to European glory is debatable. It's a bargain Manchester City boss Roberto Mancini is fully aware of. Lambasted for his defensive approach in his early days at the club, Mancini allowed his team to become more open in order to fire their way to domestic success. But the current Premier League champions have spent two seasons being picked off with ease on the continent.
Mancini has suffered further criticism this season for dabbling with formation changes at home and abroad. The move may have backfired But the notion that he was tinkering for no reason is flawed. The Italian had identified that greater tactically awareness and variety would be required if City were to take the next step. "We tried a different solution because a top team needs to know different systems," said Mancini.
Tactics
There is a paucity of tactical variety in the Premier League. So much so, in fact, that Wigan Athletic truly are the exception that proves the rule. By switching to a 3-4-3 formation last season, Roberto Martinez masterminded a remarkable upturn in fortunes that saw his side storm to safety with seven wins from their final nine games. "In a year's time, there will be a lot of teams playing a 3-4-3, believe me," said Martinez. "And we'll have to be able to change, to adapt to it. And that is why it's so important that players are flexible tactically."
The fact that Premier League opponents coped so poorly with the alternative challenge Wigan's back-three posed should be instructive. In Europe, different questions are asked on a routine basis. Put simply, if Wigan can cause problems by playing three at the back then it should come as little surprise that Juventus can outwit Chelsea using the ploy or that Napoli can triumph over City.
Formation issues are just one of the tasks English clubs face in adapting against Europe's best. The high-intensity pressing of Borussia Dortmund, with their fast transitions, and the ruthless counter-attacking of Real Madrid have also caused difficulties for teams unaccustomed to such strategies.
Having the wherewithal to adapt to these challenges requires players to be tactically robust and also comes from experience. In this sense, it is worth remembering that some of England's finest sides are currently in flux. There has only ever been one all-English final in the Champions League and the four centre-backs that day were Rio Ferdinand, Nemanja Vidic, John Terry and Ricardo Carvalho.
Three of those four could still be considered first-team players at Manchester United and Chelsea - but all our arguably past their brilliant best. The next generation of players are either too young or just not as good. Perhaps the explanation for the decline is transitional as well as tactical.
In that regard they have been unfortunate to run into the likes of Barcelona and Real Madrid at a time when each side boasts among their ranks one of the greatest players to ever play the game. Throw in a couple of strong German sides in Bayern Munich and Borussia Dortmund and it seems likely this would have been a difficult cycle for Premier League clubs to negotiate at the best of times.
But the feeling persists that unless English teams improve both defensively and tactically, the race to the top of the Premier League could become - in European terms at least - the race to the bottom.