Valencia's struggles
Last season Antonio Valencia cemented his status as one of Manchester United's most consistently impressive performers. But a slump in form has left fans alarmed. Adam Bate takes a statistical look at the problems the Ecuadorian winger is enduring at Old Trafford.
Last Updated: 15/03/13 4:19pm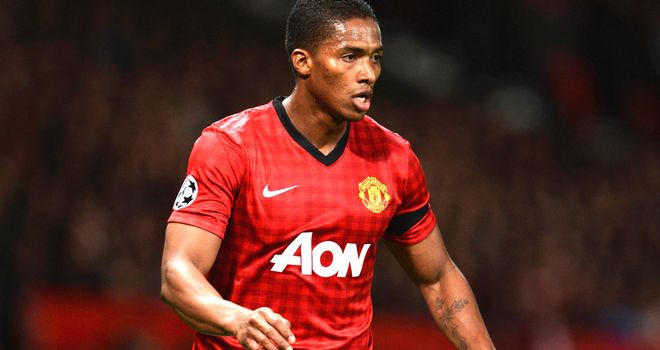 When Antonio Valencia was handed the historic No.7 shirt at Manchester United in the summer it was seen as a fitting reward for a player who had enjoyed such an impressive season at Old Trafford. The Ecuadorian international was even named as both fans' player of the year and players' player of the year at the annual club awards in May. So it's required an alarming slump of form to leave Valencia looking every bit as vulnerable as Nani regarding the impending arrival of Wilfried Zaha next season.
The 27-year-old was a key weapon for United last term as he provided a regular supply of crosses from the right flank for the team's strikers to feed on. Indeed, only Manchester City star David Silva managed more Premier League assists than Valencia last term. But that tally of 13 is unlikely to be matched. The winger has just four assists this season and is yet to get off the mark in front of goal. The statistics are plain to see. What's trickier is delving deeper to ascertain the reasons behind it.
Antonio Valencia - Year-on-Year comparison
 
 
Discipline
2011/12
2012/13
Goals
4
0
Assists
13
4
Passes per game
44.7
35.5
Key Passes per game
2.4
1.4
Crosses per game
1.7
1.2
Dribbles per game
1.3
1.6
Dispossessed per game
1.1
1.5
Tackles per game
2.4
1.4
Firstly, it must be acknowledged that Valencia has been troubled by injuries this year with foot and back problems affecting his progress. "I think I made a good start to the season," he told Soccerlens in January. "But then I suffered an injury to my instep, followed by a back injury which left me on the sidelines, the back problem taking longer, for almost a whole month. I'm fit again now but I think I have to get back to my best form and push myself even harder because there is stiff competition for places in the team and wait my turn to feature again."
Ironically, it was a lack of competition for Valencia that some United fans were attributing his struggles to. But the signs are that it is issues of confidence rather than complacency that are affecting the former Wigan man. He certainly seems to be struggling to get involved in the action and the statistics show that he is not receiving the ball as often this season and playing 20 per cent fewer passes.
Perhaps the fact that Valencia is seeing less of the ball is partly to explain for the slightly surprising statistic that he has actually completed more dribbles this season than he did in the last campaign. A tendency to try and force the issue is also reflected by the fact that he is being dispossessed 36 per cent more often this season.
Weaknesses
There have been suggestions that this stems from another problem - Valencia's weaknesses are being exposed. Even in full flow, he is predominantly a one-footed player. If opposition full-backs are aware that his primary aim is to get to the byline and whip in a cross with his right foot, they have the option of forcing him inside or backing off to force a delivery from deep.
What has concerned United supporters is that Valencia has too often acquiesced to this. Curiously, this could be explained by the growing confidence of his right-sided partner Rafael da Silva. The Brazilian full-back has developed into one of the team's most impressive performers with his overlapping runs a feature of United's play. But the sight of Valencia slowing the attack down, seemingly in anticipation of Rafael bombing down the flank, has become an infuriating one.
The knock-on effect of Valencia delaying his crosses has significant ramifications elsewhere on the pitch. His relationship with Wayne Rooney has been a profitable one in the past with the forward timing his runs expertly to latch onto the winger's crosses. "He is so difficult to defend against," Rooney told reporters in January 2012. "It is great for the forwards because he is so good at delivering the ball into the box quickly."
In an interview with FourFourTwo, he even compared Valencia's delivery favourably with Cristiano Ronaldo. "When Ronaldo was out wide, you knew he would come inside and shoot, do a few tricks," said the England international. "Now with Valencia, you've got to be on your toes more in the box because he will move in and cross it more than Ronaldo did."
With Rooney operating a little deeper following the arrival of Robin van Persie last summer, Valencia has been unable to forge such a successful partnership this time around. His own take on it suggests accuracy has been at the forefront of his mind. "We've worked a little bit on crosses," Valencia told Soccerlens. "They really need to be accurate because if they aren't you might miss a chance on goal or an attack might break down. So we've paid a lot of attention to that."
Perhaps he is guilty of trying to be too deliberate. After all, putting the ball into the danger area is surely preferable to the tentative figure that Valencia has become. At 27 there is plenty of time for him to return to form and gain attention for the right reasons. But it's time for the one-time reliable winger to get fit and get back to basics.