Olympic legacy
London 2012 didn't work out as planned for Casey Stoney and her team. But the England captain believes there is plenty of reason for optimism ahead of Euro 2013. Adam Bate caught up with Stoney after leading her country to Cyprus Cup success last week.
Last Updated: 18/03/13 10:19am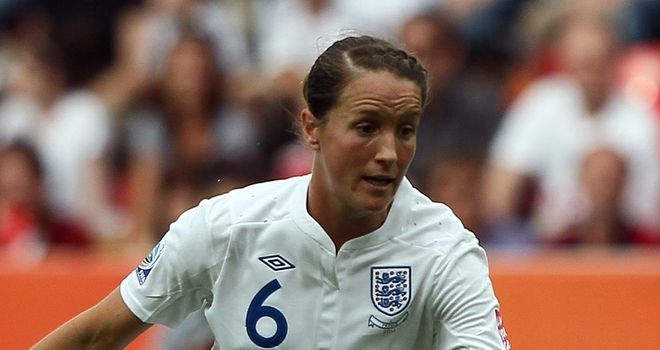 England captain Casey Stoney still has fond memories of the Olympics. "It was incredible - the experience of a lifetime," she told Sky Sports. "You don't often get that as a female player and to get it in a home Olympics was unbelievable. I'm massively proud to have been a part of it and fortunate to be playing at this time for women's football because it's huge."
It was supposed to be the perfect result to accompany Britain's perfect summer. And the women's team looked on course to deliver their part of the bargain after a series of flawless group stage performances, including a Wembley win over Brazil, saw them go into their quarter-final against Canada on a high. But a 2-0 defeat in Coventry spoilt the party.
"Hindsight is a wonderful thing," admits Stoney, for whom the result clearly still stings. "Had we known then what we know now then we'd have played it slightly different against Canada on that night. But on that night they were the better team and they deserved to win. It is frustrating and disappointing that we know we can be a better team than them but didn't do it when it counted. That's a really hard thing to take."
When the 30-year-old defender talks of hindsight, it is because the defeat has now been avenged. An England side containing nine of the Great Britain starting line-up that were beaten at the Olympics, edged past Canada 1-0 in the final of the prestigious Cyprus Cup last week. Stoney believes the result is a significant one.
"I think it's a sign of a lot of lessons learnt from the Olympic game," explains the Lincoln Ladies defender. "For both the players and the management it was a huge learning experience. I think tactically we were more astute this time. We matched them physically and it's just a shame we couldn't have done the same last summer. But we put a few things right and that's good."
Confidence
A successful tournament has given the team confidence that they can enjoy a similarly impressive run at Euro 2013 in Sweden this summer. England reached the final four years ago in Finland only to lose 6-2 in the final against Germany. This time around Stoney has seen enough to feel there is a chance of bettering that effort when they face Spain, Russia and France in Group C come July.
"Reaching the final four years ago was a massive feat for us," she adds. "But we'd love to go one better. We've got a great squad but in tournament football you never know. You have to have a bit of luck, a run of form and no injuries. If all of things go in your favour then you've got a good chance. First we need to get out of the group and we've got a very tough group so that will be our first focus."
That optimism comes from the faith Stoney has in her team-mates. England have a remarkably settled squad but a new generation of talent is emerging and the skipper highlights the potential of Everton's Toni Duggan and Arsenal midfielder Jordan Nobbs - both of whom were on target in the Cyprus Cup - as evidence that the future is bright.
Having had a spell as player-manager at Chelsea and in her current role as U17 coach at Lincoln Ladies, Stoney acknowledges there is more to her involvement than enjoying the luxury of concentrating on her own game. "As a captain you have a responsibility to others," she adds. "I'd like to think that with or without the armband I try to help my team-mates and use my knowledge the best I can. There are a lot of players with vast experience now and we try to help each other and to help the younger ones as much as we can."
That off-the-field responsibility extends beyond coaching and advice. The financial realities of the women's game means there is a necessity to find sponsors and garner media support in order to grow the game. As England ladies' captain, that means Stoney has little choice but to become an ambassador and passionate advocate of women's football, as well as an effective centre-back.
"I enjoy it and I do think it's a responsibility," she admits. "Hopefully we are the players who can inspire the next generation. It's up to us to make sure that generation has the best possible chance of earning a living out of it by being full-time professionals."
Progress
And most importantly, Stoney can see progress is being made. She adds: "There were 3.8million people watching when we played Brazil that day with 70,000 watching in the stands. People now know me when 20 years ago they wouldn't have heard of the England ladies' captain. Women players are becoming household names and more people are coming through the gates each week. It's a lot more commercially viable to be marketed now than it ever was before."
This month it seems that progress is finally being recognised. The PFA has announced that all FA Women's Super League players will be welcomed as members. "It's a huge step," says Stoney. "The PFA support is brilliant for players. You take things for granted like injuries and healthcare. Players don't always have access to scans at the clubs and hopefully with the PFA support that will now be available. And on the education side there will be opportunities available that were never there before.
"The steps that are being taken are great and it's such a great time to be involved. I've been involved in the women's game for a long time but, over the past year especially, it's going so quickly in the right direction now."
The Olympic disappointment is still there. But given that London 2012 was an event that placed such a huge emphasis on legacy, it's worth noting that the legacy of Stoney and her team-mates looks likely to be far more significant than the result of a quarter-final in Coventry.
Casey Stoney was speaking to promote the Danone Nations Cup, a global grassroots Football Competition to inspire children to get active and believe in their dreams. For more information visit www.danonenationscup.co.uk