Committed Addick
Charlton's Dale Stephens discusses life back in the Championship and his failed move to Aston Villa.
Last Updated: 27/05/13 11:07am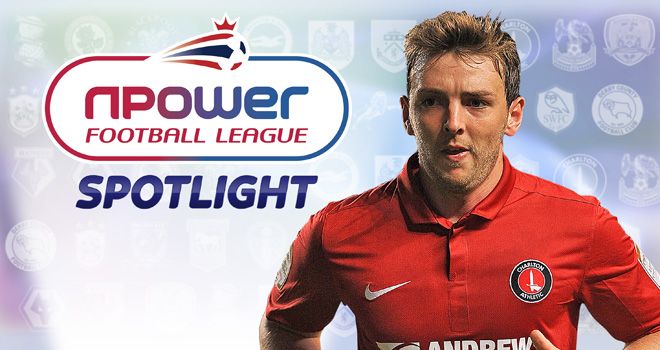 The 2012/13 campaign is about to enter the final straight, with promotion pushes and relegation battles now in full swing.
Here at Sky Sports, we continue to take you to the very heart of the Football League, with our Spotlight features intended to give you a greater insight into the clubs and players that keep us on the edge of our seats.
We are hoping to bring you the views and thoughts of a representative from each of the 72 teams over the course of the season, with those involved asked to give their take on the division they compete in, the club that pays their wages and those we should all be keeping an eye on.
Next in our hot seat is Charlton's Dale Stephens, with the Addicks star discussing their first campaign back in the Championship with Graeme Bailey and how he coped when a move to Aston Villa fell through.
This season appears to have been a tougher one for Charlton than some people imagined?
Not really, but I think with what Southampton did last season, and Norwich the year before, the pressure was there and expectancy because of what we did in League One, but unfortunately we did not start as well as we could have done - but recent form has been good and we have found our feet.
It is your first full year in the Championship, you have come a long way in a relatively short space of time?
It all started at Bury, I came through the youth ranks but at first I spent time on loan at Hyde and then Droylsden, and that was good for me - to play competitive football at a young age and that led to my debut at Bury.
So Oldham gave you the chance back in league football...
Yeah, it went relatively good and I look back at that time with fond memories. I spent time at Rochdale, and then was back at Oldham before suddenly I got a loan to Southampton.
The loan to Southampton was a bit of a shock deal wasn't it?
It was a big surprise, it was about April time I went there, and we weren't in any position to do anything, we weren't going up or in danger of being relegated, so nothing was going to happen so it was a good opportunity to play with some really good players and I got a lot of experience from that.
You did well at St Mary's and that surely contributed to your move to Charlton?
I played six out of the last 10 games for Southampton and did myself justice and I suppose that caught the interest and Charlton came in and that was good.
What is a big wrench moving to London?
I have never been before joining, just the odd away match, and it is a big culture shock - but I think I have (settled) well. It can take its toll, but I did well on the pitch so it sort of looked after itself and last year was almost a perfect season - we knew we wouldn't have a season like that again as everything went so well for us. We had been at the top of the league since October - then this season has come and obviously we knew it would be different.
Obviously before the season really got going, the Aston Villa interest emerged and suddenly you were in the headlines, how was that for you?
It shows how far I have come in a short space of time, I had only played a few Championship games when I heard about it - but it is just flattering to be linked with a big club and I just use it as a positive and it did not happen for one reason or another and I use it to my advantage to do well in this league. You do think what might have been, but for me it did not work out so you have to use that experience and continue to improve.
Was it a bit of a shock, suddenly that a Premier League club wanted you?
It was a surprise, it gave me a vote of confidence and I took confidence from it and hopefully I can become a better player. When I first had a phone call it was a Sunday, but then it all happened by the Friday so it happened so quickly - I could not get too excited as it was over so quickly.
The deal did not happen, was that hard to take?
If I moped about, at the end of the day only one person would suffer and that is me. It did not happen and I just have to take the positives and I will continue to use that. I hadn't really played at this level and our one aim was to prove we could play in the Championship and that looks like what we have done this year, so I am happy and just have to keep improving playing my football.