Soccer Special panel reflect on England and Wales wins
The Soccer Special team reflect on wins for England and Wales and Ireland's hard-fought draw.
Last Updated: 23/03/13 6:26pm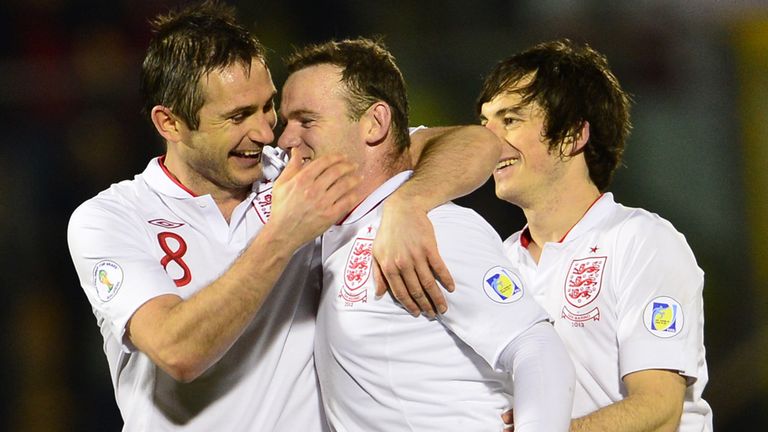 The Gillette Soccer Special team were on hand to guide viewers through all the twists and turns - and here's what they made of the evening's events.
Tony Cottee on San Marino 0-8 England
I was a little bit concerned for the first ten minutes or so but they got the opening goal in the 12th minute and once they did that there was never a doubt about England winning the game and it was a question of how many goals they'd score. It was a very professional performance and there were some good performances from Kyle Walker, Leighton Baines, Frank Lampard, Jermain Defoe and Alex Oxlade-Chamberlain in particular, who played really, really well.
Roy Hodgson was clever with his wide players. He had Ashley Young on one side and Oxlade-Chamberlain on the other side and he'd clearly said to them 'don't just stay out wide, have a wander' and both players did that. The two full-backs, Walker and Baines, were excellent - it suited them because they are both good going forward and it was one of those games where they didn't have to defend but could just bomb forward and get their crosses in.
Joe Hart, Chris Smalling and Joleon Lescott might as well have gone for a shower because they didn't have to do anything. It was so one-sided. The only disappointment for me was perhaps Tom Cleverley. He didn't really get into the game or make much happen.
But Hodgson had a big smile on his face at the end and rightly so. It's one of those games where England could only lose, because they were expected to win 8-0. If they only won 2-0 or 3-0 they would have been slaughtered. They've got the result they needed and it sets them up for what will be a massive game on Tuesday.
Scotland 1-2 Wales
Barry Horne: Scotland tried to come back towards the end but Wales were incredibly comfortable since their second goal went in. This isn't going to impact greatly on Wales' qualification hopes because both Scotland and Wales are well adrift. Wales followers are getting used to saying 'we need to get ranking points to be in a higher pot' so we're looking to take something out of this group, because we were in the lowest pot this time. It was a good performance against Austria last time out, there were some great performances against Scotland, so there are a lot of positives for Chris Coleman. We lost Gareth Bale but we found a star in Jonathan Williams.
Alan McInally: The game swung towards both sides all night but the second goal knocked the stuffing out of Scotland. Scotland were probably good enough to take the lead before half-time and they did. They came out really strong after the break but the sending off (of Robert Snodgrass on 71 minutes) knocked our socks off. Wales took advantage of the sending off, there's no question of that - but it was a crazy, crazy challenge from Snodgrass because he was on a yellow card. He has paid the price and so have Scotland. It's not the best first competitive game for Gordon Strachan.
Pat Bonner on Sweden 0-0 Republic of Ireland
Giovanni Trapattoni has answered his critics; he got it tactically right and he got the players up for it. This team surprises you, when you think they're going to a place like Sweden it's tough but they've come away with a fantastic result and it was a good, good performance from the young players. James McCarthy, Seamus Coleman, Ciaran Clark, Marc Wilson, did tremendously well. That's the future of Ireland. Yes, there's controversy over Robbie Brady not playing but his day will come. Trapattoni got it right and it's a fantastic result.