The best ever?
With Manchester United on course for a record Premier League points haul and still eyeing an FA Cup to go with it, Adam Bate compares this unsung vintage to the much-loved teams of the past and wonders whether we're guilty of nostalgia.
Last Updated: 29/03/13 2:48pm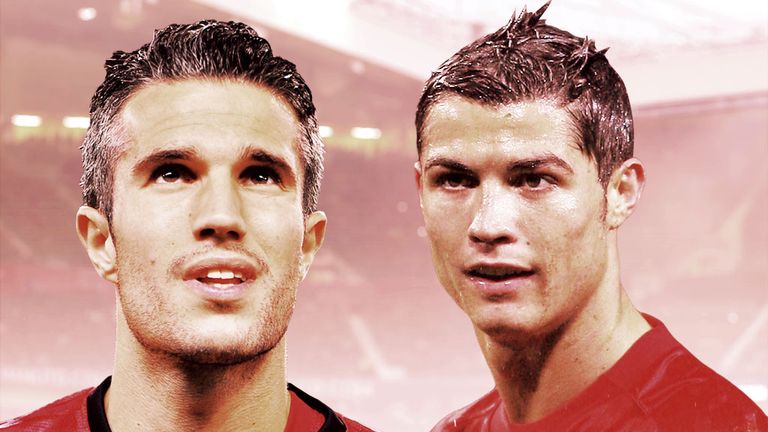 The record for the most points in a Premier League season is 95 and it's held by Jose Mourinho's relentless Chelsea team of 2004/05. Arsenal's 'Invincibles' managed 90 points and the most accrued by a Manchester United team in a 38-game season stands at 91. But for this Red Devils outfit, the 100-point barrier could still be broken.
While that may be an unrealistic target, seven wins from the remaining nine games will see Sir Alex Ferguson's side hit the record. In Premier League terms, they have little else to concern them. They have already opened up a 15-point gap over Manchester City and victory over their rivals at Old Trafford next month would raise the possibility of also breaking the record for the biggest winning margin ever.
And yet, there remains a reluctance to praise this Manchester United vintage. The feeling persists that this is not a classic year and not just because Martin Tyler is unlikely to be yelling like a madman on the final day. The quality of the league is being questioned. "I think standard-wise this has been one of the worst ever," said Alan Shearer, the Premier League's all-time top-scorer.
Seen through the prism of European disappointment it is tempting to agree. The simplistic notion that Robin van Persie's decision to eschew joining City in the summer effectively determined the outcome of the title is equally persuasive. Both have been used as further evidence that this United team is an ordinary one. Perhaps even a one-man team. Predictably, it's not a view Ferguson shares.
"I don't go along with the idea we have become a one-man team," the 71-year-old manager told United Review in January. "There was a time in our history when one man did carry us for a while. Eric Cantona kept us in contention with his goals when a few others were off the boil. But things are quite different now.
"Javier Hernandez has weighed in with 12 goals (now 16) while Wayne Rooney is currently on nine (now 16). Two defenders, Johnny Evans and Patrice Evra, have chipped in with eight between them so it doesn't stand up to see us as a one-man band overly dependent on van Persie, brilliant as he has been at both making and taking goals."
Fabled
Even the mere mention of Cantona will have many United supporters longing for teams of the past. It was the Frenchman who inspired that first title for 26 years back in 1993. Then there was the 1999 side with its fabled midfield quartet and the four strikers to which all future squads must be compared. As recently as 2008, United fans could boast a fluid front-three of Cristiano Ronaldo, Wayne Rooney and Carlos Tevez. How can this version possibly compare?
The difficulty is that the mind plays tricks. It can be a more flattering filter than any Instagram effort. As a result, every Cantona flick is cherished but the fact that the pedestrian Darren Ferguson started more games in that first Premier League campaign than speedy winger Andrei Kanchelskis becomes a mere footnote.
Everyone remembers that United were without the suspended duo of Roy Keane and Paul Scholes for their memorable Champions League triumph in 1999. But their replacements featured more often than is sometimes portrayed. Hit-and-miss winger Jesper Blomqvist started the majority of Premier League matches that season, as did functional midfielder Nicky Butt. The presence of fifth-choice Jonathan Greening on the bench that evening puts the current obsession with a paucity of options into some perspective.
As for the much-lauded forward foursome of Dwight Yorke, Andy Cole, Ole Gunnar Solskjaer and Teddy Sheringham, it wasn't always a case of the goals being shared around. Despite his heroics in Barcelona, Sheringham scored just five goals that season and only two in the Premier League. "I didn't have the best of seasons that year," he admitted to Sky Sports. "It's probably unknown that is." It's a statistic that's largely been lost, particularly on those wishing to criticise Danny Welbeck's goalscoring prowess this term. In fact, the current United quartet is just nine goals short of matching their 1999 equivalents.
The memory needs its shorthand. As Rob Smyth points out in The Guardian: "The [Juan Sebastian] Veron years, 2001-03, are often associated with the Argentina midfielder alongside Keane with Scholes playing behind Ruud van Nistelrooy, yet they only played that system in six out of 32 European games. Similarly, what was described as a 4-3-3-0, with Cristiano Ronaldo, Wayne Rooney and Carlos Tevez forming a fluid forward line, is indelibly associated with the Champions League victory in 2007-08. Yet Ferguson only started one out of 13 European games that season with such a formation."
Options
It's traditional to look back at classic teams as an XI. World Soccer magazine continues to publish a retrospective feature each month in which a season is summed up in 11 names. In truth, it's archaic. For a period of 166 competitive matches between 2008 and 2011, Manchester United failed to name the same team twice. As such, Ferguson knows more than most that having options is the key to success. And right now, he's convinced they're as good as ever. "The options we've got now all round the park, if we can keep everyone fit, are as good as I've had in my time here," he explains.
It's a view that makes sense when you consider that exactly half of the 18-man squad from United's 2008 Champions League success are still at the club. Ronaldo is gone but Van Persie is in town and, crucially, in addition there are others who have come to the fore boasting reputations that lag behind their actual contributions.
Rafael is a familiar face at right-back but it is only this season that United have finally replaced the version of Gary Neville who last featured regularly in the 2006/07 campaign. "He's been outstanding all season," said fellow defender Jonny Evans. "With his energy, he really sets the tone for the rest of the players. He's a credit to himself. He's going to be one of the best right-backs in the world, no doubt about that."
Evans himself knows a thing or two about improving his game. The Northern Ireland international had his critics at Old Trafford but has developed into a formidable centre-back option or, as Ferguson puts it: "He is now arguably the best defender in the country." Significant praise with Rio Ferdinand and Nemanja Vidic still at the club.
Throw in the presence of Tom Cleverley, referred to by Ferguson as "probably the best midfield player in Britain, potentially," and Hernandez in attack, a player with eight Premier League goals at a rate of better than one every 90 minutes and a picture builds. In the era of the squad game, Manchester United are the perfect example of the virtues of a strong group.
Of course, only eleven men can take to the field and critics will argue it is the ability to win the biggest games that could elude this squad. But they have largely done the job. There have been away wins over Liverpool, Chelsea and Man City, while they led Real Madrid over two-and-a-half hours of football before being reduced to 10 players.
If this United team can beat Chelsea on Monday and go on to complete the double, don't be surprised if their failings are forgotten in time and the memories mythologised. Future fans may yet hark back to the time the legendary duo of Rafael and Ryan Giggs shut down Real Madrid's left flank, or the day fellow icons Scholes and Van Persie combined to cut through the opposition.
After all, history is written by the winners. And winners don't come much more emphatic than the Manchester United team of 2012/13.
Sir Alex Ferguson's reign in pictures 1986-1991 | 1991-1996 | 1996-2001 | 2001-2006 | 2006-2011