Dwight Yorke says that Aston Villa's lack of experience is a major problem as they fight to avoid relegation
Dwight Yorke says Aston Villa's lack of experience is a problem as they fight to avoid relegation.
Last Updated: 01/04/13 8:34am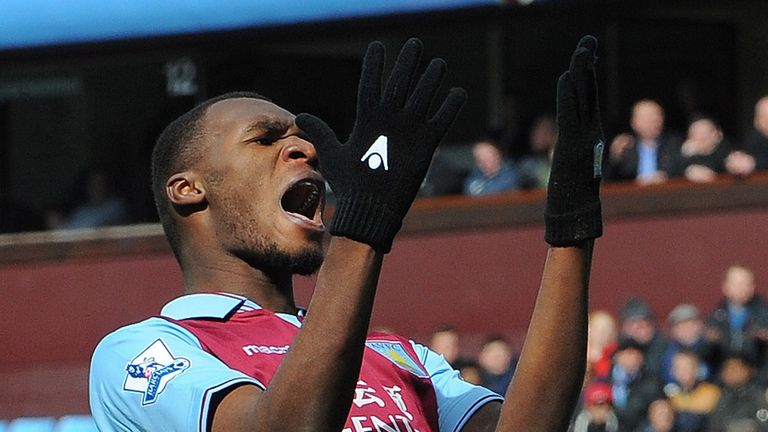 Paul Lambert's side remain in the Premier League relegation zone after they were beaten 2-1 by Liverpool.
Steven Gerrard's second half penalty proved to be the winner after Christian Benteke had put Villa ahead in the first half. However, Liverpool equalised two minutes after half-time through Jordan Henderson's chip and Gerrard then stepped up on the hour to convert a penalty after Luis Suarez had been felled inside the box.
"Villa will be bitterly disappointed - they had couple of chances that they did not convert," said Yorke.
"They got caught cold after half time - Liverpool came out very well and caught Villa with a sucker punch goal. From that point Liverpool really picked up the pace and took control of the game and turned it on its head. There was no way back from Villa, although they did have a couple of chances through Benteke, but Steven Gerrard cleared the ball of the line.
"Apart from that, Luis Suarez was unbelievable this afternoon and was the difference in getting the penalty for Liverpool."
Yorke, who played at Villa from 1989 until 1998, still believes that Villa can avoid relegation, but is concerned about the lack of leadership in their ranks.
He added: "The two games previous to this game they managed to get maximum points. I do think that they have a lot in their locker.
"The one thing I am worried about is their lack of experience. When things are going bad for them on the pitch they have not got enough experience within that squad to really guide them through difficult times. They are fine when things are going well for them. They have a threat going forward, but that lack of experience has certainly cost them the game today.
"The key factor as far as Villa going forward is Benteke. He has been on form and if he carries on then I think Villa will have enough to get out of the relegation battle, but it is going to be very difficult after this result."
Jamie Redknapp agrees that Benteke is the man to guide Villa out of trouble.
He said: "I think Dwight has hit the nail on the head, Benteke makes such a difference to the side - he scored one and had another cleared off the line. Villa had enough chances to get a draw out of this game. Liverpool's second half was better and they found some rhythm to their game. They are a tough team to play because they have one of the best players in the world in Luis Suarez.
"There is a huge debate going on in this country as to why we are not producing players, but when you see Suarez you say that you don't see enough young English players with that sort of appetite. I came in today and I knew he would do something that would get me off my feet, get me excited. If you are a Liverpool fan you have been given absolute value for money. He has not stopped, he is so skilful, and an absolute magician of a footballer."