Return of the king
Nuri Sahin was the Bundesliga player of the year back in 2011 but difficult spells at Real Madrid and Liverpool have seen his stock fall. Adam Bate wonders whether we will see the best of the midfielder now he is back with his mentor Jurgen Klopp at Borussia Dortmund.
Last Updated: 03/04/13 8:53am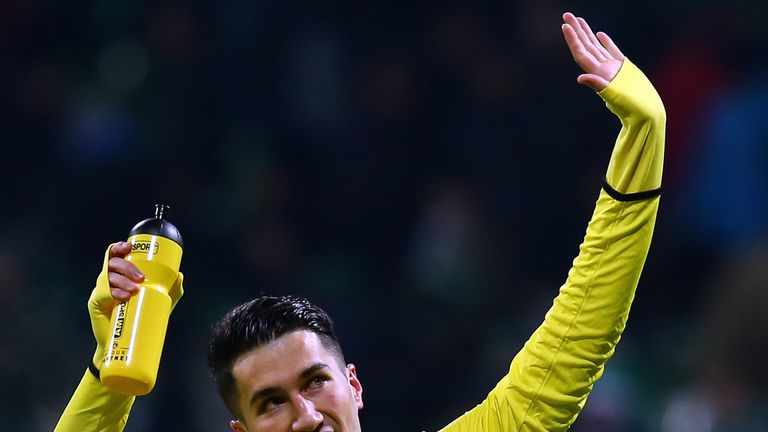 Jurgen Klopp has been cautious with Nuri Sahin, tentatively reintroducing the player who had once been the fulcrum of his title-winning side. An initial return to the starting line-up coincided with a disastrous 4-1 home defeat to Hamburg in early February but, after five further appearances from the bench, the Turkey international truly marked his return from Real Madrid with two goals and a man-of-the-match display in the thumping of Freiburg. The 24-year-old looks to be back and it raises the question - where on earth has the real Nuri Sahin been for the past 18 months?
The move to Real Madrid in the summer of 2011 looked something of a bargain for the Spanish side at €10million, with Sahin having just been named the Bundesliga player of the year. Former Real star Paul Breitner told the club's official website: "Sahin is going to become one of the best midfielders around in Europe in the next few seasons." And yet, a knee injury hampered his progress. "Nuri is a great player, but he was injured when he went to play for Real Madrid," argues the protective Klopp. "That was his problem."
Well, it certainly didn't help but there seems to have been rather more to his difficulties than that. Opportunities were ludicrously limited, with the midfielder seeing more action for his national team than he managed in Real's La Liga winning campaign - a paltry 128 minutes spread over four matches and 90 of those coming once the title was effectively secured.
Failure
The extent to which Sahin should be held responsible for his failure to impress is tough to ascertain, not least because Real coach Jose Mourinho does not appear to regard the acquisition as a failure despite refusing him pitch time. Fellow Turk Hamit Altintop arrived at the Bernabeu that summer and was another who suffered an early injury before struggling to get on the field, making just two starts. Mourinho's view of his signature is revealing. Two stalled careers but one club counting the cash.
"Altintop? A sporting failure, but a financial success," the Portuguese coach told France Football. "We signed him for free and he came here injured. That's not my fault. I don't concern myself with medical exams. Later he was sold and the club earned money. They didn't give him away. The management isn't only sporting but financial too." Mourinho added of Altintop's countryman, following his loan switch to Liverpool in August: "Sahin is a Real Madrid player on loan at Liverpool. He's not costing us anything. Liverpool are taking care of all the expenses and if we want to transfer him one day, he'll be sold for a very good price. We're not mistaken."
He might not be mistaken but it seems Brendan Rodgers could have been. Mourinho's comments on Sahin's Anfield switch were seized upon by British headline writers as a suggestion that a move to the Premier League would be good for the playmaker. There is another interpretation - that he was ill-suited to the English game all along. "The Premier League is a good place for players to pick up certain characteristics which he does not have," said Mourinho. After several months in the country, Sahin himself appeared to concur. "It's a very tough league and every team has their own style," he admitted in the Liverpool matchday programme. "I have never played in games such as the ones against Stoke and Everton before."
It can be tricky enough adapting to football in a new country but playing in an unfamiliar advanced position didn't make things any easier. With Rodgers keen to accommodate expensive arrival Joe Allen alongside Steven Gerrard and holding midfielder Lucas Leiva, Sahin was shoehorned in elsewhere. "I did not fail at Liverpool," he told AS. "Brendan Rodgers wanted me to play as a number 10 but I do not play behind the strikers. I talked to him and asked him why he was playing me there. It is not my real position. The coach could not answer me."
Confused
Sahin is not the only one confused by his treatment. "I do not know what Liverpool manager Brendan Rodgers was thinking," said Klopp. "However, playing him as a number 10 is not the best solution in my opinion." The Dortmund boss instead intends to focus on allowing the player to do what he does best and prompt the team's trademark fast transitions. He explains: "Nuri is an absolute quality player, and gives us a lot more options in midfield. Through his efforts, we can hope to integrate a great deal more attackers, such as Ilkay Gundogan."
It's proving productive. Sahin has played 321 passes in just six hours of Bundesliga action upon his return at a rate of almost one a minute - far more than any Dortmund player this season. While some of the team is new to him, there are already signs that he can once again become the man who gets BVB playing. The confirmation could come on Wednesday night as he prepares to face Malaga in the first leg of their UEFA Champions League quarter final.
Whatever happens next, Sahin risks being written off as a player unable to deliver outside of Dortmund. The truth, as is often the case, is surely more complex. For the player it has been 18 disappointing months, but for his manager it is an opportunity. Klopp inherits a hungry footballer anxious to make up for lost time and, crucially, one who can let twitchy team-mates know that the grass doesn't come much greener than at the Westfalenstadion.