Hurts
Adam Anderson of Hurts names his Man Utd-themed dream five-a-side team in Take Five.
By Rachel Griffiths - Follow me on Twitter @SkySportsRachG
Last Updated: 15/04/13 2:25pm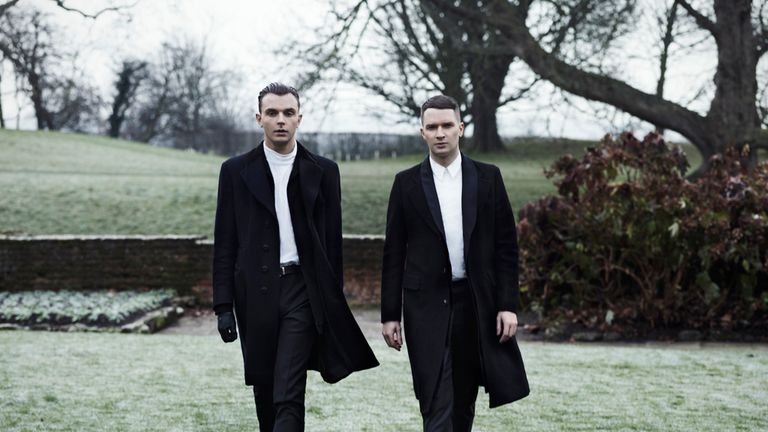 Hurts' Adam Anderson picks his dream five-a-side team...
Adam Anderson of synthpop outfit Hurts is a lifelong Manchester United fan, so it's no surprise that his dream five-a-side team features an Old Trafford legend - as well as some less-revered former Red Devils.
We caught up with Manchester-born Anderson following the recent release of the band's second album 'Exile' as he shared his fantasy side with Sky Sports.
Jim Leighton
He was the first goalie I had any affinity with. I liked his dour demeanour. When he lost all self-belief in 1990 and was dropped for the more rock 'n' roll Les Sealey in the FA cup final I still loved him. He'll be the quiet but dependable rock on which this team is built.
David May
Your classic back-up defender - now he gets his moment. He always seemed like a funny chap, like when he dominated the Champions League celebrations despite playing about four games that season. I liked that. Fair do's, get involved. In this team he'll dominate from the back, using his humour to put off the opposition.
Jordi Cruyff
I often used to wonder how it felt to be Jordi Cruyff...born into luxury, trained by the Barcelona academy from a child, caressed through his footballing youth by his watchful father, but ultimately ending up a pretty useless and disinterested player. So, in an attempt to rekindle his appetite for the game, the ageing, slightly balding Alaves-era Cruyff slots into my midfield here.
Lee Sharpe
I loved Lee Sharpe. He was my first proper hero when I was a kid. I loved him even when Ryan Giggs completely stole his thunder and made his trademark celebrations a bit less good. I loved him more than ever when he scored a hat-trick in the Rumbelows Cup against Arsenal in the 1990 blue away kit (which I loved). I also got told recently that he is STILL brilliant, especially at five-a-side. So he's our creative lynchpin in midfield.
Bebe
Bebe always looks troubled. He looks like he's had too many bad dreams. But he is really, really fast. He gets in my line-up as a striker because all I think he needs is someone to believe in him. He needs balls threading through to him and the confidence of his team behind him. David May will ensure he plays with a smile, as I will accept that he'll go to the odd nightclub and be late for training a lot...but I will believe in him. We all will.
Five songs Adam would have on in the dressing room to fire up his side - as inspired by the players...
Jim Leighton: Wet Wet Wet - Goodnight Girl
David May: Oasis - Roll With It
Jordi: The Cars - Drive
Lee Sharpe: MC Hammer - You Can't Touch This
Bebe: Radiohead - Paranoid Android
Hurts' new album 'Exile' is out now. Visit their official website.