Stoke's struggles
Tony Pulis has given Stoke City supporters some of the best years that anyone can remember. But there are rumblings of discontent. Adam Bate wonders whether the demands for progress leave the Potters boss looking short of ideas.
Last Updated: 05/04/13 5:03pm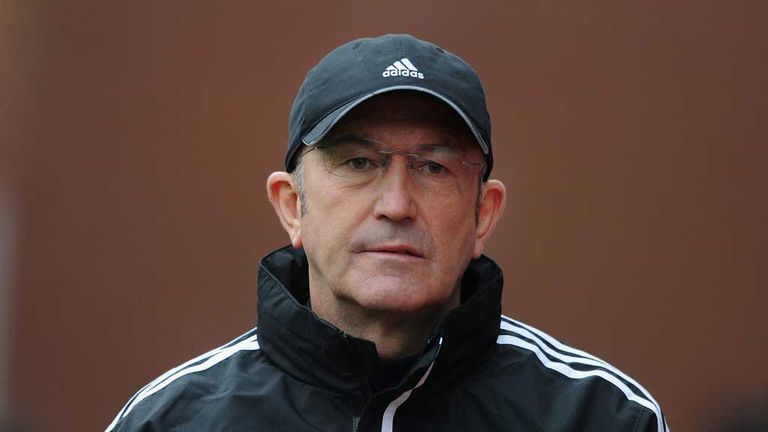 "Fans' expectations are growing all the time. It's not just this club, that's the way the world's going. If you're given steak and chips every day, steak and chips becomes the norm." You can see his point. When Tony Pulis began his second stint in the Potteries in June 2006, he was arriving at a club that had spent seven of the previous 16 seasons in the third tier of English football. The Potters had not been in the top flight for a generation.
And yet, Pulis delivered it. Emphatically so. Since reaching the Premier League in 2008 and successfully negotiating that first season, Stoke have never finished lower than 14th and only the current top seven have finished above them in each of those campaigns. On the face of it, this is the archetypal mid-table team of the current era. But discontent is growing.
Notorious and infamous. Refreshing and defiant. Everyone has their own idea about Stoke's style of play. What most can agree on is that after five seasons in the Premier League it remains distinctive. The statistics can often throw up curiosities but in Stoke's case there are few surprises: Most fouls and most aerial duels won. Fewest goals from open play and highest percentage of goals from set-pieces. Only bottom-club Reading have played fewer short passes or enjoyed less possession.
Stoke City - PL 2012/13
 
 
Discipline
Ranking
Fouls
1st
Aerial duels won
1st
Percentage of goals from set-pieces
1st
Goals from open play
20th
Short passes
19th
Average possession
19th
Critics continue to focus on the style. Defenders of Pulis focus on the league table and point to horror stories of instability elsewhere. But it is usually matters of team selection that leave fans frustrated. An insistence on sticking with Peter Crouch, despite the striker scoring just one goal in 25 games, has been a regular gripe, as has the reluctance to deploy substitutes. A lack of pace and width remains a source of anguish and the few players with the potential to offer something different are held back in favour of the same old safe bets.
Sympathy
In such a situation, the default position of the neutral pundit is to sagely remind supporters they should be careful what they wish for. However, in this instance, the sympathy for Pulis - ostensibly a victim of his own success - is also reserved for Stoke's fans. "We'll play how we want," is the chant that has often echoed around Britannia Stadium. But it was always with the tacit promise of progress. A means to end rather than an end in itself.
"We have this three-year plan," said Pulis back in 2011, during the club's third season at the highest level. "We need three years in the Premier League to get a real foothold and enable the club to push on. The first year everybody expects you to get relegated, so there is no pressure. Then you have this second-season syndrome. But the third is perhaps more difficult because everyone thinks you are established. It is absolutely vital for this club."
There was a trip to Wembley for the FA Cup final at the end of that season and a European adventure followed. As did more big-money signings courtesy of the financial backing of the Coates family. This is funding that has ensured Stoke have never had to sell a player that the manager has wanted to keep. As part of the bargain, Pulis has felt obliged to continue hinting at a change of style, albeit with numerous caveats.
"We're trying to evolve and turn into a team that will play through the pitch quickly, but can play better small passes," he acknowledged in 2012. "There's more continuity and build-up but it's always through the pitch. We don't want to play it backwards and square, and pass back to the goalkeeper 50 times. That's not the way I think football should be played."
Perhaps the final sentence there is the key one. When Brendan Rodgers favours a style of play, it's called a philosophy. When people speak of Pulis' approach it is more likely to be referred to euphemistically as his 'methods'. But it is dogma nevertheless. And it raises the question, if evolution is the aim, is Pulis really the man to deliver it? Far from facilitating ongoing success, there exists a growing feeling that the current coach could actually be restricting the club's progress.
It's a perception that has not been helped by the recent outspoken remarks of chief scout Lindsay Parsons that emerged this week. "We have loads of disagreements because I don't like the way they play and I will never change on that," admitted Parsons. "I have been told that players I've recommended have been too small for Stoke, but I don't go along with that. Look at Lionel Messi, he is different class and is he too small? I have recommended players like (Cheick) Tiote, (Hatem) Ben Arfa and (Demba) Ba, but they have not been signed by Stoke and have done well for other clubs."
Evolve
It certainly doesn't sound like a manager keen to evolve his team's approach. An inability to assimilate different styles has long been suspected since the days of Tuncay and Eidur Gudjohnsen strolling around the Brit with a crick in the neck. As Pulis presides over the third-oldest squad in the Premier League, a picture builds of a team, not on a five-year journey of progression, but rather stagnating under a manager who can promise nothing but blood, sweat and tears.
That might yet be enough. A win at home to Aston Villa on Saturday could lift the Potters back up to 11th and end any lingering fears of relegation for another season, taking Pulis to within three of the 40-point mark he still maintains is the club's principle target each August. Indeed, as ever with Pulis, the song remains the same. "We came into the Premier League miles behind the game in lots of respects." he told The Sentinel. "We've got a group who go out there every week to do their best and that's all you can ask for."
Downplaying ambitions is a sensible strategy in the hyperbolic world of the Premier League and its incessant demands for improvement. But it's also one that can only placate frustrated fans for so long. All you can ask for? For a staunch pragmatist, Tony Pulis may for once be guilty of wishful thinking.