Time to rest RVP?
With the Premier League title effectively tied up and Robin van Persie currently suffering from a goal drought, Daniel Storey questions whether now should be the time for Alex Ferguson to give Javier Hernandez some game time
Last Updated: 12/04/13 5:36pm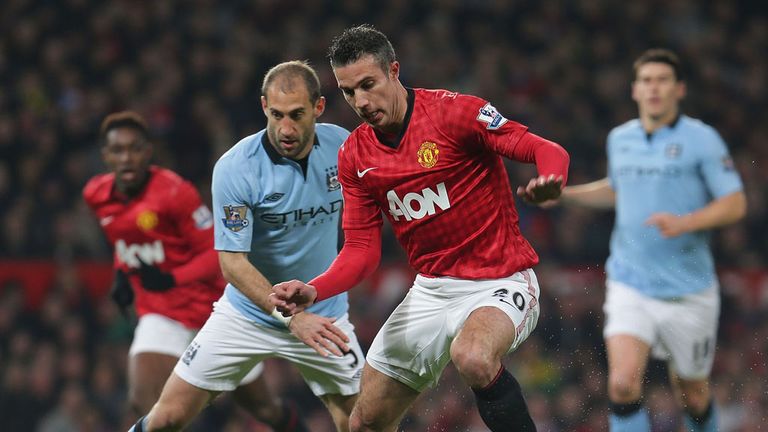 "Robin doesn't need a rest, that's for sure. He's a strong lad with a great physique. The goals will come. All strikers have little dry spells and you always hope it ends quickly, but it's just part of being a striker."
Prior to Manchester United's derby match against their city rivals, Sir Alex Ferguson was very firm on the issue of Robin van Persie's goal presence in the Manchester United line-up, but after their defeat (and a further scoreless match for the Dutch striker) the question remains unanswered.
Van Persie has now gone 658 minutes without a goal in a Manchester United shirt (and it does seem interesting that perennially taunted Fernando Torres has just three fewer goals this season). It is 11 hours of football since rounding Tim Howard against Everton on February 10th.
That is not to suggest that the Dutchman is under-performing in other areas of the field. Against City he was still strong on the ball, and played twice as many key passes as any other United player. His crisp passing has also not deteriorated, and only Wayne Rooney has more Premier League assists than Van Persie, but the fact remains that the goals have dried up.
The clichéd reasoning is that a striker should not be worried when he is missing chances but when they stop getting the chances, but the number of chances spurned by Van Persie must be worrying both player and manager. Since his last goal, RVP has had 37 shots on goal, but has only got 43 per cent of these on target.
Ferguson has shown a propensity to rotate his squad this season. Only five Manchester United players have started more than 20 Premier League games, but none have made more appearances than Van Persie. The Dutchman is the only individual to have played a part in every game, and has missed just 139 minutes of United's league season since September 15th.
Perhaps Van Persie's downturn is to be expected. Before the start of last season he had never played more than 28 league matches in a season. But after playing every single Premier League match for Arsenal, he has followed up his most strenuous season with another busy campaign. In addition, Van Persie has played 13 times for his country since the beginning of last year, including four appearances in Euro 2012 last summer. Quite simply, there has been no let-up, especially given the forward's past injury problems.
With that in mind, is now not the perfect time to rest the Dutchman? This wouldn't be the striker being dropped, because his 19 goals have been crucial in United moving to the brink of reclaiming their Premier League crown. Van Persie has nothing more to prove to either the Old Trafford faithful or his manager, and therefore there is little to gain. One thing is certain - Manchester United have the perfect replacement for the Dutchman.
In his first two seasons in England, Javier Hernandez started 15 and 18 games respectively, but the arrival of Van Persie has stunted the Mexican's progress in Manchester, starting only six league games. Given that 'Chicarito' has a goal for every 86 minutes played in the league this season (a record better than both Van Persie (131 minutes) and Rooney (139)), it would seem churlish not to provide Hernandez with further opportunities.
Moreover, a fixture against Stoke City would be the perfect opportunity for Hernandez to be selected. The Mexican has four goals in as many starts against United's weekend opposition, which makes the Potters Hernandez's favourite foes. Chicarito could then stay in the side for the trip to Upton Park on Wednesday and then next Monday's game at home to Aston Villa, to then recall Van Persie for the game against his old club on April 28th.
There can be no denigrating of Van Persie's effect at Old Trafford this season. As Manchester City manager Roberto Mancini observed: "Robin van Persie is an important player for them. It's clear that the difference is this. He has changed the situation." However, Van Persie has played his part and the title is won. Now is surely the time to give the Dutch striker a well-earned rest, and give Hernandez valuable match time for the remainder of the season.