Cahill exclusive
"We're not even thinking about failing to qualify for the Champions League" - Chelsea's Gary Cahill speaks exclusively to Sky Sports about the race for the Premier League's top four, the strains of fixture congestion, and life at Stamford Bridge
By Peter Fraser - Follow me on Twitter @SkySportsPeteF
Last Updated: 10/05/13 2:01pm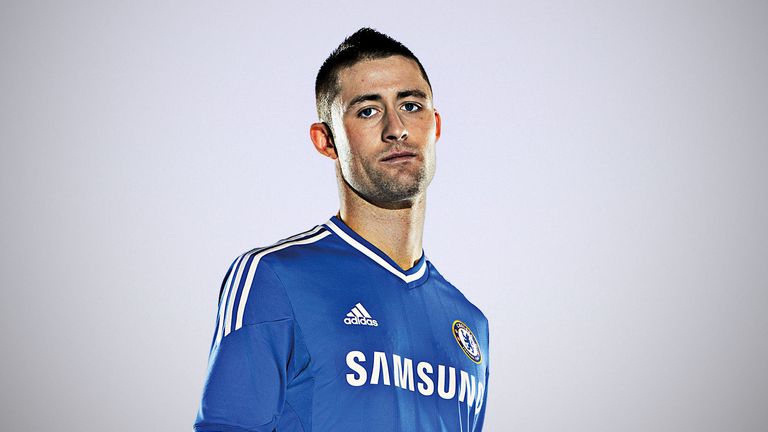 "Sleep," joked Gary Cahill when asked how he had been affected since having a child in January. Amid Chelsea's exhausting season, which currently stands at 60 games, the defender knows only too well about the need for rest.
The England international's partner gave birth to a baby boy at the beginning of 2013 and the centre-back has been "enjoying every minute of it". At the same time, the wakeful nights most parents typically experience have been another element of his already-hectic personal and professional life.
Ever since Chelsea kicked off their competitive 2012/13 with last August's 3-2 loss to Manchester City in the Community Shield, the club has been non-stop. Even at such a late stage, the Stamford Bridge outfit's campaign is far from over. There has already been managerial change and a timid surrender of their UEFA Champions League title, along with progress to the latter stages of cup competitions both at home and abroad. But among a potential nine fixtures still to play, if they reach the Europa League final, in the little more than one month remaining of the season, there is no release from the pressure.
Chelsea's main focus is to secure a place in the Premier League's top three or at least the top four. Wednesday's 3-0 win against London derby rivals Fulham moved them above Arsenal in the sought-after third position, with a game in hand, and three points clear of fifth-placed Tottenham Hotspur. But there is no let-up ahead of Sunday's trip to interim boss Rafa Benitez's former English club, Liverpool. Then come tough games against Swansea City, Manchester United, Tottenham, Aston Villa and Everton. At the same time, next Thursday brings a Europa League semi-final first leg against Basel in Switzerland.
Much to his frustration amid the seemingly endless stream of important matches, Cahill has been rehabilitating since mid-March after undergoing minor knee meniscus surgery. It is a common injury as a result of wear and tear in footballers but he returned to training on Friday and could yet feature against Liverpool. However, having personally made 43 appearances for club and country even before his injury - combined with the added, new duties of fatherhood - he knows the fatigue factor under which he and his Chelsea squad-mates have been operating.
"As players, you want to be playing games rather than training, for sure," Cahill told Sky Sports from Chelsea's Cobham training ground in an exclusive interview associated with the club's kit sponsors, adidas. "But, normally, you are doing that for a two or three-month period of the season and then you at least get a Saturday-to-Saturday break before you go again. But, this season, it has not happened like that. I think it has affected us, if I am totally honest. But there is not much you can do about it, with us being involved in every competition. There are elements that the lads just want to play games every time. But we just have not had any rest space."
It has been manic. In August, there was a European Super Cup hammering by a Radamel Falcao-inspired Atletico Madrid, while Benitez's arrival in November as a replacement for the sacked Roberto Di Matteo seems an eternity ago. You can add to this December's gruelling trip to Japan for the Club World Cup only to suffer defeat in the final by Corinthians - against whom Cahill was sent off. There was also the major setback of becoming the first Champions League holders whose defence of the trophy ended at the opening group stage. Then there was the huge disappointment of semi-final losses to Swansea in the Capital One Cup and, last Sunday - just three days after returning from knocking Rubin Kazan out of the Europa League quarter-finals in Russia - Manchester City in the FA Cup.
Evaluating Chelsea's season is therefore difficult. They spent an estimated £80million on players last summer and began the campaign as defending European champions. They subsequently started by steamrollering many domestic opponents in the opening weeks to lead the Premier League. However, they are now only scrapping for the top four while the Europa League, the Champions League's poor relation, is the last hope of silverware. Would those remaining targets have been considered a success at the beginning of the season?
"Just from the nature of the club, obviously expectation levels are high," confessed Cahill. "We would be expected to win more trophies. But from now until the end of the season, we can only do what is in front of us. They [finishing in the top four and winning the Europa League] are what are in front of us at this minute. So, we need to concentrate on pushing on to achieve those two come the end of the season. That is all we can really do at the minute."
If, however, they ultimately fail to qualify for the Champions League, suffering the consequential loss of earnings and damage to their reputation, there would be little doubt about assessing Chelsea's season. It would be a disaster for owner Roman Abramovich.
Pushed about what missing out on the Champions League would mean to the club, Cahill said: "I do not think we are contemplating it. The expectation for us is that we are in that competition next year. It is down to us as players to make sure that happens. We have got six games to do that and we have got to fully focus on making sure we are in that competition next season."
Away from the club focus, personally, Cahill could not have wished for a better 15 months since joining Chelsea from Bolton Wanderers. Having moved to West London in the January of 2012 in a reported £7m deal, he became an FA Cup and Champions League winner at the end of last season. He started in the final of the latter for the dramatic penalty shoot-out victory over Bayern Munich at the Allianz Arena, where John Terry and Branislav Ivanovic were suspended.Then came the birth of Cahill's son this January. On the field, prior to his knee operation, the 27-year-old had also become a first choice in the plans of Benitez ahead of injury-suffering club captain Terry. Cahill's time at Bolton after playing for Villa and, on loan, Burnley and Sheffield United was the build-up to the big stage. He is now in the spotlight and accepts the responsibility.
"It has been good for me," he reflected on his time so far at Chelsea. "I came to the club and wanted to try and be involved. What happened in the first six months was amazing. Winning the Champions League and FA Cup was phenomenal. Then, this season, I was trying to push and be more of a regular feature. It has happened that way, so I am pleased. But there is still a lot more I want to achieve at Chelsea and a lot more improving I can do as a player."
He added: "Looking in from the outside of Chelsea before I signed, I knew the games would be analysed a lot more and the club as a whole is analysed a lot more in the media. It is sort of what I expected, to be honest. I knew the expectation level from when I was just about to sign. But that is something, as players, you want to be involved in and it rubs off on you, I think."
Cahill is clearly not one to rest on his laurels and he admits he is developing all the time. But with Frank Lampard's contract nearing its conclusion and Terry, who scored twice against Fulham, in the twilight years of his career, Cahill, alongside the likes of David Luiz, Juan Mata, Oscar and Eden Hazard, is a part of what will be a new-look Chelsea. It is something he relishes.
"I look forward to it," he said when questioned about being a main man in Chelsea's future. "I can still improve, which I am excited by, and we have got a lot of young players here. You forget how young the likes of Hazard, Juan and Oscar are. It is an exciting next few years for the club moving forward. Hopefully I can be a part of it."
An element of 'moving forward' is likely to include another new manager at Chelsea. Benitez's interim tenure, which has been largely unpopular with the club's fans due to the Spaniard's previous connections with Liverpool, is almost certain to end in the summer.
Malaga's Manuel Pellegrini or a potential return for Chelsea's former 'Special One', Jose Mourinho, have both been reported as possible candidates for the Stamford Bridge hotseat. But, either way, Cahill would be facing up to his eighth manager for club and country since 2012 after playing under Owen Coyle, Fabio Capello, Andre Villas-Boas, Stuart Pearce, Di Matteo, Benitez and Roy Hodgson. But the player claims it is not a major issue.
"It is something you just deal with," he admitted. "Obviously you have no control over things like that. You are employed to play football and try and get results for the club. That is what you concentrate on doing. I do not think you focus too much on it [changing managers], because it is out of your control."
Gary Cahill unveils the new adidas Chelsea FC home kit for the 2013/14 season - 'it's blue, what else matters?'. Visit www.chelseafc.com/allin to purchase yours and join the conversation @adidasUK - paint not included with kit purchase