Success or failure?
With Tottenham facing up to the possibility of missing out on a top-four finish and Champions League qualification, some are keen to point the finger at Andre Villas-Boas. But Adam Bate argues that the Spurs coach should not be deemed a failure this season if his side misses out.
Last Updated: 19/04/13 3:14pm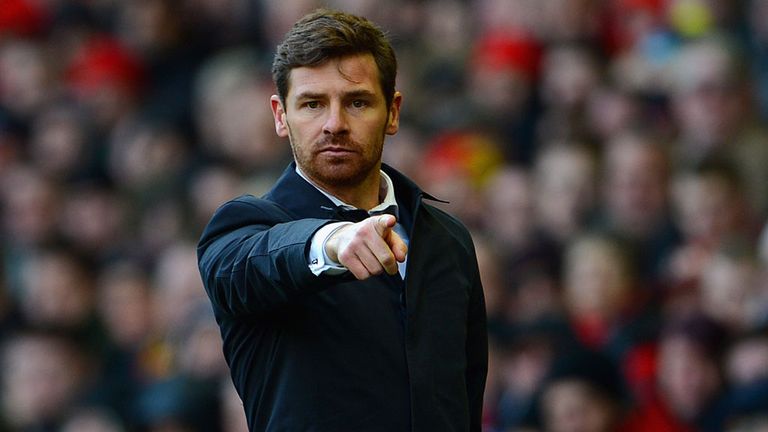 "AVB should be fired," wrote former Tottenham chairman Lord Sugar on Twitter. "No tactics. Been lucky up till now with results." While the world of social media is littered with high-profile personalities with jerky knees, Sugar's view of Andre Villas-Boas is one that some are persisting with. The apprentice that can't cut it. The next month could dictate whether or not this view wins out.
There is a reluctance to credit Villas-Boas for even the most obvious of strides forward this season, with the performances of Gareth Bale being the prime example. The narrative is that Bale's improvement has bailed him out, when it is surely fairer to argue that the team is helping to bring out the best in their star player.
Last season, the Wales international scored nine Premier League goals and provided 10 assists. But there remained uncertainty regarding his best position and Harry Redknapp was criticised when he moved Bale into a central role, enduring chants of: "Gareth Bale, he plays on the left." This season under Redknapp's Portuguese successor, it is more accurate to say that he plays from the left.
"He has been prolific in front of goal this season and I think he is enjoying getting into those positions," said Villas-Boas when asked about the Welshman. The statistics highlight this change of emphasis. Bale has just three assists in the current campaign but has scored 17 Premier League goals.
Gareth Bale - PL year-on-year
 
 
Season
2011/12
2012/13
Appearances
36
27
Goals
9
17
Assists
10
3
Shots per game
3.8
4.9
Key passes per game
2.3
2.4
Dribbles per game
1.8
2.1
On the face of it, given that he no longer restricts himself to the left flank, Bale appears to have more freedom to roam this season. In fact, Villas-Boas has put a structure in place - with a compact midfield and a high-line - that has allowed Bale to flourish. It's something the player himself seems aware of given the celebrations with his boss after the last-gasp winner against West Ham.
He told Sport magazine: "Harry was more 'go out there and play how you feel and express yourself'. With Andre, there's a certain shape and a style we play. I think Harry was more free and let you do what you want. Andre does that too, but there's a lot more tactical work. I think it's something that's good to learn. We've done well this year and I think that's down to our defending as well as attacking."
Undermine
Bale's comments suggest Villas-Boas has long since won the battle for acceptance at Spurs, but outside of the club there remains an urge to undermine. It has become accepted that Villas-Boas must replicate Redknapp's top-four finish or be deemed a failure. His predecessor is understandably keen to fuel this feeling.
"He's got the players there to be a top four team every year and challenge for the championship," Redknapp told The Sun last summer. "That's my opinion. They have got the ability there and I think that will happen." Strong words, but surely he is damning his own performance every bit as much as that of his successor?
Redknapp would like to spread the view that Spurs are on an inexorable upward curve given the talent at Villas-Boas' disposal at White Hart Lane. The truth is more complex. As shown by the January acquisitions of Ryan Nelsen and Louis Saha last season, as well as Brad Friedel and Scott Parker the previous summer, the Spurs squad was not exclusively made up of youngsters waiting to blossom. Far from it.
In broad terms, Spurs broke even in their transfer dealings last summer. Daniel Levy brought in more than £50million in funds through the sales of Luka Modric, Rafael van der Vaart, Vedran Corluka, Steven Pienaar and Niko Kranjcar. This was reinvested in Mousa Dembele, Emmanuel Adebayor, Gylfi Sigurdsson, Jan Vertonghen, Hugo Lloris and Clint Dempsey.
Given that the sale of Modric was forced on Villas-Boas, and Redknapp had enjoyed the services of Adebayor anyway, standing still really should feel like a step forwards. Dembele and Vertonghen have been superb, while Dempsey and Sigurdsson have yielded more goals (16) than the popular Van der Vaart, Pienaar and Kranjcar managed between them (15). Even the initially contentious replacement of Friedel with Lloris means Spurs now have a talented No.1 who is 15 years younger.
Injuries
Changes to the squad have not been the only difficulty as injuries have also been a factor. With Ledley King retired, Younes Kaboul was arguably Tottenham's best defender last season but has been out since the opening day. Benoit Assou-Ekotto, Aaron Lennon and Dembele have each missed chunks of the season, while the manager has hardly had chance to choose between Sandro and Parker with injuries seeing them miss a full campaign between them. Now Bale is out too.
Of course, fourth place will still be the measure of success or failure - despite the fact that European champions Chelsea were always going to come back stronger after their sixth-place finish. Indeed, even prior to Redknapp's exit, Spurs were actually expected to finish fifth this year by the bookies. They have at least fared better than the last team to finish in the Premier League top four but miss out on the Champions League proper - Everton ended up outside of the top 10 in 2006.
Perhaps this combination of exits, injuries and expectations explain why Villas-Boas is reluctant to allow the season to be framed as a failure if they miss out on Champions League football once again. "If we don't achieve it we have to consider what has been achieved this season as steps forward, which are positive for the club and the team going forward, bearing in the mind the players the team lost," he explained.
In all probability, the Spurs boss is well aware the disappointment would be somewhat tougher to deal with than that. His own players certainly seem to think so. "We have to make sure we finish in fourth place and make sure we're in the Champions League next year," claimed US international Dempsey. "That's the only thing we can do to salvage this season and say we had a good year. That's been the goal for the season."
And for good reason. The future progress of this Tottenham team is on a knife-edge. Finishing fifth would raise the prospect of Bale leaving and Villas-Boas would face another battle to restructure the squad in order to stand still. Secure Champions League football and there is a genuine opportunity to build on the success.
Lord Sugar might think AVB has been lucky. The man himself will surely think the exact opposite. Who people choose to agree with is likely to depend upon whether or not Spurs can squeeze enough points from their remaining six games - starting at home to Manchester City on Sunday.