Sky Sports Scout - Marco Rojas
Sky Sports Scout is where we scour the globe looking for the best talent. Next up is Marco Rojas.
By Sky Sports Scout - Tweet me: @skysportscout
Last Updated: 21/05/14 11:51am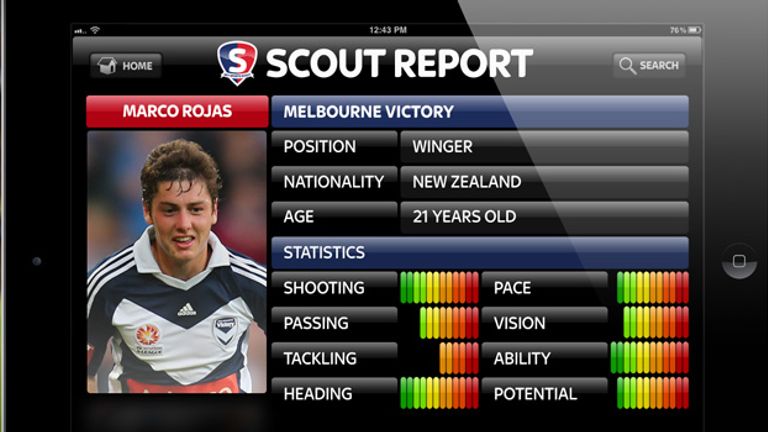 Sky Sports Scout is our exciting feature where we scour the globe looking out for the best talent and bring you a report on what we find.
Our Scout will report back and you can comment on what you think of our appraisal.
You can only nominate a player by emailing here, including the word 'Scout' in your subject line and please check to make sure we have not already covered the player.
You can also now interact with the scout via his all-new Twitter feed! You can get in touch with him and interact here or just search for @skysportsscout
The latest player under our scout's gaze is Melbourne Victory's Marco Rojas.
The scout reports...
Marco Rojas is the talk of Australian football, and here we take a closer look at the New Zealand starlet.
Born in Hamilton to Chilean parents, Rojas has been playing football from a tender age, joining his first club aged just four.
After honing his skills with local sides Ngaruawahia United and Hamilton Wanderers, he was also part of Wynton Rufer's Wynrs academy - which helped him secure trial stints in Germany and Chile, trying out for the likes of Werder Bremen, Hannover, Borussia Monchengladbach, Colo Colo and Universidad de Chile.
However, he did not secure a move away from New Zealand and he was snapped up by New Zealand top-flight side Waikato FC and was playing in their first team by the time he was 16.
Not long after, Wellington Phoenix handed him a trial and after impressing they signed him on a two-year deal.
Rojas swiftly became a regular in the Wellington first-team, but just 18 months into his stay he was preparing for his departure from the New Zealand capital as he decided to move on.
Melbourne Victory won the battle for his signature and secured him on a two-year deal in early 2011. At this time he was also catching the eye of his national team and was called up and capped by New Zealand, despite an interest from Chile.
Rojas has gone from strength to strength at Melbourne and has quickly emerged as the best young player in the A-League.
With Juventus and Liverpool understood to be following him closely, Rojas has announced that he is leaving Melbourne at the end of the Australian season to pursue a career in Europe.
The 21-year-old will not be short of options. Branded the 'New Zealand Messi' - mainly due to his 5ft 6in frame - it is always a burden to label any player as the great hope for his nation, but Rojas is just that.
New Zealand football is on a high after they qualified for the 2010 World Cup finals, and now they have a player being chased by Europe's elite, giving Kiwi fans some cause for excitement.
Rojas is a hugely gifted footballer, typically South American in style. He can play anywhere across midfield or behind a striker, and at the moment he is usually played out wide, where he cuts in at will.
Rojas has a superb footballing brain, his low centre of gravity makes him difficult to pick up and he is honing his attacking skills all the time. His passing is very good and his skill-set is outstanding, and to go with this he is now showing he can finish too.
The scout says...
It is no shock that Rojas has decided to make the move to Europe and it is also no surprise that clubs are now jostling for position to sign him.
Rojas will be turning out in Europe after this summer, although it remains to be seen where, with the Premier League and Serie A looking the most likely ports of call at this stage.
The Scout rating...
Shooting: 7 out of 10
Passing: 8 out of 10
Tackling: 6 out of 10
Heading: 6 out of 10
Pace: 8 out of 10
Vision: 8 out of 10
Current ability: 7 out of 10
Potential ability: 10 out of 10
OVERALL SCOUT RATING:60/80
Current value: £3million
Potential value: £50million
Your opinion...
You have read our opinion of Marco Rojas - now we want your views. Have you seen Rojas in action? Do you agree with our assessment? Do you think he will make it?
Get in touch, either using the form below, email or the scout's Twitter feed - @skysportsscout