PFA Women's award
Ahead of Sunday's glittering awards, Arsenal and England Ladies star Alex Scott gives Sky Sports the inside scoop on the women's PFA awards
By Follow me on Twitter - @Alexscott2
Last Updated: 24/04/13 11:09am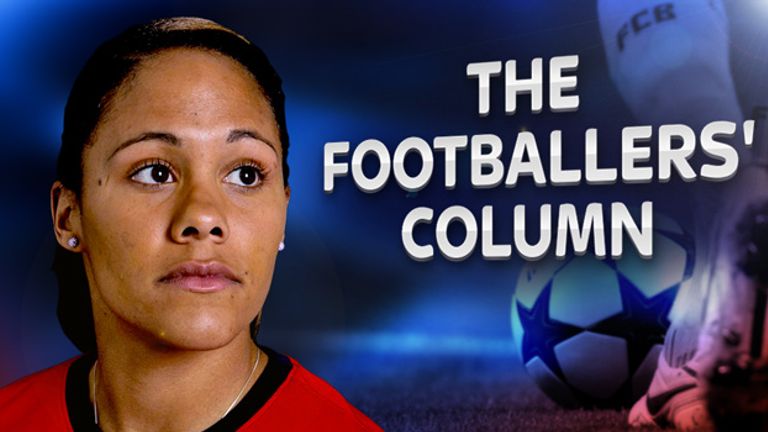 This is the first year in the Professional Footballers' Association's history that a women's award has been introduced. Last year, being a part of the England team, we were invited to attend the awards. It really was a fabulous evening. This year, however, I am sure all of the girls will enjoy the night a lot more, because it will feel like we are there for a real purpose and being recognised for our achievements throughout the year as female athletes.
So who are the women in contention for this prestigious award? I will give you a little lowdown on each player.
Toni Duggan - Everton
Toni is a young player who really had a breakout season for her club. She also made the step into the senior team this year, where she has impressed. She is a young, fearless and very skilful player with a great eye for goal. Toni is definitely one to watch out for this season. She has a bright future and will go a long way in the game.
Jess Fishlock - Bristol Academy (now at Seattle Reign)
If I am honest, Jess was not a player I knew much about until I returned to the Women's Super League last year. She has already won the FA's Player's Player award for her consistent and tireless performances for her club. Jess is the kind of midfield player who you hate playing against but really appreciate when you watch. Hard working, hard tackling but very technical on the ball, she can also can pick out a pass and pop up with a goal.
Jodie Taylor - Birmingham
Jodie is a centre forward with pace and skill and is clinical in front of goal. She gave a lot of teams, or should I say a lot of defences, headaches. Jodie is a great player who also has a great work ethic off the ball for her team. She never lets the defenders rest and is constantly pressurising them for the ball. She is a player most teams would definitely want in their line-up.
Jordan Nobbs - Arsenal
My Arsenal team-mate who is a great midfielder with a big future in the game. Like Toni, she really had a breakthrough season last year. She also went on to make her senior debut where she scored a spectacular goal. For a young player, nothing fazes her and she truly is a box-to-box player who never stops running.
Kim Little - Arsenal
Kim is already a big name in the world of women's football. Everyone in the game knows the talent she possesses. She can unlock any defence with a pass and is a player who her team look to in big games to score a goal and create a bit of magic. Kim is still a young player and can really go on to be one of the greats in women's football.
Gemma Davison - Arsenal
Gemma can absolutely terrorise a left-back with her pace and trickery on the ball. She can create something out of nothing and win you a game at the drop of a hat. Gemma is definitely one of those players you do not want running at you for 90 minutes and I am just so glad to have her on my team instead of against me.
Meanwhile, I am looking forward to our semi-final in the FA Cup against Liverpool on Friday night. It will be the first time we are playing at Anfield, which will be truly amazing. After being knocked out of the Champions League by Wolfsburg this week, this is like a second chance to make a final and the FA Cup is one all teams want. It really is a showpiece game for women's football in this country. Liverpool have made a lot of signings this year and have great backing from the men, so it will be a great game. But fingers crossed we will come out on top. I have been to Anfield to watch Arsenal's men play a couple times in the past. The atmosphere is one of the best in football, so I hope we get a good crowd on the night with a great atmosphere.