Buzzer-beaters
Doncaster boss Brian Flynn discusses last day drama, returning to club management and summer plans.
Last Updated: 27/05/13 11:42am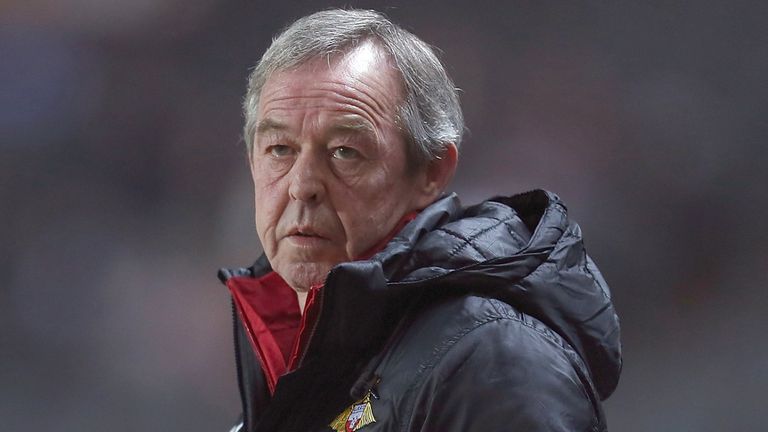 The 2012/13 campaign has entered the final straight, with promotion pushes and relegation battles about to reach a conclusion - or having already reached a conclusion.
Here at Sky Sports, we continue to take you to the very heart of the Football League, with our Spotlight features intended to give you a greater insight into the clubs and players that keep us on the edge of our seats.
We are hoping to bring you the views and thoughts of a representative from each of the 72 teams over the course of the season, with those involved asked to give their take on the division they compete in, the club that pays their wages and those we should all be keeping an eye on.
Next in our hot seat is Doncaster's Brian Flynn, with the Rovers boss taking time out to discuss last day drama, returning to club management and summer planning with Chris Burton.
After what happened on Saturday, has it all sunk in yet?
I'm still on cloud nine, but it's sunk in. We have had an excellent 48 hours. We had the awards dinner last night, which was fantastic for everybody - fans and players. It's been a bit of a whirlwind, which finishes off tonight with the trophy presentation.
What was going through your mind when Brentford were lining up that penalty?
To be honest, I was a bit stunned. I've seen it again and it is a definite penalty, I've no doubts that it was a penalty. What stunned me was - if there is any doubt about a penalty, when the decision was made, the referee looked absolutely 100 per cent certain in his body language pointing to the penalty spot. None of our players complained, none of them. Only Rob Jones went up to him as captain and asked 'What happened?' When Rob has confronted the referee and walked away without a reaction, he knows it's a penalty. I'm stunned in that sense and I turned around to the staff and said 'Where we at?' They went '94 of the 95' and I thought 'We're not coming back from this'. That was the immediate thought, there is no coming back and we won't recover from this. Then, within 20 seconds, we're champions.
I take it you were informed pretty quickly after the final whistle that not only were you going up, you were champions as well?
I didn't have any feedback in the dugout during the game, I didn't want it and it didn't concern me. The most important thing to focus on was us - what happens at Tranmere, happens, there is nothing I could do about that. I got into the dressing room right away and as soon as I arrived in the dressing room, the news came through that we were champions. I think that then filtered out to the players, who had stayed outside with the fans for 15 minutes. The word got out at that point.
Over the course of a 46-game season, Doncaster won more games than any other side in the division - so you're worthy champions aren't you?
And away games, 15 away games we won. That's remarkable. That's credit to the lads and credit to them for being strong and positive and wanting to win games away from home, rather than shutting up shop and going for a draw. We could easily have done that on Saturday, shut up shop and go for a draw, but we didn't, we went to win.
I take you are delighted with the consistency you were able to show - from mid-November onwards you were always there or thereabouts weren't you?
That's true. When the chairman asked me to look after things, he said 'Keep things stable'. I didn't keep them stable, I improved things. I didn't do what I was told to do. He said 'Just stay where we are and we'll be happy'. Where we were at the time was third. So I thought, 'I'm not going to do that, I'm going to improve the situation'. We went from third to top and stayed there, apart from one week.
So you came in with the mindset of aiming for top spot, because it's been some return to club management for you hasn't it?
When I took over, it's not a unique situation but it is a very, very rare situation - where a manager comes in to manage a football club who are third in the league. Third from bottom, maybe, but not third from top. In many ways it would be easy to change things, and hard to keep things the same. I went the hard route - don't touch what's not broken. Some managers go into clubs and immediately implant their character on the team and the club, what they want and their persona. I didn't need to do that.
You knew what you were getting yourself into, though, didn't you?
Of course. I had been at the club for seven months as chief scout. I had a part to play in bringing the players in, so I knew the strengths and weaknesses and knew what they were all about.
You're back at work already, are you looking towards next season - if you get a new contract?
My plans are done, my plans were done two months ago. They are already in place. It's a matter of carrying it out now, and I'm in the process of doing that. Unless I'm told otherwise...
As a club Doncaster have been in the Championship recently so everything is set up off the field to compete at that level, it's about getting things right on the field isn't it?
That's it. They have had four seasons in the Championship. It's not going to be unchartered waters, it's going to be where we've been before. So on and off the field, certainly off the field, we are prepared for it, no doubt about that. Off the field, there is all the added pressures which come with the Championship. On the field, I'll be ready for it, there is no doubt about that. I've dealt with teams in the past that have been promoted, that's part of my strength.
It could be some year next season couldn't it when you consider that there could be a lot of derbies on the cards - yourselves, Leeds, Sheffield Wednesday, Huddersfield, Barnsley, Sheffield United?
We have done rough calculations, as chairmen do, and he's worked out that we could have 15 full houses at home next year out of 22. He's already thinking about that - 15 full houses. Obviously there will be added costs added to that as well, but we are already thinking along those lines.
For now, though, I imagine you are just looking forward to getting your hands on that trophy aren't you?
Yes, it will be a pleasing moment, I must admit.