Prem v Champ
With the Championship providing huge unpredictability and excitement, is there much benefit to being a supporter in the Premier League? Just ask a Reading fan, as Daniel Storey did...
By Daniel Storey - @danielstorey85
Last Updated: 02/05/13 9:24am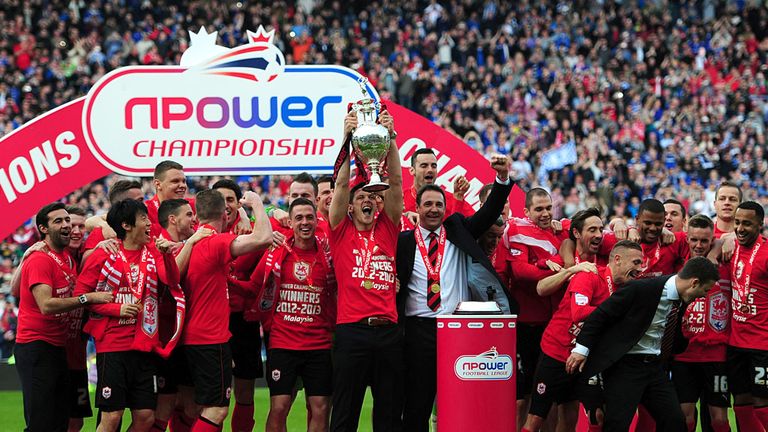 Even by its perennial levels of insanity, this season's Championship has been nothing short of mental. Middlesbrough are 12th, and yet only bottom-placed Bristol City have lost more games. Peterborough could well be relegated and yet have won three (and drawn the other) of their games against the top two, and this Saturday a club could be relegated with 57 points. That points total could be just ten points from the play-offs, and would have seen survival ensured by 17 points last season. This is a division that embraces unpredictability at its very core, summed up by the fact that with one weekend left of the regular season, 15 of the 24 teams could still be playing in a different league next season.
As a fan of a Championship club, it is a joy. Every game is attended without supposition or preconception as to the final outcome, and fans largely act in the right spirit. There isn't too much point taunting an opposition over their misfortune when there is every chance you will get shellacked the next week.
This is a league which embraces domestic talent, too. Of the 242 players who started in the Championship on Saturday, 199 were born in the UK and Ireland, with Bolton and Brighton the only clubs for which less than eight of the starting XI from these shores. Stuart Pearce's last England U-21 squad contained 15 players who have played Championship football this season.
Being a Forest fan (and therefore still with the possibility of play-offs) therefore raises a question about what promotion out of such a division would mean for my footballing experience, and my continued enjoyment in potentially supporting a Premier League team.
The benefits of Premier League participation for a football club are clear. Next year's increased broadcasting deal will allow for huge increases in revenues to be accrued by even the least successful clubs, providing a foundation for a secure near future (and promotion back) should relegation occur. Additionally, there is the opportunity to genuinely establish yourself at the top table without compromising the ideals of the club (with Swansea being the evident example).
However, such advantages for the club are not necessarily linked to the experience of being a supporter, something that I could group into four categories: success, entertainment, competition and value for money. Whilst I appreciate that there is significant happiness to be drawn from your team playing at the highest level, for me the Championship overshadows the Premier League in all but the first category, but it is the value-for-money argument that most sticks in the throat.
An impressively committed Reading fan I interviewed estimates that travelling to every away game this season has cost him £1400 in tickets and travel. In the Championship (where Reading won 13 away games during last season) that seems a lofty sum, but when they have gained just five points on the road, it begins to get unmanageable. Royals fans are planning a boycott of this weekend's trip to Upton Park, where they are being asked for £49 to watch their team.
Look too to Norwich, whose cheapest season ticket for this season (£471) now costs £575 to purchase, an increase of 22% increase. In 2009/10 it was £389. Or Cardiff City, who were able to see their side for £14.30 per game with a season ticket this season. Top-flight football will see this average rise to £19.90 a game next season, a rise of 39%. Clubs might receive a larger slice of the pie, but don't expect to feel any benefit as a supporter.
Not only are tickets more expensive (and for fewer matches), but they also provide less entertainment for home fans. Last season, Reading scored 69 goals, but have managed just 37 this time around as they have struggled to gain a foothold. Presumably the price increase is vindicated by the fact that superstar players will be performing at your home ground, but unless they are playing for my team then that doesn't make me feel an awful lot better - having a technically superior opposition score five goals whilst I look on glumly doesn't convince me as a reason for increasing my outlay on spectating. I've seen Ole Gunnar Solskjaer, Alan Shearer and Michael Owen score hat-tricks against Nottingham Forest in the Premier League, and none of them 'entertained' me.
"At least in the Championship we stand a chance of winning some matches and the excitement of going for glory rather than 17th place," our Reading fan states, and it is that lack of competition that must grate on fans of certain promoted Premier League clubs. In mathematical terms, adding the price of a home season ticket to his away jaunts means that a Reading fan will have spent £440 per victory this season. Clearly fans (outside a select few clubs) don't attend games continuously expecting success, but the more predictable a result, the less interest is raised. Put simply, expecting your side to lose each week ('we might squeak a point at home to Stoke City') is no fun at all. In the Championship, where any team has genuine hope of beating any other, that interest is elevated, and fans have the awareness that their team is playing for first place - there are no enforced ceilings to expectations.
"The return to the Premier League was welcomed but the novelty soon wears off. Ticket prices, TV demands and increased media exposure make it a testing place at times. As a match-going supporter, the Championship is cheaper and more fun," I'm told, and I find it difficult to argue.
I accept that following a Premier League club is something of which I would be proud, but I fail to be convinced that my experience of supporting my team would be more enjoyable. The problem with the Premier League for a fan is that it opens the eyes of club owners to the potential riches on offer. Money makes its world go round, and even the most family-oriented of clubs often loses sight of what really matters.
When Nottingham Forest were taken over by the highest bidder last summer, I wrote how I felt that part of its soul had been lost - this just didn't as much feel like my club anymore. For me promotion to the Premier League would simply increase concerns that I (and other fans) would be alienated as the stakes increased. Watching from an armchair may be more enjoyable, but attending games become a financially arduous task in which the chance of success is reduced.
The Premier League v Championship question provides no easy answer, but whilst the clamour for our clubs to be successful may well overpower other concerns, the sad reality is that I even find myself asking the question. That says a great deal about both divisions.
This article first appeared on Football365