The perfect fit?
Pete Hall wonders whether Bayern Munich striker Mario Gomez could be the perfect fit for Chelsea next season, especially if Jose Mourinho returns to Stamford Bridge
By Pete Hall (@Pistolpeteh86)
Last Updated: 07/05/13 8:44am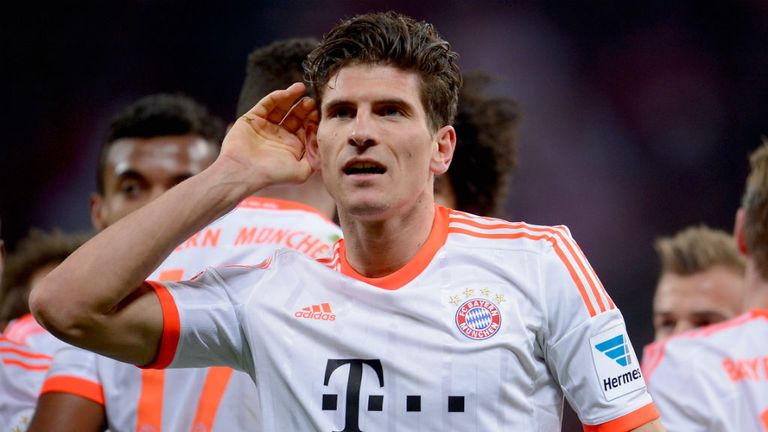 Amidst the celebrations of a victory last week that has supposedly signalled the dawning of a new era of European football, one player was a tad subdued; the forgotten man.
Replacing the suspended Mario Mandzukic in the first leg of the UEFA Champions League demolition of shell-shocked Barcelona, Mario Gomez led the Bayern Munich line with aplomb.
Yet, as soon as Mandzukic's ban was served, the Croatian hit-man was thrust back into the starting line-up for the second leg at the Nou Camp, with Gomez cast aside, fuelling speculation of a summer exit.
And one club who are crying out for a prolific striker to get them challenging back at the summit of the Premier League are Chelsea and, with the reported return of a certain 'Special One', Gomez could be the man to help Jose Mourinho finish the job he started at Stamford Bridge.
Hearts were aflutter all over west London after Real Madrid's Champions League exit prompted Mourinho to express his desire to manage somewhere he is loved, all but suggesting his heart still belongs to Chelsea.
Much of the success the Portuguese accomplished during his previous three-year tenure at Chelsea was down to the backbone he created, spearheaded by Didier Drogba.
Mourinho built a team around key players such as John Terry, Frank Lampard and Drogba capable of dethroning Manchester United two years in a row, something that the Premier League has never seen before or since.
Chelsea have faltered in recent times, as that backbone lost its focal point up front. Fernando Torres has struggled since his big-money move, and Demba Ba, who has impressed since signing from Newcastle, is yet to convince fans he has the quality to match the likes of Robin van Persie and Luis Suarez.
To be successful in today's era of the English top flight you need one striker, as the days of 4-4-2 seem to be long gone, who leads the line in a style that fits the philosophy of the individual club.
At Manchester United, Van Persie is by no means an out-and-out striker, as he links up the play, often dropping deep to get involved in attacks in their early stages.
Sergio Aguero, although his campaign has been blighted by injuries, is all about flair, using his pace and trickery to get into goalscoring positions for Manchester City.
Even at Liverpool, who have had somewhat of a transitional season, Suarez works all over the pitch, timing his runs from deeper, and trying to engineer a chance for himself.
In terms of adapting to a team's style the talismanic Gomez would be perfect fit for the Blues with the natural predatory instincts that he possesses.
Much of the reason that Chelsea still have had a somewhat successful campaign; qualifying for the Europa League final and sitting third in the Premier League, is the flamboyant attacking midfield trio at their disposal.
Juan Mata and Eden Hazard have enjoyed incredible success this season, notching 19 goals between them, as well as providing 21 assists.
Both are more than capable of playing anywhere across the midfield or, more suitably, in the trequartista number 10 role, just behind the striker.
Oscar has also showed he has the potential to excel in that position, and will only get better as he continues to adapt to the pace of the English game.
With Gomez's competence in and around the box, he would thrive upon the chances created by this exciting supply-line, and would be perfectly happy to feed off the scraps provided.
Averaging a goal every 77.5 minutes in the Bundesliga, the Germany international is far from out of form, it is just Jupp Heynckes simply plays a different style of football compared to what Gomez is suited to, hence his exclusion from Bayern's line-up for much of this season.
Mandzukic runs his socks off, and it is his workrate and versatility that makes him the perfect fit for Bayern's counter-attacking style.
Turning 28 in July, Gomez is in his prime, and will not want to sit around on the bench for much longer, as his agent confirmed recently.
It will all depend on what incoming boss Pep Guardiola has planned for him, but judging by the free-flowing football the Spaniard encouraged at Barcelona, he may well still find himself down the pecking order.
Sir Alex Ferguson has mastered the ever so fine art of signing players that suit the football that your squad is capable of, as not all are the same.
Whether it is Mourinho or someone else who replaces the interim boss Rafa Benitez, an enquiry for Gomez has to be considered.
The Stamford Bridge faithful remain very much disgruntled by Benitez's appointment, and frustrated by a lack of firepower since fan favourite Drogba departed.
Gomez, albeit lacking the dynamism that made the Ivorian so popular, will let his goals do the talking and, with the 'Special One' to keep him focused, it may not be too long before it is very much a Blue day down the Kings Road.