Former players and pundits pay tribute to Sir Alex Ferguson
Former Manchester United players and pundits react to news of Sir Alex Ferguson's retirement.
Last Updated: 08/05/13 5:50pm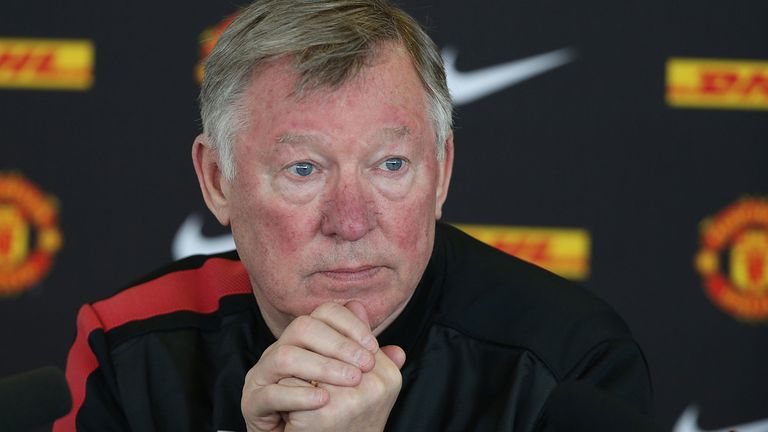 Former Man Utd goalkeeper Peter Schmeichel
"I'm really disappointed and sad. I was really, really hoping Sir Alex was going to stay on for another couple of years. I see and speak to him regularly and he's fit, he's not a 71 year old man. So I don't know what to make of it.
"Yesterday I was really pleased with what we've done this season, taking the Premier League trophy back to Old Trafford, taking it home, as we like to call it. And now this. I can't see him retiring over his hip operation but until he sits in front of the media we can only guess and guess.
"What we're looking for isn't someone who can come in for ten months or three years We're looking for someone who can stay and produce the same kind of stability as Sir Alex Ferguson has done.
"David Moyes has been more than a decade at Everton on limited funds and he's been doing a fantastic job. He's Scottish, he's made from the same cloth as Sir Alex and he's the kind of guy you look at and you think 'stability'. Beyond anything else that's the most important thing for Manchester United. You can look at Moyes and say 'this guy knows how to stay in a job for more than three years'."
Former Manchester United forward Dwight Yorke
"Is the timing ever right for Sir Alex Ferguson to retire? I don't think so. I think he has really taken the football world by surprise.
"I have insight into the club and I saw him on Monday at a golf charity day. He was in good spirits, an in a great mood. The rumours were growing and there was supposed to be a big announcement tomorrow [Thursday]. But because the club is floating on the stock market, this decision needed to come out very quickly. I think with his hip replacement and with David Gill probably going as well it sort of pushed him to say that this was the best time for him to retire.
"He has been such a focal point of the club; he has taken them to the level that they are at right now. It will be a shock to the system because he has always been there. He won't be taking those team talks and making those decisions, his voice won't be echoing in the background like it has always been. For him not to be there at the start of next season will take some time to get used to."
Former Manchester United defender Steve Bruce
"Whoever has gone to play for him, this winning mentality that he's got rubs off on you. People ask over the years what he's like and he's so driven and so determined and he works so hard at the job. When you finish and you hang up your boots it's no surprise that a few of us have gone into coaching. He sets such high standards that he's very difficult to follow. It's impossible to copy somebody like him.
"He wants to beat you for certain and he does that constantly with us, but he offers you a bit of encouragement. He's always there if you pick up the telephone and he'll always come back to you. He's got a humility about him from his working class background where he'll treat the groundsman just as well as he'll treat his star centre-forward. He's got a fantastic humility about him for all he's achieved.
"Whether it's Jose Mourinho or David Moyes or whoever, I know one thing, it's going to be some act to follow. When you look over 27 years at the trophies he has won it doesn't seem quite right that Fergie won't be in charge of Man United any more. He has gone on and on and on and 27 years is quite remarkable - and I can assure you I don't think the next manager will do 27 years."
Former Manchester United captain Bryan Robson
"The boss had considered it before and I think with winning the title and getting it back from City this year, he maybe thinks- with having grandchildren and that - that the timing is right.
"For me, you've got to say that he's been the greatest club manager there's ever been anywhere in the world. When you think that he's rebuilt probably four or five squads to be successful - and what he did at Aberdeen as well, the success he had in Scotland was terrific before he even came to Manchester United. Because of that record he's got to go down as the best.
"I was very fortunate I never got the hairdryer. I think he came close to it one year at Newcastle when a young Paul Gascoigne was running rings around me and he told me to get it sorted. That's as close as I got. It was quite humorous when I used to see some of the centre-halfs get it!"
Former Manchester United striker Mark Hughes
"As the hours have gone on you would probably say the timing is right for Sir Alex and United. They've had a great season, they've won the title and particularly bearing in mind that they have wrenched the Premier League crown from City which was mightily important for Sir Alex.
"It's a big decision for United. It's something they knew would happen one day and you'd imagine given the size of the club and financial implications of a change in management that their succession plans will be in place and things will probably now progress quickly.
"Anybody who's been in his company and had the pleasure of working for him, you are struck by his passion, drive and desire to win football matches and trophies. That's just part of his DNA and you always sensed that being around him."
Former Manchester United midfielder Paul Ince
"I was totally shocked. What he has done is unbelievable. You can't explain winning all those Premier League titles not to mention the Champions League, FA Cups - he has done the lot and you will never see anyone of his kind again. Two weeks ago he was talking about staying on for another two years so it has come as a massive shock.
"I was one of the fortunate ones; I spent six fantastic years at Manchester United. I remember the first day I joined - I failed my medical and thought my move was going to collapse. But the way he treated me was like a son and I will never forget that. He was demanding and his standards were so high - we had our ups and downs but I think he had his ups and downs with most players especially in that 1992/93 season. But as far as total respect, the man was immense and he got the most out of me that was for sure.
"As a manager when I was at Blackburn things were not going well and I spent 15-20 minutes in his office. He said to me 'the only advice I can give you is don't let the players take the mickey out of you - don't give them anything, if you give them an inch they take a mile'.
"His replacement has to be someone with a massive character, someone who can deal with what it takes to be a Manchester United manager. It is going to be hard, Manchester United fans have just known one man. Whoever comes in is going to have to deal with the Man U legacy and the history that Fergie has left behind."
Former Manchester United striker Denis Law
"Alex could eventually be the greatest manager ever. He is in that category of great managers for not only what he has achieved at Manchester United but what he started up at Aberdeen, where he went on to win and break that monopoly of Celtic and Rangers for a little spell. After he won the Cup Winners' Cup and came down to Manchester United, I was very much looking forward to seeing him manage the club. Things didn't go too well to begin with and it looked as though he might be given the sack but he went on to win the FA Cup and then from then on, things began to get better.
"What he did then was create what Busby had created many years before with the Busby Babes - young players coming into the team, from schoolboys right through to the national teams as well. Like Busby, he created three or four great teams in his spell as manager of Manchester United.
"I honestly couldn't believe it when I heard that Sir Alex is retiring this morning. I was with him last week and he didn't say anything at all. Who takes over from him? I don't know. David Moyes has been mentioned and I wouldn't be surprised to see him come in, but it's so difficult. Whoever does eventually take over has a real foundation there with the team, the ground, the training facilities - they are absolutely fantastic. I think there will be an easier transition for whoever takes over from Sir Alex [than there was after Sir Matt Busby left]."
Former Manchester United assistant manager Archie Knox
"I was really surprised - I thought he'd go on forever. It's the most fantastic achievement you could imagine that won't ever be repeated. Whoever comes into replace him has got a very difficult task to live up to. You had to be a winner to be associated with him - from players, new players, everybody. If you didn't have that you wouldn't succeed with Sir Alex and he instilled that with everybody - from the top professionals to scouts watching B teams. His attention to detail was unbelievable.
"David Moyes has certainly got a great pedigree and having worked on a shoestring at Everton. He's similar in manager ways to Sir Alex - with attention to detail and handling of players. He's in that mould. It's a tall order to take over from Sir Alex but Moyes would be a good candidate."
Former Manchester United midfielder Clayton Blackmore
"It's a sad day for me and for every Manchester United fan around the world. Ferguson has been here 27 years and he's turned the club from a middle-of-the-league team to probably the biggest team in the world; we win stuff every year here now.
"I was crossing my fingers and hoping he wasn't going to retire but he's got to the stage where he needs to sit back and enjoy all the success he's had at the club.
"Twenty-seven years: you're never going to see that ever again; that has never happened before and it will never happen again.
"It's unbelievable what he's done to the club. He had to fight and scrap in the early days but he turned it around and he keeps producing team after team - and the success he has had is frightening."
Former Manchester United defender Gordon McQueen
"It was always going to be big news but it was inevitable and it was the news that Manchester United fans all over the globe did not want to hear. They have had uninterrupted success under Sir Alex's reign and they will be worried about who is going to take over.
"He will be leaving a legacy, leaving a team who have just won the Premier League with a lot of young players. The club is in great shape and I think that is one of the reasons he has left because he knows the task will be easier for whoever comes in now.
"I certainly hope it is David Moyes - I think he has a lot of traits that Sir Alex Ferguson has got. He has got a tremendous work ethic; he is young and enthusiastic, strong on discipline and very demanding on his staff and players. I think he would be a fantastic choice."
Sky Sports pundit Alan Smith
"As time went on we all became aware that this turning into a very special manager indeed and after 26 years I think he rates as the best one that I've ever known - and we're talking globally here - just for his longevity and success.
"His ability to adapt was one of his greatest strengths with the influx of foreign players and you couldn't really get stuck into them in terms of giving them the hairdryer as much as you could with English-based players and he adapted to that. He coaxed performances out of players and that was a fantastic asset of his. This is an end of an era for certain.
"That Mark Robins' goal (in the 1990 FA Cup) against Nottingham Forest was seen as the goal that changed things for him. Any manager needs a little bit of luck at some stage in their career, but he certainly made the most of that luck.
"He had an ability to nurture young players coming through and a faith in young players. he was obviously fortunate in having a fantastic clutch of players - the Nevilles, Butt, Scholes, Beckham and the like - but boy did he make use of that talent! When you're at a top club it takes a lot of courage to give youth its head, but he's always based his policy on that."
Sky Sports News pundit Iain Dowie
"It was big surprise to me. I felt he was just about to start rebuilding the team to challenge for another Champions League title.
"You have to admire how he has evolved as a manager. From the hairdryer to being loved by all his players - he has great empathy for them. He has come from working class Glasgow roots and he has always kept that close to his heart.
"The teams he has built and the way he has gone about handling a juggernaut of a club - the pressure that comes with that is amazing. I don't think the world will see a better manager than him.
"I don't think he would have gone unless he had won the Premier League -that was his burning desire and winning it back from the 'noisy neighbours' was very important to him.
"He has had that rigorous nature about him and has not been afraid to make those big decisions. I believe his work-life balance has been very good and he has looked so relaxed that I thought he would carry on for three more years.
"I think having Sir Alex as a director will help anyone who goes in because he will understand the mechanics of how United works - who would not want to call on that experience? The comparison with Sir Alex and whoever takes over is going to be tough, though."