Nerves shredded
Barnsley's Dave Perkins discusses final day drama, survival specialists and future ambitions.
Last Updated: 24/06/13 3:29pm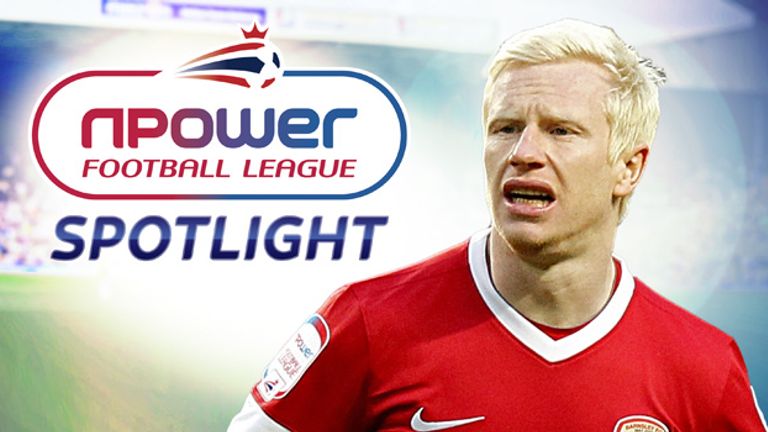 The 2012/13 campaign has almost reached a conclusion, with promotion pushes coming to a close and relegation battles either won or lost.
Here at Sky Sports, we continue to take you to the very heart of the Football League, with our Spotlight features intended to give you a greater insight into the clubs and players that keep us on the edge of our seats.
We are hoping to bring you the views and thoughts of a representative from each of the 72 teams over the course of the season, with those involved asked to give their take on the division they compete in, the club that pays their wages and those we should all be keeping an eye on.
Next in our hot seat is Barnsley's Dave Perkins, with the Tykes midfielder taking time out to discuss final day drama, survival specialists and future ambitions with Chris Burton.
How are you now reflecting on the season - one game, I suppose, makes it all a lot more positive?
I don't know if you can even say one game, maybe 80 seconds. At one point we were down and then we heard that Crystal Palace had scored, and that totally changes the slant of everything - it totally changes the whole mood of the club. We have been in since, Flitters has been doing meetings with players who he is keeping on, and everything changes.
It was such a big game against Huddersfield, with so much riding on it, were you aware of what was going on elsewhere?
Not really. We didn't know the score at half-time, the manager didn't want us to know. Obviously we were winning at that time, so it didn't really make a difference. As soon as Huddersfield equalised, that changed things. You kind of get a feeling from the stands and the crowd that we needed to win or we needed help off Crystal Palace.
And at the end you were both staying up and no-one wanted to do anything, which was a bit strange wasn't it?
I know, which was unbelievable really. I have never been involved in anything like that. Our keeper, Luke Steele, has got the ball and you're kind of thinking, 'Are any of the Huddersfield players going to close him down here?' I don't know what I can say, but we were happy that they weren't closing him down. At that point, they would have been happy with that as well.
It's a great achievement by the club isn't it, given where you were at the turn of the year?
When you look at the likes of Wolves going down, you think 'What an actual achievement this is'. After 25 games we had 21 points. We were looking at the stats today and it's incredible what we have achieved from there.
You had a tough run-in didn't you - playing the likes of Brighton, Leicester, Watford, Palace, Forest, Cardiff - you had to do things the hard way?
We tried to put a positive slant on things and you have to say 'We haven't really got any of the bottom teams, so they aren't like six-pointers'. We kind of put a positive spin on things, but when you reflect on it - you think we beat Hull second to last game of the season, and that was a must-win game. Going to places like Cardiff and getting a point wasn't an easy task when they just needed the win to guarantee promotion.
Did you always believe that things would come good in the end?
It was hard to stay positive, but the only doubt I had was after we played Peterborough early on - it was maybe the first game Flitters took over - and we lost after playing really well. It was a really tough one to take, but we regrouped and Flitters got everyone together. We had a trip to Marbella which did us the world of good, to get everyone together again. We always believed and I think the manager always believed, and that was the main thing - along with all his staff.
Barnsley have such a strong team spirit don't they, and that has served them well over recent years?
Definitely. I think they played Plymouth a few years back and needed to win then to stay up, or to better Norwich's result. It has always been the case. As bad as it sounds, they are quite good at relegation battles and just getting through by the skin of their teeth. They seem to have become quite good at it. Even though I hope for next season that isn't the case, we have become quite good at it!
On a personal note, are you happy with how the season went?
It's been a fantastic year, especially after Christmas. I had a couple of injuries early doors, but got through that. I moved to Barnsley, which definitely helped me with all that. I got a few awards off the fans at the end on a personal note, so very happy.
You're under contract, are you happy where you are?
I have got another year left. I have heard a few sniffs about. What happens now, will happen. For now I'm under contract with Barnsley Football Club.
There were a few rumours in January, is it difficult to ignore them?
It's not easy, especially when there are some really good teams looking at you. You kind of think, 'Wow, that's a bit of a privilege and I must be doing something right'. But, like I say, I have got another year left and we'll see what happens.
You've worked so hard to get to the Championship haven't you that it's just about keeping your head down and doing what you do?
Simple as that, really. I saw George Boyd do an interview with Hull on the promotion thing the other day. I have played against George in every league and he's taken the next step again to the Premier League. I was thinking, 'George has done fantastic there, he's played in every league including the Conference'. I have done the same, I just haven't done the Premiership. It's a proud achievement.
If you do the business on the field, anything outside of that will take care of itself won't it?
Definitely. You do the business on the field and you can only do that. As soon as you start thinking about other things, cars and money and things like that, that's when you probably aren't going to play so well.
You have played a lot of football under Keith Hill, but David Flitcroft is another familiar face isn't he and seems to be bringing the best out of you all?
With Keith, I have got a lot of time for him and I owe him everything, really. He gave me my chance at 25 in the League, and what a chance that was - I grasped it. I messaged him after the Huddersfield game and said: 'It was your team', because there were a lot of players there - Flitters tinkered with it a bit. I owe Keith and Flitters a lot - my best football has always come under them two.
Are you looking forward to a break now and then kicking on into pre-season, with everyone looking forward to getting back a bit more than they were a few weeks ago?
Definitely. I don't think it has sunk in yet the actual achievement. I think the first time it will sink in is when you look at the fixture list and you think, 'We have got Blackburn again and teams like that'. You are looking at Peterborough's fixture list and think, 'That's maybe not so good'. That's when it will sink in and you'll think, 'This is fantastic'.
And next season looks like being another exciting one, with so many derby dates on the calendar?
We were hoping that Sheffield United would come up as well, just for another derby and another sell-out for the Yorkshire area. There will be some absolutely massive games.