Foot in both camps
Scott Minto is one of the few players to have represented both of the teams contesting this week's Europa League final. Adam Bate caught up with him to get his thoughts and find out whethere his loyalties lie with Chelsea or Benfica this Wednesday.
Last Updated: 15/05/13 9:25am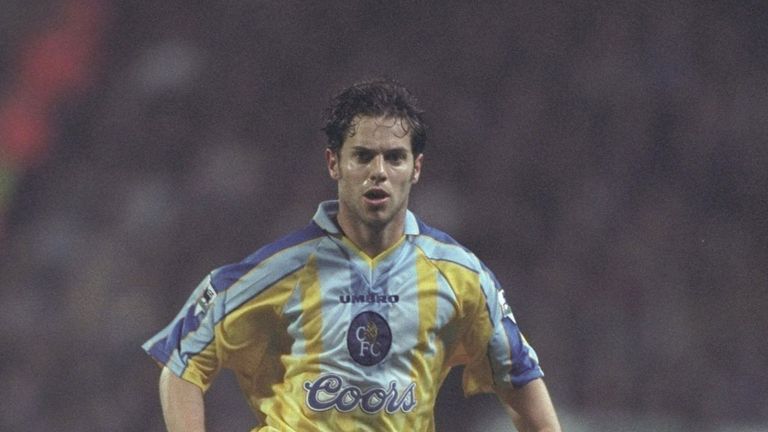 Much of the focus in the build-up to the Europa League final on Wednesday evening will be on Ramires and David Luiz as they prepare to face their former club. But they aren't the only men to have represented both Chelsea and Benfica. There will be an Englishman sat at home watching the game on his television... Once he can get the kids to bed. "Goodness knows what time I'll finish up watching it," laughs Scott Minto. "Last season I was watching the Chelsea versus Bayern Munich Champions League final until 1.30 in the morning."
Minto made his move in the opposite direction to Chelsea's Brazilian duo back in 1997, swapping Stamford Bridge for the Stadium of Light, and readily admits this is the final he has been waiting for. "It's the game I really don't want to miss," he says. "It's a match between two clubs, one of which I had the best day of my professional life with and the other one where I had the most enjoyable time of my career."
The best day of Minto's career to which he is referring is the 1997 FA Cup final. Chelsea beat Middlesbrough with the help of Roberto Di Matteo's memorable first-minute goal to lift the club's first major trophy in over a quarter of a century. In a sense, it was a key moment in a journey that would see the Blues firmly established among Europe's elite.
"The start of it was when Glenn Hoddle came in," Minto points out assertively. "He brought in players like Dan Petrescu, Ruud Gullit and Mark Hughes. It wasn't just the players. He also brought in the mentality and the right tactical approach. Obviously Ruud then brought it on by bringing in the likes of Gianfranco Zola, Roberto Di Matteo, Gianluca Vialli and Frank Leboeuf. You could see it was a club on the up.
"I thought that team in 1997 was a very good one that would stand up against most teams. We finished sixth that season, won the FA Cup and were playing fantastic football - Ruud even coined the term 'sexy football'. It was a joy to play under him. The problem was that the squad wasn't quite as consistent in terms of the number of quality players they now have. For that, you need money and Roman Abramovich has come in and taken it to the next level."
Not that the former England Under 21 left-back would be there for that part of the adventure. That Wembley win was his last game for the club. "I was in the last year of my contract at Chelsea," he explains. "It was going really well but I wasn't happy with what they had offered me so I decided not to sign and just wait until the end of the season and see what happened. The very next day after the Cup Final we went to Hong Kong, Brunei and Singapore. It was while I was out there that my agent called me and said Benfica had been watching me and been at the Cup Final as well.
"When a club the size of Benfica want you I just thought this was too good an opportunity to turn down and you may never get an opportunity like this to play abroad. Go for it and see what happens. So I did and it went exceptionally well. I must admit, I look back on it now as the best time of my career."
Embraced
Graeme Souness later joined the club as manager and an influx of British players followed, including England internationals Gary Charles, Michael Thomas and Brian Deane. But Minto was the forerunner and he embraced it. "Walking into a dressing room full of Portuguese players, may have been intimidating to a lot of players," he adds. "But I just had that mentality that I like things that are foreign so I just tried to make friends. There were a lot of people who spoke English but I did learn the language and I got a lot of respect for that. Even though I was never fluent I could get by."
This was quite a move for the former Charlton Athletic youngster and there is still pride in his voice as he articulates the sheer size of the Lisbon club. "Benfica are historically one of the biggest clubs in Europe," he states. "I was told 90 per cent of Portuguese people support Benfica. Now that might not be completely true but there is no doubt about it, they are the equivalent of Manchester United in Portugal. It's an absolutely massive club.
"There were 5,000 people for my first training session. We had one presentation game at the Estadio da Luz and it was almost like the red carpet was out - they were introducing each player individually. The lights would go down and then the lights would come up - Joao Pinto... Karel Poborsky... Scott Minto. There were 80,000 people there for that pre-season game against Lazio. It was just amazing. I absolutely loved every single minute of it."
As he looks ahead to Wednesday's game, Minto can only imagine the atmosphere in Lisbon as his former club prepares for the final. "Some people downgrade the Europa League and, of course, it's not the Champions League," he says. "But once you start getting to the quarter final and beyond you realise this is a major European trophy and Benfica will be looking at it like that. It's a chance to put another European trophy on the CV so it's a big game for them."
Only three clubs - Real Madrid, AC Milan and Bayern Munich - have contested more European Cup finals than Benfica. But while those three clubs have all won the trophy in the Champions League era, Benfica's last appearance in the final was in 1990. Frustratingly for the Portuguese giants, the Europa League is as big as it gets these days.
Lament
"I feel sorry for Portuguese football actually because Benfica really are one of the greats," notes Minto, seemingly sharing this lament. "It's difficult. There are probably only five or six clubs that can realistically win the Champions League. What Jose Mourinho did a few years back with Porto, I don't really see that happening again. Having said that, who would have that Borussia Dortmund a couple of years ago? But I think among the big boys you need the real top players and the real top players play in Spain, England or Germany."
As a result, Chelsea will start as favourites in Amsterdam, although Minto is expecting a close game between his former clubs. "I think Chelsea have the better team and they have the better squad, but not by a great deal," he says. "I don't expect there to be more than one goal difference between the two sides. The only thing I would say is that with the amount of games Chelsea have played in the last couple of months players could be tired. When the trophy is in front of you though, it's amazing how players find that little bit of extra energy.
"As a player you want to finish your career with as many medals as possible. As a club you want to be able to say that you're club has won these European trophies. As a fan you want to be going to finals and see your team lifting trophies. The Europa League is still a major competition and if you're in then you want to win it."
But who exactly does Scott Minto want to win Wednesday's game? As we chat, he is awaiting a camera crew from Chelsea TV and his instinctive loyalties are to the British club. And yet, even then he begins his answer with a love letter to Portugal. "It was a wonderful life, living by the sea with great food, warm weather and warm people. What's not to love? I have absolutely wonderful memories of my time at Benfica. So while I do want Chelsea to win, I'd also be happy if Benfica win."
Click here to read more about Scott Minto's time at Benfica in our Brits Abroad feature.