Europa matters
The Europa League is a competition that has come in for criticism over the years. But as Chelsea prepare to face Benfica in Wednesday's final, Adam Bate gets a supporter's view on why this game matters plenty to the club's fans.
Last Updated: 14/05/13 3:51pm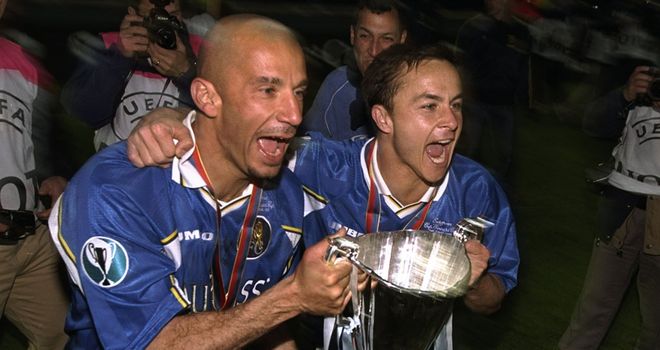 The comedian Frank Skinner has a line in his autobiography designed to explain the book's self-deprecating tone. Despite the fact that he is now a multi-millionaire success story, Skinner does not identify himself as such. "A lot of people would regard me as a winner," he wrote. "But for the first 30 years of my life I was a loser. Thirty years is a long time. I still think like a loser. I still move like one. I'm OK with that. Losers are very nice people. Well, compared to winners."
Like Skinner, money is no longer a problem for Chelsea. The club has been established among Europe's elite and can boast supporters from around the world. There are youngsters in Asia, Africa and the Americas now growing up engrossed in all things Stamford Bridge. And yet, the bulk of the fans following the team in Amsterdam remember a different time. For those who know their John Bumstead from their Colin Pates, this Europa League final matters.
Of course, when you were busy winning the Champions League itself less than a year earlier it is easy to become blasé about Europe's other prize. But it is worth noting that it was the lifting of the European Cup Winners' Cup back in 1998 that represented an important marker-stone on the journey to becoming the modern-day Chelsea.
Transformation
A transformation that had begun under Glenn Hoddle with the investment of Matthew Harding continued under Ruud Gullit before Gianluca Vialli heralded the club's renaissance with victory over Stuttgart in Stockholm. At the time, this was not a trivial trophy for anybody connected with Chelsea. It was to be the club's first European silverware since 1971.
"The last European Final was 27 years ago for Chelsea so it's a great achievement that we are here," said Vialli in the build-up to that game. "It's been an excellent season. It is up to us to make it extraordinary. I want this match to be, not a party, but a celebration of a very important night in the history of Chelsea Football Club. If we can win this final it will give us great confidence. Chelsea are ready to be one of the best teams in England and Europe."
Gianfranco Zola came off the bench to score the winner and was later voted the greatest player in the club's history. The Cup Winners' Cup is now defunct but these are memories that matter to the Chelsea fans who will fill the streets around Amsterdam. Tim Rolls from the Chelsea Supporters' Trust will be among them and, as someone who remembers the successes in both 1971 and 1998, he has no doubt about the significance of the occasion.
Enthusiasm
"The Stockholm final felt like a fantastic achievement, which it was," Rolls told Sky Sports. "Getting to Stockholm and winning made a significant difference. Winning the FA Cup final the previous season was fantastic but to win a European competition was the real start of it. We had about three quarters of the ground. The whole town was full of Chelsea fans. There were only a few thousand Stuttgart fans there. It was just a huge occasion and a truly memorable night."
The chance to make it another memorable night will be hindered by UEFA ticket allocations not the enthusiasm of the Chelsea supporters. "To be honest, whatever allocations they'd have given us wouldn't have been enough," claims Rolls. "People are getting quite excited about the whole thing. It's becoming a bigger game by the day. But to give us fewer than 10,000 tickets when so many are going to neutrals or the UEFA family sticks in the throat.
"Amsterdam is quite an attractive proposition as a place to go as well. It's such an easy place to get to. We're going by train, others are flying, some are driving and getting the ferry. Getting there isn't the problem, it's getting in. I reckon there will be 20,000 Chelsea fans out there who have either got tickets in the neutral areas or will just be joining the party watching the screens out on the streets."
That excitement reflects the fact that fans want to see their team win trophies. And even though Chelsea were parachuted into this one, they've still come through eight games to get here. As a result, supporters like Rolls are taking a long-term view. "This is still a big night in Chelsea's history," he adds. "It's a European trophy. I don't think anyone is treating it like the Super Cup in Monaco or even the Club World Cup in Japan. Those are cosmetic things whereas this is a proper tournament.
"For Chelsea to win, if you look back in years to come then people will say it was a great achievement. You have to step back. I started going in the late 60s and going regularly in the mid-70s when frankly Chelsea were hopeless. If you'd have thought back then that we'd see a Chelsea team reach European finals two years in a row I'd have thought you were certifiable because you just couldn't see it happening."
The club has come a long way since then. So far in fact that it's easy for a Europa League final to feel beneath last season's European champions. But these are occasions that matter. So don't be surprised if the Chelsea supporters are cheering vociferously if their team emerges victorious in Amsterdam on Wednesday evening. Like Frank Skinner, many of them remember the old times.