Wembley awaits
Northampton's Adebayo Akinfenwa discusses a trip to Wembley, goal returns and fashion lines.
Last Updated: 27/05/13 11:54am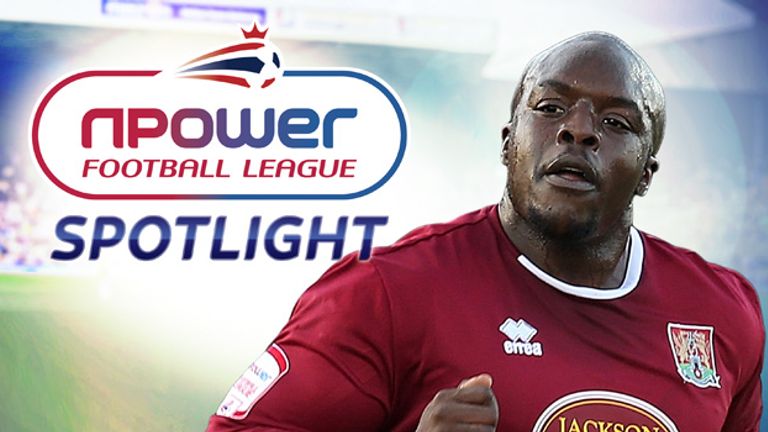 The 2012/13 campaign has almost reached a conclusion, with promotion pushes coming to a close and relegation battles either won or lost.
Here at Sky Sports, we continue to take you to the very heart of the Football League, with our Spotlight features intended to give you a greater insight into the clubs and players that keep us on the edge of our seats.
We are hoping to bring you the views and thoughts of a representative from each of the 72 teams over the course of the season, with those involved asked to give their take on the division they compete in, the club that pays their wages and those we should all be keeping an eye on.
Next in our hot seat is Northampton's Adebayo Akinfenwa, with the Cobblers striker taking time out to discuss a trip to Wembley, goal returns and fashion lines with Chris Burton.
We're into play-off final week now, are you nervous, excited, a bit of both?
I wouldn't say nervous, more excited. I would say we are looking forward to Saturday. I would like to just get the game going. It's a long week. We're looking forward to it.
These weeks drag don't they when all you want to do is get out there and do your talking on the field?
Yes. Footballers want to play. It hasn't been a normal couple of days. We have trained, we have come down to the hotel, we have had cameras there. It's been a bit different to normal and it makes you appreciate that something big is happening at the end of the week. But we are looking forward to it. We are going to see Wembley on Tuesday, we can get that out of the way and then 100 per cent focus on the game. That's the main thing.
How's training been going, is everyone looking sharp?
Yes, training has gone well. Everyone is looking sharp, everyone is looking relaxed. That's the main thing because we have got a young squad, an inexperienced squad. But everyone is training well, looking good, feeling good and relaxed.
Bradford have had the measure of you in the league this season, but that all goes out of the window in a one-off game doesn't it?
They have beaten us three times this season, so we know what their strengths and their weaknesses are. It's going to be a tough game but, on final day, it's like a cup final and it's anyone's game. It might be about that slice of luck or who wants it that little bit more. We played Cheltenham and they beat us twice in the league, but we beat them twice in the semi-finals. On the day, it just comes to who wants it more and getting a slice of luck. Hopefully that will be us.
They have already been at Wembley as well this season, but painful memories could come flooding back, couldn't they, if you get an early goal?
Them being at Wembley could work for or against them. They could maybe settle down a bit quicker, as they have been there and been in that environment and that atmosphere, or it could work against them, because if we can get an early goal then there might be flashbacks to being beaten 5-0 by Swansea.In a game of football there are so many ifs and maybes, you just have to take it for what it is, implement our game plan and try to execute it to the best of our ability. Hopefully that will push us over the line.
On a personal level, are you happy with how the season has gone - another healthy goal return?
I have got 17 goals, 18 last season. I'm a bit disappointed because I think it has been the quickest I have got to 17 and then it's been 13 games I've gone without scoring, so I have gone through a barren spell. I wouldn't say it's been at the wrong time, but when one striker goes through a bad spell another one steps up, and that's what Roy O'D(onovan) is doing at the moment - scoring goals - Gutts (Luke Guttridge) is adding goals here and there, and that's what makes a good team. But, for myself, I'm happy with the goals.
And I take it any talks about the future and a new contract are on hold until at least Sunday?
It's all about the present, and that's the final. We will start thinking about the future after the play-off final.
Northampton have been very good for you over two spells, but at 31 have you maybe got one more challenge in you?
If I do move on, everybody knows how I feel about Northampton. I have been here four-and-a-half years, with a year in between at Gillingham. I think we have been a very good partnership - the fans have taken to me. I have managed to score a fair few goals for Northampton, but there is still more to come. At 31, I am getting in 30-40 games a season and I'm scoring goals. There is still more for me to give. Every day is a learning day. There is still another level for me to get to. We'll just see what the future holds.
You're keeping yourself busy away from the field as well with the Beast Mode clothing line, that's gone really well hasn't it?
Yes. Sometimes you never know how things will go. Beast Mode On, the BMO brand, is going really nice - in the sense that it allows me to get across my ethos, my life ethos. It's something I'm very passionate about, the whole defying limitations people put on you. Everywhere I go it's 'You're too big to play football, you're too big to be a footballer' - 100 goals later, if you believe in it then you can achieve it. That's what the BMO brand stands for and what it allows me to push out there. I know people focus on my size - which is cool, I know I'm a big guy - but it's nice to know that it's going well. Long may that continue.
Check out the Beast Mode clothing line, galleries and more here.
We spoke to Marvin Morgan a few weeks ago and he's gone down the fashion route as well - it's becoming more popular with footballers isn't it and is a good way to keep yourself busy because you have a lot of spare time?
You do. It's nice because you get to put in a bit of yourself through other projects, especially personal projects. The Fresh Ego Kid that Marvin Morgan has, that is kind of the template for everyone to go for. It's just a way to shut off and a way to meet people. When you go into fashion, both worlds collide. It's nice. It's a release, because you do have a lot of time on your hands and it's about putting that extra time and that extra energy into something productive.
But for now I take it you are fully focused on Saturday and making sure you make the most of an occasion which doesn't come around very often - some players never get to experience it?
Yeah, 100 per cent. Like I keep saying, I want the game to come. I want to play the game. You don't want it to pass you by and not embrace what's happening. I'm 31 and it's the first time I'm playing at Wembley, so my focus this week is all about Saturday and one more big push. Hopefully we can see it over the line.