Lamps stands out
Sky Sports pays tribute to Frank Lampard after the midfielder signed a new deal to stay at Chelsea.
Last Updated: 17/05/13 3:27pm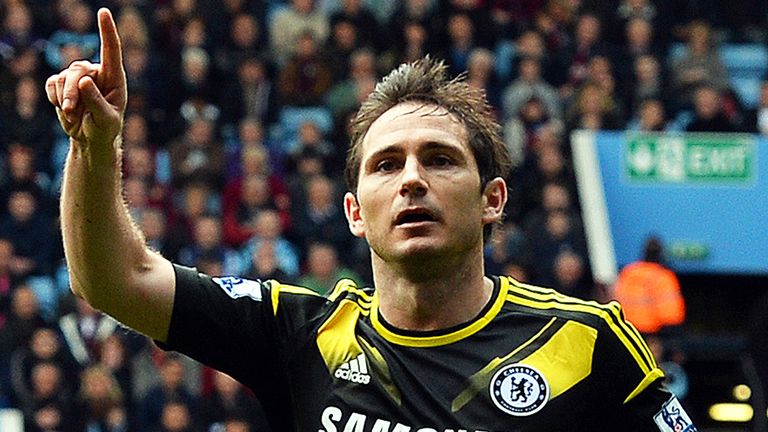 After months of rumour and fuss, Frank Lampard is staying put at Chelsea.
Of course he is. You wonder, in fact, how it took the powers-that-be at Stamford Bridge so long to slide under his nose the new one-year contract he gleefully signed.
It transpired talks had been taking place since late last year, but even at times during that period Lampard had doubts over which dressing room he would be walking into on the opening day of next season.
There are few footballers who polarise opinions quite like Lampard, and even at the club where he is now the all-time record goalscorer speculation was allowed to whirr around the future of the star midfielder.
It could have been quashed sooner but there will be Blues supporters rejoicing now after he agreed to extend his 12-year stay in west London.
To some Lampard will always be considered over-rated and the man whose international midfield partnership with Steven Gerrard was one of the most disappointing aspects in English football over the past decade, so much so that at times the boos have rung out at Wembley in response to his name being read out on the team sheet.
To others he is a midfield genius, the player who has now clocked up a record 203 goals for Chelsea and been the most consistent English footballer of his generation.
It is the goals which grab the headlines. It is the goals which set Lampard apart.
Some players are never truly appreciated until they hang up their boots and the chapter on Lampard in the history books will be filled with statistics which might not be bettered for generations.
True value
The cold figures might be stark and grey but stick with them because they reveal the true value of a player whose work-rate, range of passing and ability to influence the outcome of a football match is up there with the greats.
In Lampard, Chelsea have a player who scored 20 goals or more in five successive seasons from 2005-06 to 2009-10.
Compare that record with Spanish playmaker Andres Iniesta, who has never scored more than nine goals in a season for Barcelona.
Compare it with Italy midfielder Andrea Pirlo, who is a peer of Lampard and in 12 years with AC Milan and Juventus has never scored more than nine goals in a season.
Now compare Lampard's goalscoring record with the all-time midfield greats such as Michel Platini and Zinedine Zidane.
Lampard has 243 career goals in club football from 740 games, having reached a club-record 203 for Chelsea by scoring twice in May 11's win over Aston Villa, and has a further 28 to his name from 95 games for England.
Admittedly, Platini boasts even better statistics, having scored 312 goals in 580 club appearances plus 41 in 72 matches for France.
Zidane, however, widely regarded as the most talented playmaker the game has seen, scored 128 goals in 681 club appearances and 31 in 108 games for France.
You can see why Lampard fits snugly in such illustrious company. Of course, attacking midfield artistry extends further than precision passing, imagination and goals scored.
Heartbeat
It includes vital qualities such as commitment and loyalty and the ability to lift the game and the spirits of team-mates. In short, leadership.
Lampard is not a player content to work his ticket in the twilight of his career. He has been the heartbeat of Chelsea too long for that, barking orders, pointing instructions, injecting life and purpose.
It has brought him three Premier League titles, four FA Cup medals, two League Cups, a Champions League and now a Europa League trophy.
"I've got a great association with the club and with the fans. I live locally. It is my life here and that's what I didn't want to change," he told Sky Sports News.
"I want that to continue for as long as possible. I signed for a year extension; I'd love to be part of the next few years of Chelsea developing. The fresh young players that we've seen come in this year are only going to get better and integrate better into the team."
His England career will always split the critics and that is a shame because any perceived lack of effectiveness was largely down to the inability of successive managers to forge a system which drew the best from the Lampard-Gerrard axis.
The natural instinct of both has always been to surge forward. That is when they are at their best, and both were forced to compromise part of their talent in the national cause.
Yet Lampard's career is punctuated with wonderful highs to offset the occasional lows, such as his four goals in a 6-1 rout of Derby, his Champions League semi-final penalty against Liverpool in 2008, and his equalising goal against Manchester United in the final in Moscow during a season in which he was named UEFA club midfielder of the year.
Then there was his winning FA Cup goal against Everton in 2009 after which he re-enacted the corner flag celebration of his father Frank snr, from when he scored the winning goal for West Ham in the 1980 FA Cup semi-final against Everton.
Making things happen
Ironically, for a man who has made a career out of scoring so many goals, Lampard might be remembered most for the one which got away - the 20-yard shot against Germany in the 2010 World Cup which bounced off the crossbar and clearly crossed the goal line, but neither the referee nor his assistants saw it as a goal.
It is the incident which prompted FIFA to bring in goal-line technology.
If anything, that is what sums up Lampard. A player who makes things happen. A player who will be 35 next month and who does not have to think about calling in the removal men for at least another 12 months.
"Sign him up," the Stamford Bridge faithful have chanted throughout this season. They have now got their wish.