Tottenham review
Many pundits questioned the appointment of Andre Villas-Boas at Tottenham but after a record Premier League points haul few could argue that it's been a pretty decent season at White Hart Lane, writes Rob McCarthy.
Last Updated: 22/05/13 9:59am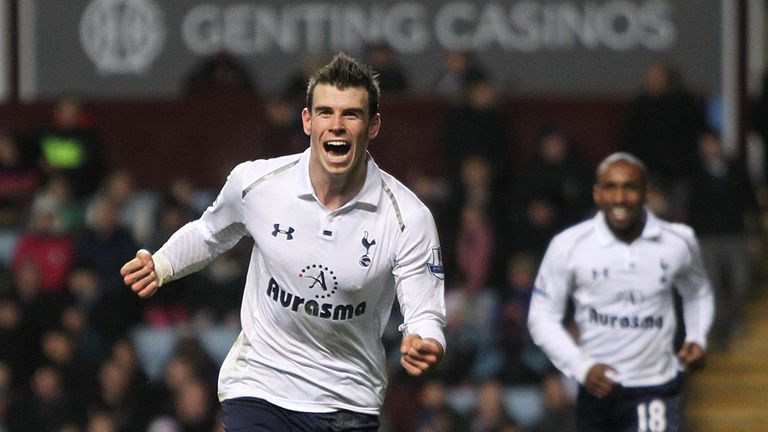 A successful yet ultimately frustrating year for Spurs after what looked for so long to be one which would include Champions League qualification.
Considering the arrival of a new manager and the loss of a key defender in Younes Kaboul early on, and then Sandro's untimely demise, things could have gone a lot worse. So to still be in the mix for the top four going into the final game of the season was a pretty good effort - particularly when your two main strikers only net 16 Premier League goals between them as well.
Anyone that says Tottenham bottled it has not taken into account several factors throughout the season, and keeping that squad intact with a couple of top quality additions should see further improvement next campaign.
Player of the Year
Gareth Bale. The Wales star truly took his game to another level this campaign and could easily have had his very own goal of the season competition. After an indifferent start back in August, the key moment in Bale's season was the decision by Villas-Boas to move him more central and let's just say that he has not looked back since. Wonder-strikes from distance, dipping, swerving free-kicks and lungbusting 50-yard runs, allied to his magnificent crossing ability, led to the 23-year-old quite rightly being voted as the Football Writers' and PFA Players' Player and Young Player of the Year. Just imagine if he starts working on his right foot in training!
Ratings Player of the Year
Gareth Bale unsurprisingly bags the top rating from our reporters after averaging 7.3 over his 44 games in what has been an astonishing season for Welsh wizard. Midfielder Gylfi Sigurdsson is the readers' favourite with a rating of 8.5 over his 28 games in total, having scored seven goals in all competitions in his debut season at White Hart Lane.
Breakthrough Player of the Year
Tom Carroll. He's not exactly built how a central midfielder should be but this boy has got a wand of a left foot and never let himself down when called up this season, looking particularly impressive in some of his Europa League outings.
Signing of the Year
Jan Vertonghen. The Belgian defender has made an enormous impact in his first season at White Hart Lane and the biggest compliment I can pay him is that it feels like he's been at the club 10 years already. Vertonghen has continually flitted between playing in the centre and at full-back but has always looked comfortable and has also chipped in with some important goals. While Bale has quite rightly grabbed all the headlines, Vertonghen's consistency levels have been remarkable and he is fully deserving of this particular award in my eyes.
Could do better
Mousa Dembele. This might surprise some, as the Belgian star made a fantastic early impact at White Hart Lane, but he tailed off as injuries and fatigue took their toll. I'm a huge fan of the way he plays the game and was thrilled when he arrived at the club, but I just feel there's a lot more to come from him and that at times he coasts through games when a player of his undoubted ability should be stamping his authority on proceedings. Central midfield partnerships are also key to dominating games and the one that Dembele formed with Sandro at the start of the season had a mix of everything but, since the latter's season-ending injury, Dembele did not quite look the same player alongside either Scott Parker or Tom Huddlestone. Expect big things of him next season however.
Manager
Andre Villas-Boas has made a tremendous impact in his first season at the club and, despite the last-day heartache of failing to secure a Champions League spot, a record Premier League points haul of 72 should not be overlooked. Villas-Boas clearly had plenty to prove after his disastrous spell at Chelsea but he learned from his Stamford Bridge mistakes and it is evident that he has the full backing of the players. I've not always agreed with some of his team selections but he was responsible for moving Bale into the number 10 role and that didn't work out too bad did it? If he is able to bring in the players he wants this summer, namely Joao Moutinho and Leandro Damiao, while also keeping prized asset Bale, then I fully expect Spurs to crack that top four next season and even push for greater honours.
Jamie Redknapp's view
Tottenham will feel disappointed they didn't finish in the top four because, with the talent they have there, that should be achievable. They did it last season but missed out on the Champions League because Chelsea won the tournament and they've fallen a point short this time around. I'm sure Andre Villas-Boas will look back on this season and think he should have bought another forward in January but he will also have to consider how he can get more out of his attacking players, such as Mousa Dembele, who really haven't fired this season; they've been too reliant on Gareth Bale and they can't keep on doing that next year. They've also conceded more than Arsenal this season and must tighten up at the back if they want to finish above their north London rivals.
Fan's view (Nik Wardle)
A record Premier League points haul should point to a successful season, but ultimately it feels disappointing. Arsenal and Chelsea are bigger clubs, so it's no disgrace to finish behind them, but dropped points at home to the likes of Fulham, Norwich, Stoke, West Brom and Wigan leaves a frustrating taste in the mouth. Gareth Bale aside, no player had an exceptional season. And I don't recall many great team performances either. Very unlike Spurs, we nicked the games we won. When we played in pacey bursts, we looked really good. But most of the time we looked static and this is why we failed to break down smaller clubs at home. I can't help feeling Rafa van der Vaart could've unpicked defences in a way none of the attacking midfielders we purchased could.