Wilshere on England
After revealing the new England shirt via Twitter at his old school, midfielder Jack Wilshere spoke to Sky Sports about their World Cup qualifying campaign, working under Roy Hodgson, his dressing room heroes and the benefits of yet more Champions League football for Arsenal.
By Sian Parry
Last Updated: 20/05/13 5:43pm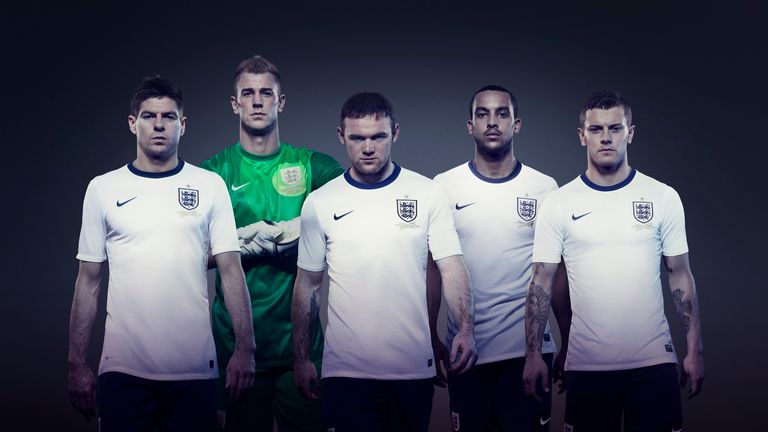 Jack Wilshere has told Sky Sports England remain fully focused on qualifying for the World Cup in Brazil next year. The Arsenal midfielder, who will miss the forthcoming friendlies with the 2014 hosts and Republic of Ireland through injury, gives us an insight into the work of Roy Hodgson, who he looks up to in the England dressing room, the national team's new kit and another season in the Champions League with Arsenal.
What would be the impact of England not qualifying for the World Cup?
You never really want to think about that, we know what we have to do - we have to win all our games to get there. We've got to think positively. We've got a great team and we've got a lot of home qualifiers now, so we can get the fans behind us and we can get the results.
Have the team settled in with Roy Hodgson?
Yes, his style is different to the past manager (Fabio Capello). It takes time, but we've bonded well with him. His first taste with us was the Euros and we did well. We went out on penalties, which are never nice, but you can't decide anything on penalties, we had a good tournament and we've pushed on from there. We've got ourselves in a good position, if we win all our home qualifiers we can get to the World Cup and it will be a successful year for England.
How does Hodgson's managerial style differ to Arsene Wenger's?
It's hard to say because I've only played twice under Roy Hodgson, but it is different; tactically they're different, everything's different, the way we set up on the pitch, our formation, the way we set up on set-pieces. So it takes some getting used to, especially when I've only been away for friendlies and I've only been there three days one time, three days again. So I'd like to be there for a couple of weeks and get to know him a bit more.
Which of your England team-mates do you most enjoy playing with?
I think it's got to be the likes of (Frank) Lampard, (Steven) Gerrard, (Wayne) Rooney - the players I looked up to when I was growing up. They were playing while I was trying to be like them, so to be in the team and just be around them in the camp is great and they're nice lads as well because they talk to you and they help you.
What role do the senior players like Lampard and Gerrard have within the squad?
They're great to have around, they're calm, quiet and relaxed and when we go to training they work hard. To play with players like that and to learn from them is great; I looked up to them growing up. Lampard, Gerrard, they were playing for England when I was 14 or 15, to finally get in the team and work with them is special - just watching them in training and learning.
Will they play a major role in the World Cup next year?
Yes, I don't see why not. Lampard's just signed for an extra year with Chelsea and Gerrard's flying at Liverpool. So as long as they can keep their fitness, they're massive players to have around and even just to have them in the squad is important for the younger players. Just look at their experience, how many times they have been to a tournament? They've been there, they've done it. To have them around is crucial. For me, they've got to be there.
You're missing the two upcoming friendlies; your injuries must have been very frustrating this season?
Yes, especially as I've missed so many England games. I don't want to miss England games - that's the pinnacle in any player's career so you want to be involved in every game you can. There's some big friendlies coming up and it's an important year for qualifiers next season so hopefully I can get myself fit and get involved in that.
How does it feel when you put the England shirt on? What do you think of Nike's new design?
It's special every time, you can't beat that as a player. Your family is there, your friends are there watching you and everyone is behind you. It's a great feeling every single time and you know it never changes. But obviously it's more about what you do in the shirt. I prefer it, it's light, it's a slim fit and it looks nice as well. It's clean and simple and I like that in playing kits.
England legend David Beckham retired last week, how big an influence was he on your career?
He's had a massive influence; he was my role model when I was growing up. I wanted to be like him, like any other kid did. I remember watching him one game, against Greece in the 2002 qualifier, when he basically beat them on his own, scored that free kick and he was the captain. He was a great role model for me and I looked up to him.
Would you like to be a role model like Beckham?
Yes, that's the aim. I think any kid always looks up at the English national team, it doesn't matter how old you are, you always support your country. So all the young kids and all the older 16 and 17 year olds, they look up to you, even when they are that little bit older when you're playing for your country, you know that they are watching you and you know you have to try your hardest and that's something Beckham always did.
How important are the fans, do they play a big role?
Yes, they do. They're great. I think club football rivalries go out the window and every one comes together to support the England team. There's no better feeling than putting on an England shirt and running out at Wembley when the fans are behind you. The fans, since I've been involved, have always been brilliant to me and I'm grateful for that.
How frustrating is it missing out on the chance to play in the Brazil friendly?
Yes, it is, especially with the World Cup being there next year. If we can get there it would have been nice to go out there and see what it's like and get used to it a bit; get used to the weather and the locals and see what it's like. There's also the Ireland game. It's a big game too. It's going to be a good atmosphere at Wembley and it would have been nice to have been there, but we've got a friendly against Scotland as well and that will be a big one, hopefully I can be involved in that.
There is a lack of English footballers playing in foreign leagues, do you feel this harms the international squad?
Not really, we've got the Champions League and there are a lot of English players who play in it, so they can get a taste of that there. The intensity of the Premier League helps with international football. I don't think you can get faster and more intense than the Premier League, so when going to international level it helps.
How important is it for you to be playing in the Champions League next season?
Internationally it helps, as I just said, you get used to playing against foreign players - they're different to English players. And personally as well, you want to be playing at the top and being in the Champions League and playing against the likes of Ronaldo and Messi, players like that, that's where you want to be and you can only improve.
Jack Wilshere was speaking as he returned to his former school in Hitchin to help launch the new Nike England Home Kit 2013. Jack was impressed by student Jason Kelly's commitment during a training session and chose him to debut #theshirt, available from 28th May on www.nike.com