Graeme Souness and Jamie Redknapp preview Champions League final
Graeme Souness and Jamie Redknapp get excited about the Champions League showdown.
Last Updated: 24/05/13 3:05pm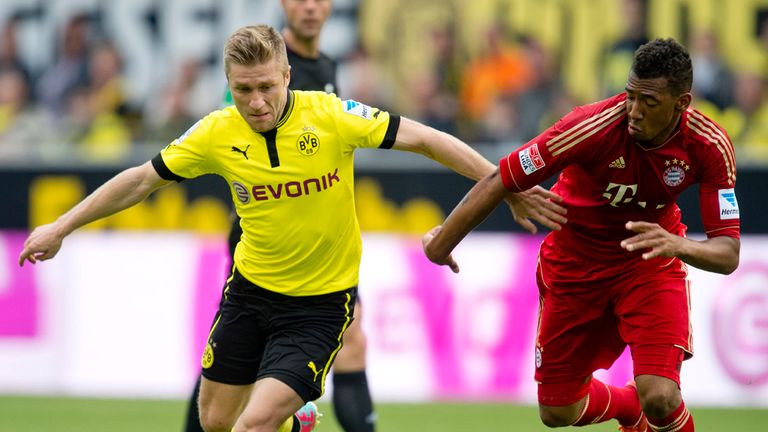 Bayern Munich and Borussia Dortmund will contest the 58th Champions League final, meaning a German team will land the trophy for the first time since Bayern seized it in 2001 after beating Valencia on penalties.
Graeme Souness - three-time European Cup winner with Liverpool - and Jamie Redknapp will form part of the Sky Sports punditry team in London and ahead of the Bayern-Borussia showdown, we asked the duo for their thoughts.
Read below for the boys' take on managers Jupp Heynckes and Jurgen Klopp, which players will play key roles in the encounter - and which side will come out on top.....
Does this final signal the start of a German domination of European football?
GRAEME: That would be a dangerous assumption to make; this is Bayern Munich's third final in four years, and as they look so strong, have players at a good age, tremendous resources and Pep Guardiola coming in, I think they will be a force to be reckoned with in years to come. But Dortmund are about to lose Mario Gotze and probably Robert Lewandowski, two top players, and I very much doubt the other German teams can get up to Bayern's standard. The challenge has been laid down to the rest of Europe but I think they will accept it and come back strong.
JAMIE: I'm not getting carried away like a lot of people about the rise of German football. I think the two teams in this final are two excellent teams, but apart from Dortmund and Bayern Munich, there aren't too many sides that I'd turn the Premier League over to watch... and I'm a football addict! Graeme's right about Bayern turning into a force, though. With Guardiola coming in over the summer they look like the new Galacticos. Here's one I'll put out there. They've got some very wealthy people at that club. Can you imagine it if Pep could convince Lionel Messi to sign for them...
What are Bayern Munich's greatest strengths and weaknesses?
GRAEME: Bayern have got a fantastic back five; they have a talented goalkeeper Manuel Neuer, I don't think there are two better full backs than Philipp Lahm and David Alaba and their centre-backs, whilst not great, are very good. They also have a lovely blend of strength and skill in midfield; Bastian Schewinsteiger is as good a midfield player as you will find, while Thomas Muller has boundless energy and their two widemen, Arjen Robben and Franck Ribery, are very dangerous. Robben showed against Barcelona that he can be a complete player; there is no doubting his strength going forward but he is now contributing to the team when he doesn't have the ball and it would appear to be a case of an old dog learning new tricks. They have no weaknesses to speak of and I don't think the fact they have lost in recent finals to Inter Milan and Chelsea will have a bearing because those are both games Munich should have won.
JAMIE: One thing you can say about this Bayern Munich team is that, unlike Lionel Messi at Barcelona or Cristiano Ronaldo at Real Madrid, you can't pick out one player who is head and shoulders above the rest. They are a fantastic team unit. Their full-backs are the best in the world; the centre-back Dante is a ball-playing defender who is also very aggressive. Schweinsteiger and Javi Martinez protect the back four incredibly well, while Ribery and Robben are brilliant going forward - but since they've joined Munich they have started working harder defensively as well. In Muller they have a guy who scores goals in big matches. He might not be the easiest on the eye but he's a good goal-scorer. They don't have too many weaknesses, but whoever plays alongside Dante at centre-back - whether it is Daniel van Buyten or Jerome Boateng - will be an area that Dortmund will try to expose. But they have such great protection from the two holding midfielders that it is very hard to expose any weakness. That's why they've conceded so few goals this season.
What are Borussia Dortmund's strengths and weaknesses?
GRAEME: Dortmund are not as good a team as Bayern, and have to rely on their special players to get the job done so it will be a big blow for them that attacking midfielder Gotze has been ruled out of the game at Wembley with a hamstring injury and severely lessens their threat. Dortmund can win the game, especially if Lewandowski has a night like he had at Signal Iduna Park in the semi-finals, when he scored four times against Real Madrid, but Bayern have better individuals and more people who can win games single-handedly.
JAMIE: I'd agree that the loss of Gotze swings it heavily in Bayern's favour, even though Dortmund have had great results over the last year or so. The main weakness that Dortmund have is in the full-back area. Lukasz Piszczek and Jakub Blaszczykowski have a good relationship going forward but defensively Piszczek is the weakness - particularly against somebody like Ribery, who will attack him time after time. They'll have their work cut out against the Bayern wide players.
Will Lewandowski be fully focussed on the game considering he could leave Dortmund in the summer, possibly for Bayern?
GRAEME: He won't take his eye off the ball because top players don't work like that. If you get to a Champions League final you want to win it for yourself and your team-mates and having been at the club for four years, he will only have one thought in his head: to take the title.
JAMIE: I agree. I don't have any question marks about him. If Lewandowski does go to Bayern, he'll hope that he can walk into that dressing room with a medal wrapped around his neck. Every footballer wants to win every game they play in and he'll want to leave Dortmund as a champion. He's going to be very important for them, too. Everyone talks about Gotze and Marco Reus, but having watched a lot of Dortmund over the last year or so, he is a fantastic forward. There is no weakness in his game. He is a traditional No. 9 when a lot of teams play with false nines and he is such an outlet for the team because he is quick and good in the air. As Real Madrid know well, he is also a fantastic finisher.
What do you make of Bayern boss Jupp Heynckes?
GRAEME: Heynckes - who took over from me at Benfica when I left the Portuguese club in 1999 - has been around the block several times but he has fitted in perfectly at Bayern and even though the man replacing him is the all-conquering Guardiola, Heynckes' boots are still big ones to fill.
JAMIE: He's obviously got something about him because he's created an incredible squad and an incredible team there. It must be a strange situation for him on Saturday when he takes charge of his last game, as he has done a brilliant job, yet is surplus to requirements. When a manager like Guardiola comes available, you have to strike quickly. But Heynckes can leave the club as a very proud man.
How highly do your rate Dortmund chief Jurgen Klopp?
GRAEME: Dortmund have undergone a major rebuilding process - looking to the youth team, nurturing, developing and sometimes buying kids, and getting them ready for the first team - and it is not all down to Klopp; there are lot of people at the club that know what they're doing. Klopp, though, has built a big reputation in this early stage of his career and is probably being looked at by other clubs, but I doubt he is in any rush to leave; he is at a team that is winning things or at the very least going close and who have the largest average gates in European football. It's not a hardship working there.
JAMIE: I rate him; I think you have to after all he's achieved. He is certainly an eccentric, but he is definitely good value. It may take another move to put him up there with the Mourinhos and Guardiolas of this world but he has built a fantastic young side there - there's no denying that. Will we see him in the Premier League? I think that is a possibility. Managers have a short time to strike and, as we've seen in England lately, that window is getting shorter and shorter. So if a big contract becomes available with another club, it will be hard to turn down. He'll also be aware that he will possibly be losing his best two players so Dortmund won't be the same force next year.
What sort of game are you expecting and who will win?
GRAEME: I expect both teams to try to win the game as that philosophy is what has got them to this point and I think there will be lots of goals with both teams scoring. Bayern Munich beat Barcelona by an aggregate score of 7-0 in the semi-finals and I can still vividly see the scoreboard showing that fact, so I honestly don't believe this game will be a cagey affair - but I think Munich will come out on top.
JAMIE: I actually think it will be a tight game and I can only see Bayern winning by the odd goal. I have a feeling we'll see a winner in the 90 minutes as Bayern will not want penalties after last season. Robben certainly won't after that miss against Chelsea, will he? Dortmund had the Indian sign over them last season but Bayern beat them in the German Cup and the Super Cup this year and both the league games were 1-1, which shows you how evenly matched they are. I'm going to go for 2-1 to Bayern. I feel that this is Bayern's time - they are a team that is ready to win.