Geraint Hughes reports from the Uruguay training camp at the Confederations Cup
Geraint Hughes of Sky Sports News reports from the Uruguay training camp at the Confederations Cup.
Last Updated: 16/06/13 11:27am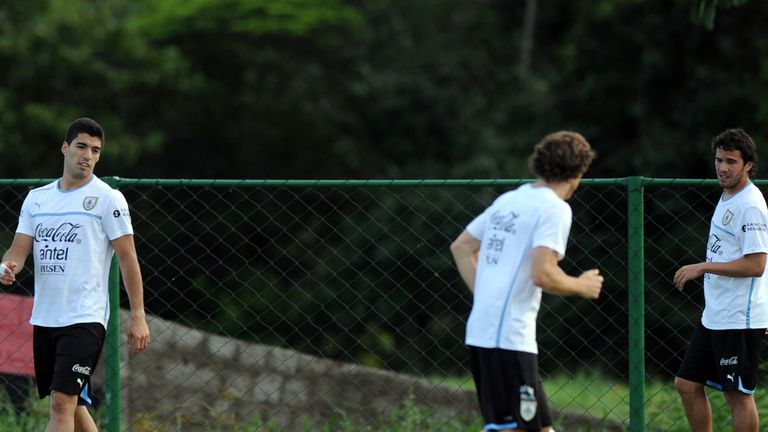 The Confederations Cup is a test event for next year's World Cup in Brazil with six of the 12 venues that will be used in 2014 getting a run out ahead of the big one.
The Brazil team must feel like the World Cup is already here, such is the following they receive, be it from the media to fans. It's suffocating. All Brazil's matches at the Confed Cup are sold out and the TV has very little else on it other than updates from the Brazilian camp.
So while Brazil headed for the nation's capital Brasilia to play Japan, Sky Sports News hopped on a flight from Rio to Recife.
It's the same distance as travelling from London to North Africa only in this case not only do you remain on the same continent, you're in the same country. Brazil is huge. The distances between its cities are completely alien to those of us that think Manchester to Leeds along the M62 is a chore.
Recife lies on Brazil's north east coast and it's where Uruguay are based ahead of their opening match against Spain.
There's a fair bit of interest in Uruguay, not only are they a pretty decent side - semi-finalists at the last World Cup in 2010 - but they've some high profile players.
Diego Forlan is the leader of the pack, where the former Manchester United striker goes, the rest of the pack follows. Two of his colleagues, while concentrating on their football for their country, are also keeping more than half an eye on their club futures.
Luis Suarez after finishing training ahead of the Spain game in blistering heat looked like he'd barely broken sweat. Rather than walk back from the bus straight into their team hotel, Suarez walked straight over to a group of locals who instantly recognised the Liverpool striker. "Luis! Luis!" they screamed - Suarez spent a good five minutes signing autographs and having his picture taken.
He looked perfectly content, almost as if the reports surrounding his future at Liverpool and a possible move to Real Madrid were the last thing on his mind.
Suarez is reported to have said in the Uruguayan media that he does wish to leave Liverpool, but that he loves the club, its players and fans. He feels disillusioned with two events that have led to lengthy bans, namely the Patrice Evra racism incident and the biting of Chelsea's Branislav Ivanovic's arm.
One of his strike partners Edinson Cavani wants a move away from Napoli for more conventional reasons. The top scorer in Serie A last season is being watched by Chelsea and Manchester City, although according to his father a more likely move is to Real Madrid, the exact club that Suarez is being heavily linked with.
Whatever Suarez and Cavani's club futures may hold, Uruguay possess a fearsome attacking force, Suarez, Cavani and Forlan in any team is not bad at all. Watch out Brazil, perhaps?