Alan Smith says time right for Stuart Peace to leave England U21s
Alan Smith says Stuart Pearce's time was up - but it's a shame to bow out on such a low.
Last Updated: 18/06/13 4:22pm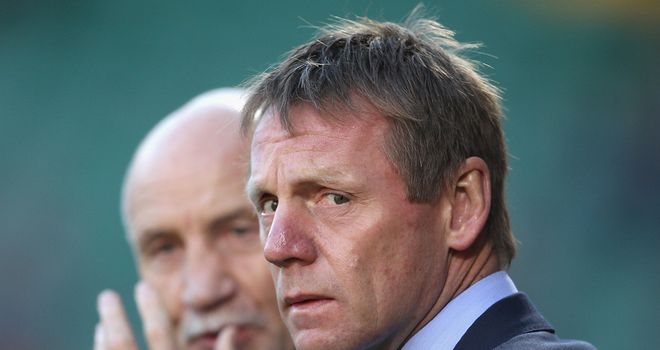 The 51-year-old has been told that his contract will not be renewed after a disastrous European Under-21 Championship this month, in which England lost all three of their group games including a humiliating final-game loss to hosts Israel.
Pearce has led the team to four tournaments since taking over the role in 2007 and while Sky Sports pundit Smith says he was hampered the lack of availability of several star players, it seems like the right time to make a change.
"I'm not surprised at all," he said on Sky Sports News HD.
"He has managed four tournaments and has had a good run at it. He's had a good run in terms of qualifying; we've got ourselves through to those four tournaments when the likes of the Netherlands and France haven't been able to manage it.
"It's just a shame that it ended so dismally on such a flat note. To get beaten by Israel in that fashion... he would not wanted to have bowed out that way. I'm sure he knew at the end of that game that it was probably it.
"If he'd had all of those players that we've been talking about (key men such as Jack Wilshere and Phil Jones) over the last week or so it would have been a different story, I'm pretty sure about that. Whether we would have been stood here with England in the final is another matter.
"A coach can only coach the players at his disposal and he did have one arm tied behind his back and that's a shame for him given that it's his last tournament."
Time
Pearce led England to the semi-finals in 2007 and to the final in 2009, but group stage elimination in the last two competitions have cost him his job.
And fellow Sky Sports commentator Martin Tyler believes he still has a future in football and could even find a new role within the FA, despite his "rebellious" approach.
"The writing was on the wall, particularly after the last result here," Tyler added on Sky Sports News HD.
"Stuart is a terrific guy and a great England fan, a great England player and a very good England under-21 coach for a period of time where he's had a lot of success in qualifying.
"But I think it perhaps was time. I said at the time that maybe there was another job at the FA for him because of his fantastic international experience after four of these tournaments.
"He's qualified in fine style and the first two were quite successful, but the last two tournaments have been very disappointing. England haven't won a game at them and in football you know that managers and coaches bear the brunt of that responsibility.
"I don't think Stuart will be surprised and I would like to think the FA can find another role for him, but if not he'll look after himself and get another job in football, I'm sure."
"I'm not sure he felt he had their full support. He's always been a bit of a rebel has Stuart and he had his own agenda; even in the game where he took charge of the England senior team he made one or two decisions that were of a slightly rebellious nature to what the normal decision would have been.
"He's a true fighter, he gave absolutely everything to the job and even his biggest critic in the FA would say that.
"It will be interesting to see where he resurfaces in the game, which he certainly will."