Euro vision
Arsenal Ladies star Alex Scott continues her regular Sky Sports column with a look ahead to the European Championship after being named in Hope Powell's England squad for the finals in Sweden
By Follow me on Twitter - @Alexscott2
Last Updated: 20/06/13 11:24am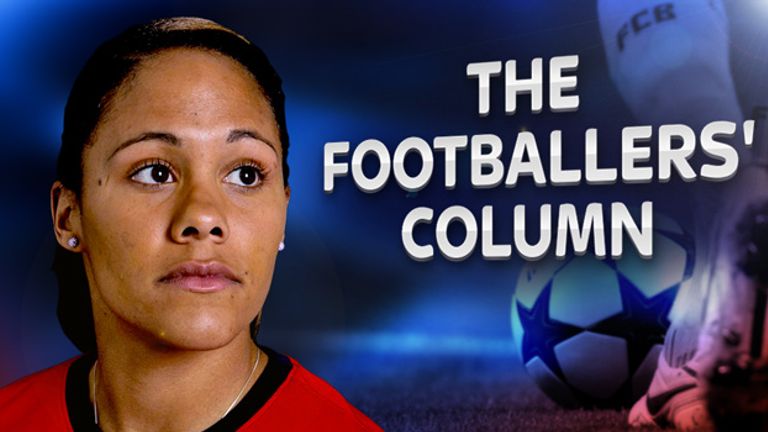 Where do I start with this column? I am so full of excitement at the moment it's hard to contain myself. As of Monday I can officially say that I have been selected in the 23-player squad that will be going to Sweden to compete in the 2013 European Championship.
This will be my sixth major tournament at senior level and I get just as nervous receiving my phone call from Hope Powell to tell me if I have been selected as I did the first time around. Us players received our phone calls on Friday morning but had to keep it hush hush until the official squad announcement went out on Monday afternoon.
The excitement that the tournament is so near has finally kicked in and the squad announcement which was held at the British museum just added to that. It now feels real, you can begin to focus your mind on the championships now the final squad has been announced. My Monday morning started very early when I did the rounds with the media before heading to the museum for the squad announcement. I was on prime time breakfast TV, and prime time radio slots.
This just shows the anticipation around the women's team at the moment and the excitement around women's football off the back of the Olympics. Hopefully we can captivate a nation once again like we did last summer. The fact that we managed to get on prime time slots to talk about the championships is great for women's football and the hope is that people get the message that we need your support whether it's at home watching the games live on TV or if you take the trip over to Sweden to cheer us on.
I got asked a lot on Monday about how it feels that I am going to be reaching a milestone in the tournament by reaching 100 caps. The answer to that question was I really do not know. Firstly, I still have the task of being selected in the starting XI and secondly at the moment I still am only on 96 caps, so I still do not know in which game, if any, I will reach this milestone. I am a laid back kind of character so when it happens it happens... but one thing is for sure, that 'if' it does happen, I will be one very proud and a very honoured lady! My dream was just always to be able to put the famous shirt on and play for my country and every time I do so, I do with such pride and gratitude.
Never in my wildest dreams if you asked me when I was starting out as a footballer did I think that I would go on to play 100 times for England. I would have most probably laughed in your face. So at the moment I am still in disbelief that this may be a possibility. We shall see when we get there though and there is still a lot of hard work ahead.
We have two warm-up games to get us going before the tournament kicks in, starting with Japan on 26 June at Pirelli Stadium, Burton. 1:45 KO. Then it's over to Sweden to play the hosts in a game.
I have so much to be grateful for in my career and this is another lot of memories that I will be able to add to the collection when I finally hang up my boots.
I would just like to say a BIG thanks to you all, for the good luck and congratulations I have received via social media. Stuff like that means a lot and I cannot thank you enough for your continued support of me as a player!